6 Books You Can Read This Year To Better Manage Rapid Business Growth

Daniel Marcos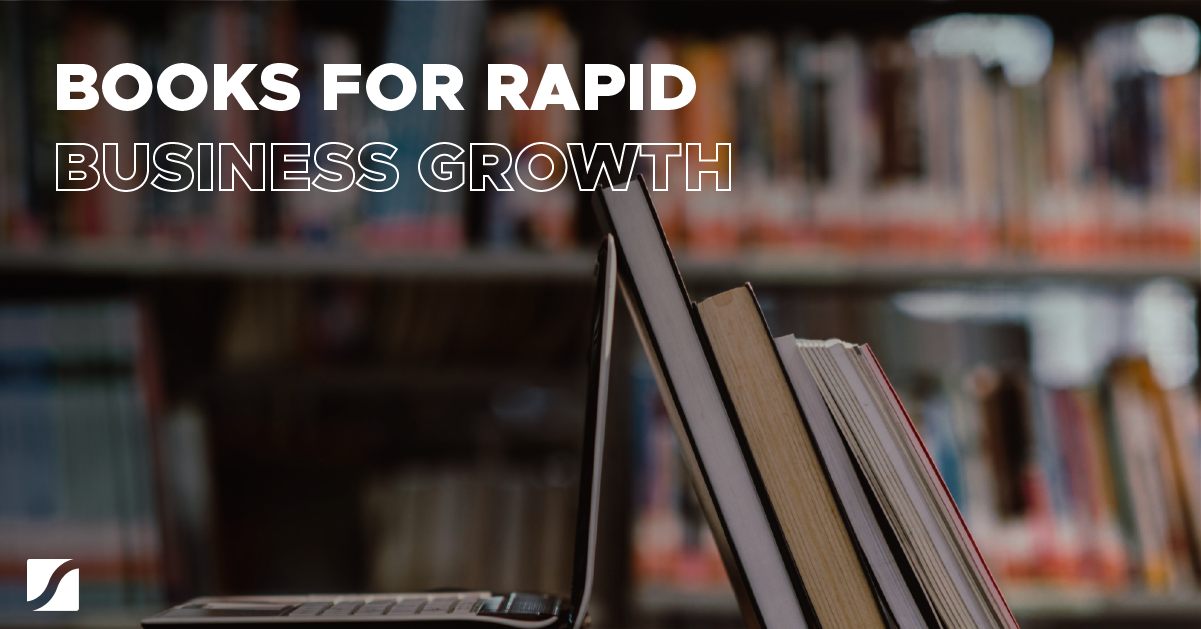 Sometimes the challenges of rapid business growth can seem as complex as rocket science. How can you ever learn all the ins and outs of taking your business to the next level?

One way might be to follow the lead of someone who taught himself actual rocket science. SpaceX founder Elon Musk is not formally trained in the subject, but he gathered enough knowledge to start his own company that designs, manufactures, and launches rockets and spacecraft.

How? Musk has a simple answer for interviewers who ask him that question:

"I read a lot."

At Growth Institute, we're firm believers in continuous learning too. Our co-founder Verne Harnish even puts it at the top of his list of tips for scaling up. He cites a host of business titans who credit their thirst for knowledge as a key factor in their success. Berkshire Hathaway CEO Warren Buffett, former Google CEO Larry Page, Dallas Mavericks Owner Mark Cuban, and Microsoft Co-Founder Bill Gates are all voracious readers.

But what books can you read to learn how to manage business growth in 2021 and beyond?

We've found some key selections that have made an impact on our community of entrepreneurs, CEOs, and other executive-level leaders.

Here's the list of 6 books to help guide you through the complexities of explosive business growth.



The Books That Will Help You Scale Your Business
Our book list includes selections that can help you manage change, encourage productivity, increase sales, hire talent, and negotiate deals.



Salim Ismail writes about a new breed of company that accelerates its growth by using technology. These companies, which he calls Exponential Organizations, or ExOs, leverage assets like community, data, and algorithms to streamline their performance.

The result? Their output is at least 10x greater than their peers, with a minimum of resources and time.

Today's business environment offers an unprecedented opportunity to capitalize on fast-moving technology, so any industry — including those in traditional fields — is ripe for disruption. Exponential Organizations helps you turn your company into an ExO, taking you through the 10 characteristics of that type of organization. Those characteristics form the companies' Massive Transformative Purpose (MTP), or their "why." The attributes involve the use of technology in areas such as outsourcing tasks, enhancing efficiency, sharing organizational metrics, and interfacing with customers.

Ismail is a speaker, strategist, and entrepreneur based in Silicon Valley. He is the founding executive director at Singularity University, working to train leaders to manage exponential growing technologies. He also leads the Growth Institute Exponential Organizations Master Business Course. He formerly was a vice president of Yahoo, and he sold his company Angstro to Google in 2010.



"It's amazing what you can come up with when you have no money, zero outside resources, and 119 people depending on you for their jobs, their homes, even their prospects of dinner for the foreseeable future."

So begins Jack Stack's book about The Great Game of Business, which uses the methodology of open-book management (OBM) to empower employees and enhance a company's bottom line. Stack outlines this approach he first employed to help save the Springfield, Mo., factory he describes in the book's opening.

The Great Game motivates team members and employees to contribute to the bottom line by knowing the score of the company — its financial information — and understanding how their work affects it.

Companies in a variety of industries around the world have successfully implemented The Great Game.

Stack is the founder, president, and CEO of SRC Holdings Corp., a 100% employee-owned company. Inc. magazine has called him the "smartest strategist in America," and Fortune magazine has called him one of the "top 10 minds in small business." The Great Game of Business also is a Growth Institute Master Business Course.

Seasoned and novice professionals alike often fall prey to their fear at the negotiation table. They might lack experience, or they might focus on how much is at stake — but either way, it's emotion that guides their actions.

Victoria Medvec has seen this scenario play out in her decades advising Fortune 500 clients in high-stakes, complex negotiations. In Negotiate Without Fear, she provides strategies for avoiding it.

Each chapter in the book outlines a proprietary approach that you can take, regardless of your negotiation skill level: identifying the right issues to put on the table, analyzing the issues to negotiate, establishing ambitious goals, identifying the other side's weaknesses, and offering multiple equivalent simultaneous offers (MESOs). It offers an Issue Matrix to analyze the concerns to negotiate, a Best Alternative to Negotiated Agreement (BATNA) Analysis Tool, and considerations for creating offers.

The goal: Lose your fear, increase your confidence, and maximize your negotiation success.

Medvec is a leading global expert on negotiation strategy, corporate governance, and decision-making. She is the CEO of Medved & Associates, a boutique advisory firm. Her work guides Growth Institute's High Stakes Negotiations Master Business Course.



Businesses can face disruption by falling back on the tried-and-true rules that have always worked in the past. Or they can recognize the game has changed and establish a new strategy. Kaihan Krippendorff calls the second approach Outthinking the Competition.

Outthinkers capitalize on the lack of innovation that comes from doing things the way they've always been. Companies often grow rigid, adopting a set 1, 2, 3 process for approaching their work. Then an outthinker develops a new way, or a Fourth Option. This new way is more effective than the traditional method — leaving the competition trying to pivot to match the outthinker's work. But by that time, the outthinking business already has left that competition behind.

In this book, Krippendorff outlines how to find ways to stay relevant, teaches outthinker habits that can yield new strategies, and shows you how to establish an outthinker culture in your business.

A former consultant with McKinsey Co., Krippendorff has spent more than a decade studying corporate conflict. His Outthinker approach has generated billions of dollars in revenue for some of the world's most recognizable companies. Outthink the Competition also is a Growth Institute Master Business Course.



Jack Daly encourages sales teams and managers to focus not only on results but also on the best ways to achieve them. And he outlines those key activities that top-performing sales teams and managers must do daily to set themselves apart.

The Sales Playbook for Hyper Sales Growth asks you to identify breaks in your team's sales chain — prospecting, qualifying, appointment setting, objections management, closing, and followup. His techniques correct those breaks through activities related to setting goals, creating marketing campaigns, developing business opportunities, attracting lifelong customers, encouraging referrals, behaving like entrepreneurs, and building a culture of success.

Once this foundation for hyper sales growth is in place, you should practice these proven methods and build a game plan that will put your business at a competitive advantage.

Daly is an expert in corporate culture who started with the CPA firm Arthur Andersen. He rose to CEO level with several national companies, building 6 businesses into national firms — 2 of which he sold to Solomon Brothers and First Boston. His work is the foundation of the Growth Institute Hyper Sales Growth Master Business Course.



6. Topgrading by Dr. Brad Smart
In Topgrading, Dr. Brad Smart provides advice for recruiting, hiring, coaching, promoting, and managing high performers. He outlines a 12-step process for selecting an "A-player" — a top-10% job candidate — and then filling all positions in a company with this type of high-level performer.

A-players bring skills that give your company the competitive edge that allows you to scale. Filling your ranks with A-players is critical because mis-hires, or those hires who don't work out, cost companies millions of dollars each year. Yet for most companies, only 25% of their employees are A-players.

The Topgrading approach to hiring starts with letting candidates know they'll set up their own reference checks. This step often weeds out those who have provided false information on their resumes. The process then moves to screening candidates by phone; conducting in-person, thorough interviews of the remaining candidates; and completing the applicant-arranged reference checks.

Frequently called the world's foremost expert on hiring, Smart for decades has been president and CEO of his own company, now called Topgrading Inc. The company consults with leading firms as well as small and growth businesses. Topgrading also is a Growth Institute Master Business Course.



Become A 'How to Grow Your Business' Expert
Adding these books to your scale-your-business toolkit can give you a leg up as you manage business growth. You'll have the expertise to:


Leverage emerging technologies

Empower all employees

Negotiate high-stakes deals

Uncover innovative strategies

Boost sales results


Recruit top talent