What if more people in your company acted like they owned the place?

Imagine running a company where everyone was engaged and truly energized by your big picture goals and knew how they contributed.

What if all the people working there—not just the owners or managers—truly understood the marketplace, the competitors, and what it really takes to compete and consistently grow the business?

What if everyone truly grasped how difficult it is to make money and how most profit never ends up in the owner's wallet?

In short, what if they acted less like employees and more like owners?
Sound impossible? It's not.

Growth companies large and small have run their organizations using The Great Game of Business® methodology for nearly forty years and have achieved extraordinary results.

We've seen it work in thousands of companies around the world, in every industry—public and private, for-profit and not-for-profit—with amazing results. It may be the only sensible way to run a company.

In this article, I'll walk you through the fundamental principles of the Great Game™ and how you can implement it with your own team.


What Is The Great Game of Business
Why You And Your Organization Should Adopt The Great Game of Business
The Great Game of Business vs. Open Book Management
The 3 Principles Of The Great Game of Business
The 10 Steps To Implementing The Great Game Of Business


What Is The Great Game of Business?
To survive and succeed, your business needs to make money.

The problem with most companies is that so few of their employees have a full understanding of how the business "works" and how their roles are tied to the success or failure of the company as a whole.

The Great Game of Business is a management system that starts and ends with getting all employees educated, engaged and involved in making the financial, process and cultural decisions that build a company.

The "Game" of your business is essentially how your company operates and succeeds as an organization. This would include your financial performance, the strength of your culture, and the value you bring to the market as an organization.

You get your team involved by teaching them the rules of The Game and giving them accountability to affect the score.

As Jack Stack noted when he released his book The Great Game of Business in 1992:

"The aim is not to trivialize business, but to demystify it.

Business is a game, after all. It's not an art or a science. It's a competitive undertaking with rules, ways of keeping score, elements of luck and talent, winners and losers.

It can be as exciting, as challenging, as interesting, and as fun as any game—provided, that is, you understand the rules and are given a chance to play. The difference is that in business, the stakes are higher—much higher."
Why You And Your Organization Should Adopt The Great Game of Business
The underlying power of The Great Game of Business is that it's just plain common sense.

It wasn't theorized in a business school or dreamed up at some consulting think tank. It was created by everyday business people much like you almost four decades ago at an engine remanufacturing plant in Springfield, Missouri.

In 1983, Jack Stack and twelve other managers scraped together $100,000, borrowed $8.9 million and bought a dying division of International Harvester.

Stack recognized that if they were going to save jobs, everyone in the company should understand and speak that same language. So, he used the analogy of a game.

The lasting benefits they were able to achieve with this fluid evolutionary philosophy born out of necessity are why Stack wrote The Great Game of Business and why we continue to share the methodology to this day.

These are just some of the major changes your people and company will experience if you choose to play The Game.


All players are on the same page
No more misinformation. No more confusion. No more siloed departments. The Great Game releases all relevant information to all employees.

People need information to perform to their best ability and The Great Game ensures that they know what they need to do next to consistently improve results.


Smarter, more highly engaged employees
When you commit to sharing - and educating employees on - the numbers critical to the business, that new knowledge sticks with them.

Everyone wants to make their job more fun and profitable, and with more understanding, your people will be more motivated to push the limits of their knowledge and application.


Better ideas and better execution
The Game is not just about opening the books. It's also about projecting toward the future and keeping your eye on the score.

With this information, employees are enabled to adjust their operation on the fly and even suggest concrete improvements that can have dramatic impact.


The Great Game of Business vs. Open Book Management
The Great Game is often compared to open book management. But they're not one and the same and I'd like to clarify that here.

Financial transparency is worthless without education, accountability, and reward.

The only way to see your people and your organization grow and transform is to teach employees how business works.

GGOB goes far beyond simply opening up the books. Sharing financial information does not necessarily mean employees understand or realize how their daily actions and decisions affect financial performance or the health of the company.

The Great Game of Business is not a spectator sport. It's about understanding how the business works, what the employees' role is in it, and how they can take action.

Would you rather have fans who just know the score or players who can change the score?


The 3 Principles of The Great Game of Business
Business can be intimidating to the average person.

When you ask great technicians to learn a new skill like business, they often say, "Nope! I didn't sign up to be an accountant! Just give me the tools, and get the hell out of my way."

(This is universal. We've seen the same effect with software engineers, doctors, and pilots.)

How do you teach people business and make it understandable, interesting, meaningful, and maybe even a little fun?

That's the challenge, and that's where The Game comes in.

Ultimately, we want to help our people understand that business doesn't need to be any more complicated than a good game of Monopoly— provided that they understand the rules, have a way to follow the action and keep score, and have a Stake in the Outcome.

And at any point in The Game, they understand what winning means.

Tapping into the universal human need to win, GGOB educates your people in the rules of business, rallies them around a common goal, empowers them to see and improve the score, and engages them by giving them a Stake in the Outcome—presenting them with the opportunity to win as a team.

As with any game, there are three important practices to consider:


Know and teach the rules of business
If your people are going to play The Game, they need to know the rules and how to win.

Great Game companies educate employees about the business so they begin to think like an owner.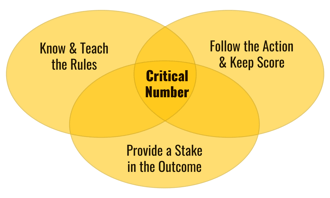 Follow the action and keep score
Great Game companies empower people to use that education to make better business decisions so they act like an owner.


Provide a stake in the outcome
Great Game companies engage employees in driving business results by providing them rewards and recognition so they feel like an owner.

These are the three principles of The Great Game of Business, all encircling the Critical Number of the organization.

The principles are the non-negotiable prerequisites for success. Each one brings astounding engagement and results.

We're now ready to look at the practical steps used in implementing The Game.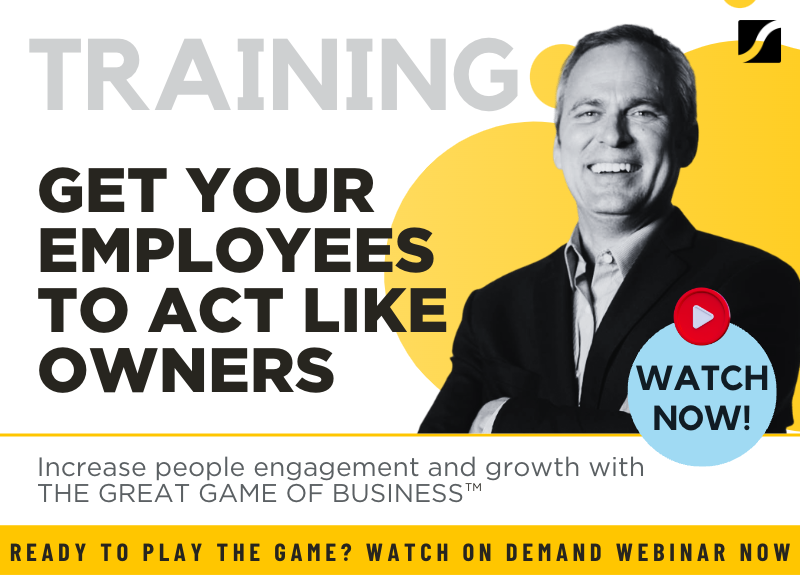 10 Steps To Implement The Great Game of Business
This methodology is designed to teach you the principles to get you in The Game quickly, make it stick, and start you on the journey that will help you transform not only your business but your people.

Here are the 10 steps to implement The Great Game.


Step 1. Begin With The Right Leadership
Learn the key leadership qualities that will make or break your efforts in implementing the Game.

At any given moment, the average person is seeking leadership. These days, people crave it. And like it or not, it's you they're looking to.

Remember the first core belief of GGOB Leadership: If I don't inform my people, someone else will.

Right now, EVERYONE is informing your people, and not in a good way. Tell your team what your business realities are and what your plans are.


Step 2. Share The Why Before The How
When people can understand the Why, they get a lot more excited about jumping into the How.

Here you'll need to build awareness and commitment to the Game. The goal? Everyone should develop a desire to actively participate in the process.

Get in touch with your noble cause, your values, and vision, and consider a near-term 'why' to get (and keep) everyone focused and energized.

Can you clearly articulate why you are playing The Great Game, and why it will be good for you, your people, and your company?

When you can, you will unlock some of the most creative thinking from your employees that you've ever seen.


You're now ready to begin the practice of financial transparency with your employees.

But take it beyond just sharing the numbers. You need to teach your people the language of business.

Invest time in education and learn how best to teach employees how to read the numbers.

Begin building trust and mutual respect through the company with financial education.

Teaching your people the economic realities of your business (not just showing them the numbers) garners trust far more than treating them like children by 'protecting them' from the real story.

This is the perfect time to not only teach your people about the business but also how each and every person in the company connects to the financials…and how you can ask them for help to improve the story.

(This is where we use the 'Dollar Exercise.' ) Connecting people to their impact on the financials is incredibly powerful. After all, who is more likely to impact the number than the person closest to the number?


Step 4. Focus On The Critical Number
It's important to define the number that will have the largest impact on your strategic goals. That's your Critical Number.

Define it - and then get clear on what's most important to achieving it.

You may have established your Critical Number™ last fall in your planning process.

Maybe it's Net Operating Income or Revenue per Employee. No matter what it is, does every person in your organization know and understand what winning means, why it's so critical, and how they can contribute?

Focus laser-like on this number and show people how to calculate, drive and forecast it.


Step 5. Act On The Right Drivers
What can everyone do to help the organization? That's the question. It's all about the line of sight.

Concentrate on helping your people make the connection to things that drive your Critical Number.

Use visuals, cheat sheets, flow charts and regular meetings to frequently discuss and embed these connections.

These are also some of the same things that become great MiniGame™ targets!


Step 6. Create An Early Win With MiniGames™
Small wins add up to big results.

That's why it's important that you create small, early wins to put the organization on a winning track.

Introduce short-term business games - or MiniGames as we like to call them - that each department can use to improve sales, efficiency, quality, etc.

These short-term, intensely focused improvement campaigns give your people permission to focus – and win.

MiniGames are the embodiment of one of our mantras: "People Support What They Help Create".

By having your teams create self-funding incentive plans around the key drivers in your business, you'll really see financial results and behavioral change that impact your Critical Number.


Step 7. Provide A Stake In The Outcome
Give your people a solid and concrete stake in the future of the business.

You want to easily be able to answer the question that employees will be asking themselves when you launch this: "What it's in it for me?"

If people are asked to learn business and hold one another accountable for driving results, don't they deserve a piece of the action?

And why do YOU have to be the one responsible for doling that out?

With cash bonus or equity sharing plans, you can learn to engineer a team-based, self-funding gain share program that your people can forecast along with the results for which they are responsible.


Step 8. Keep Score
The discipline of tracking, measuring, and reporting is key to any successful organization.

You and your teams deserve to know exactly where you stand at any given moment.

A feeling of control is the #1 predictor of happiness in the workplace. Let your people take on that responsibility with the creation of scoreboards and taking line-item ownership.

Build compelling, relevant, and highly-visible dashboards that promote immediate, consistent feedback and accountability.

You also want to find ways to cascade scorecards throughout the company, so that everyone knows in real-time how their decisions and actions are impacting financial results.

The most effective dashboards take the guesswork out of daily operations. Employees can just look at them and easily discern what their priorities should be for the day.


Step 9. Follow The Action
Repetition is a powerful aspect of the Great Game and it's something that will keep the momentum going.

As everyone learns the drivers and score of your company, they'll also need to stay updated on those measures to stay motivated and hold themselves accountable for results.

A communication rhythm is one of the best ways to accomplish this.

Huddling keeps us connected and informed, and the discipline of forward forecasting makes The Great Game come to life. The numbers don't lie, and It's better to see things coming. If things are good, we can look forward to it. If it's bad, we have time to make some moves to mitigate their impact. Either way, we control our own destiny!

Start implementing a regular Huddle rhythm throughout the organization that includes specific agendas, scheduling, and team building exercises.

These Huddle meetings should be short, focused, and lively. Ideally, they're held at the same time each week.


Step 10. Apply High-Involvement Planning
The next level of The Great Game of Business is harnessing the wisdom of the crowd by ensuring the long-term success of your company, and the long-term success of your people.

Do this by taking planning out of the boardroom and putting it into the hands of people who must execute the plan with High-Involvement Planning and a 360˚ business appraisal process.

Learn more about how this powerful practice is implemented, and how you might adapt it into your planning rhythm over time.
>> Start practicing the great game of business with our free tools <<
The Great Game Never Ends
The Great Game of Business will help you grow and knock out critical goals.

But the thing to understand about The Great Game is that it is constantly iterating and evolving. It's purpose is to empower everyone in your company to understand how it works and do their part to grow it as if they are personally accountable.

The more you play, the more you learn. The more you fix, the better you get.

If that's the level of organizational transformation you've been dreaming of, then you are ready to play The Great Game of Business.