Real Life Examples of Companies Scaling Up To $1 Million, $5 Million And Beyond

Verne Harnish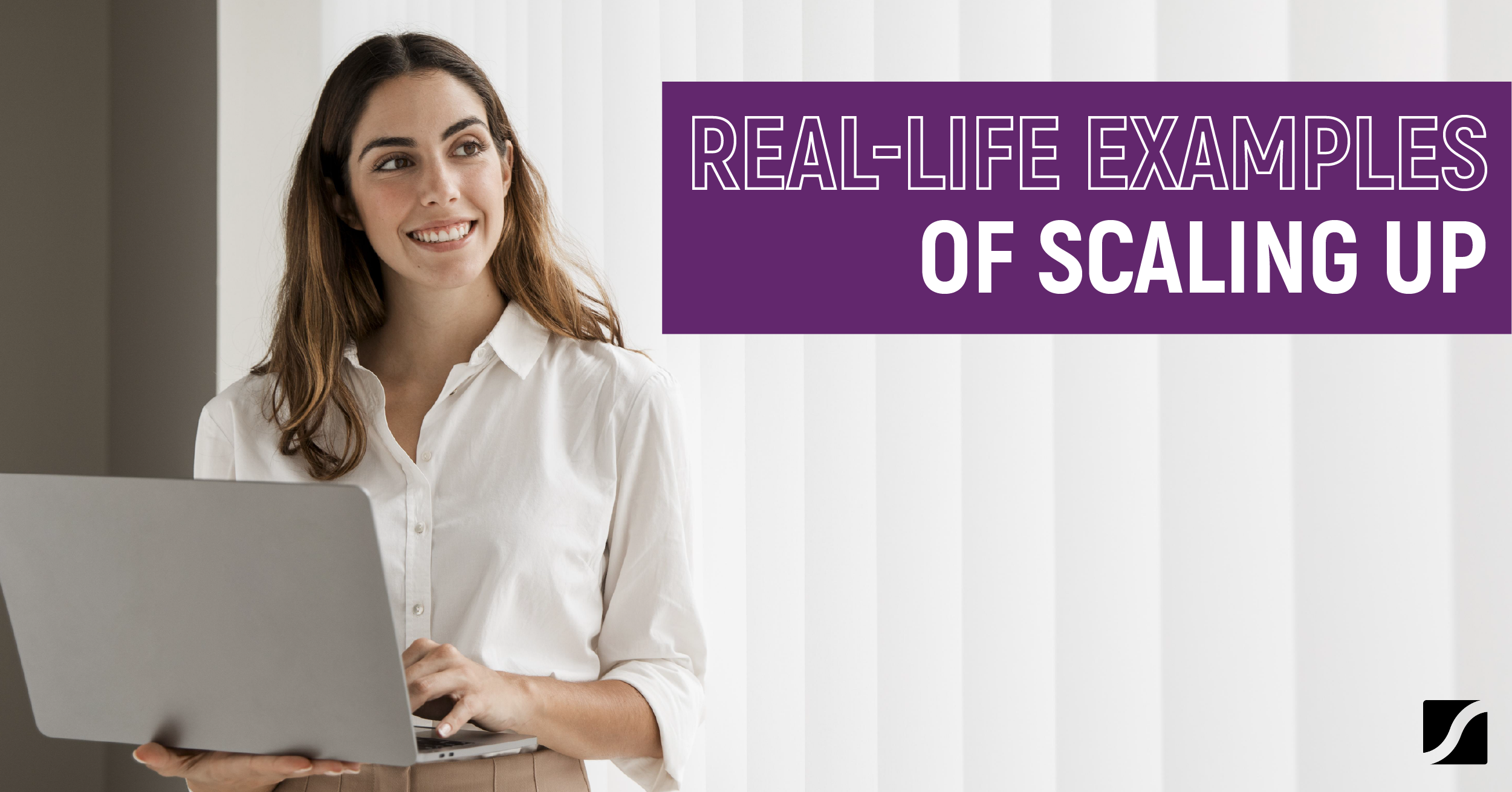 It can be unbelievable to see the growth that comes from putting the correct systems in your company.

And yet, these are the kinds of stories that reach my inbox every day.

Organizations in different industries and different sizes manage to adopt the Scaling Up principles into their unique situations. Whether it's growing to $1 million, $10 million, or beyond, they all swear by the critical systems that Scaling Up has helped them to put in place.

I want to share some of the stories from these diverse companies. Hopefully, these 5 Scaling Up examples serve as an inspiration for you and your team.


This solar energy company grew from $3 million to $38 million in revenue in just 5 years



Jamie Borrel is the CEO of Impact Power Solutions (IPS), a solar energy company operating out of Minnesota for 30 years.

A while back, IPS partnered with SmartPitch Ventures, a private equity firm.

Jamie and his team knew that the company would have to scale rapidly, so they brought on Greg Eisen, a Scaling Up Certified coach, to help them implement the most effective systems for their business.

Together, they used Scaling Up to make these fundamental changes.


Restructuring the leadership team and hiring strategically



The IPS team worked with Eisen to ensure the right people were in the right seats on the bus.

"We were a small shop, and we were somewhat unorganized in terms of the management structure and philosophy," says Borell.

The leadership team considered where each team member could make the most significant impact. Then they shifted key team people into new roles. Borell, who'd been the COO, became CEO. Ralph Jacobson, the former CEO, became chief innovation officer.

Meanwhile, the company made strategic hires. Chief operating officer Eric Hanson came in to lead the company into new markets across the country. They also hired Evan Carlson, director of land & legal.

"He has led our team to be super successful in Minnesota," says Borell.


Aligning the team with the Daily Huddle and OPSP



Borell and the team started holding daily huddles precisely at 2:32 p.m.

Other team members attend weekly huddles, monthly company-wide meetings, and one-on-ones with their direct supervisors.

Once a year, the leadership team holds an annual meeting with Eisen. They've also completed the One-Page Strategic Plan, which they then share with the entire team.

"We revised it once and will revise it on an annual basis," says Borell. "We talk about it in the monthly meetings. We're making sure we're very transparent in what we're doing and why we're doing it."


Rethinking the Brand Promise



IPS serves three main groups of stakeholders:


B2B customers who purchase rooftop solar systems,

subscribers to its community solar gardens looking to save on energy costs,


and landowners, who lease land to the company
"They each have their overarching concerns and priorities," says Borell. "We're now deciding if there need to be three separate Brand Promises or one overarching one."

Borell and his team track how the company is doing by frequently monitoring new business in their sales funnel and the Net Promoter Score (NPS).


Tracking cash flow



IPS does cash-intensive work in construction and development, which makes managing cash flow essential.

To that end, the leadership team holds weekly cash flow meetings to track key metrics, such as their EBITDA.

The Power of One exercise guides the meetings. The exercise looks at the impact of 1% changes to your cashflow processes across the seven levers that influence it (e.e. price, volume, and accounts receivable). "We are paying attention to cash daily," says Borell.



The result



Revenue at the 25-person company grew from $3 million in 2015 to $35 million in 2016. In 2020, they finally hit $38 million.

Along the way, they've installed more than 1,500 projects in the Upper Midwest and have been named Solar Power World magazine's Top 500 Solar Contractors list for seven consecutive years.

These steps take time, but Borell and his team believe that the investment is well worth it. "We have guns blazing and are looking forward to growing the company and scaling up," he says.




This building company grew from $3 million in revenue to nearly $11 million



BE-CI provides an essential service most people don't think much about: building envelope consulting. Its team keeps buildings watertight and energy-efficient.

In 2014, the company had grown to $3 million. That was when their CFO Mike Fell came across the Scaling Up book.

The owners wanted to scale, but communication challenges on the leadership team were slowing growth. So Fell reached out to Scaling Up Certified coach Doug Wick to help.


Required reading to align the leadership team



Wick helped the leadership team put the necessary structure in place to move ahead rapidly.

The first step was establishing regular meeting rhythms (such as a daily huddle for the leadership team) and making sure there were clear lines of accountability.

To take care of the the communication challenges, Wick also had the team read Patrick Lencioni's The Five Dysfunctions of a Team.

Once the group worked on building better communication, the team was able to function more cohesively. "We achieved a level of harmony like we never have before," says Ferrell.


Defining and clarifying their core values



BE-CI was operating around specific core values, but they were primarily unstated.

Wick led the team through a discussion about which ones mattered most. They agreed that People, Knowledge, Servant, and Balance would be their focus. Being clear on defining values fostered better decision-making.

"Those core values were always there, but you have to put a name to them," says Ferrell.


Building accountability with the BHAG



BE-CI's leadership team realized that the number one thing their team could do to gain and retain customers was getting in front of them.

Setting up repeatable site visits - where they would have an opportunity to sell their services - was vital. With Wick, they set a Big Hairy Audacious Goal (BHAG) of 162,500 site visits by 2030.

BE-CI rolled out digital scoreboards that sat on every employees' desk. The scoreboards allow them to see how everyone in the company is meeting their goals for the year. Each employee was assigned a 'winning number'–a metric that moved the company towards its goals.



The result



The company grew to $10.7 million in revenue in 2020 with 67 employees. With 11 offices throughout the Southeast, it is now expanding to the West.

Says Wick, "They established the clarity and harmony they needed to spread their wings and fly".



This cannabis company overcame 8 figure costs to achieve a $69 million market cap



Chris Driessen joined O.penVAPE, a cannabis consumables company, as director of sales in 2014 when the business was rapidly growing.

In 2019, the company was acquired by Slang Worldwide. They began to experience growing pains as a result of the new acquisitions. Meanwhile, their payroll had ballooned to the low eight figures, and it was burning through cash. (Full disclosure: I am an investor in Slang.)

By late 2020, Slang had to rethink how they were managing growth. They promoted Driessen to CEO that same August. Under his leadership, Slang used the Scaling Up platform to get their team focused on profits, which meant creating a solid strategy and lowering overhead.


Establishing a lean team and payroll



Slang had teams in Toronto, Denver, London, New York, and Florida.

To clarify precisely whom they needed on the team, Driessen and the leadership team completed the Function Accountability Chart (FACe) and Process Accountability Chart (PACe). Their goal was to determine the next steps and who needed to complete each process.

Once they had clarity, they could move on to the complex tasks: rightsizing the workforce and temporary pay reductions. Unpleasant as they were, they were essential to the survival of the company.

"We had to address the fact that payroll was not sustainable given the company's performance at the time," says Driessen.



Getting clear and aligned on company strategy



Lack of a clear strategy was one problem that had blocked the company from becoming profitable.

To fix this, the leadership team embraced Slang's identity: the consumer-packaged goods company that makes money through varied revenue streams. They also pulled out of several unprofitable markets and focused on the most profitable ones.

They developed a clear mission statement to support this focus: "We are building a lasting cannabis legacy built on a foundation of strong partnerships, branded products, and proven processes."

They also drafted core values: Dig Deep, Inspired Evolution, A Higher Standard, Ultimate Accountability, Collaboration Is Key, and Win The Right Way.

The ultimate goal was to stop losing money and start making it.

The leadership team now meets once per week, department heads hold daily huddles, and leaders have one-on-ones every week.


Emphasizing daily execution



The leadership team sets quarterly goals - built around the core values - to keep execution running smoothly. Managers work with each team member to develop individual "rocks" that support their team's quarterly benchmarks and feed into the company's bigger goals.

Driessen also sends out weekly updates that include a snapshot of the company's performance. He recognizes employees who embody a core value in his updates, such as "Digging deep," to set standards for the whole company.

"We've got the strategy nailed," says Driessen. "Now it's time to focus on the details. Execution is everything."


Strengthening the company's cash flow



Driessen and his team hunkered down to cut $8.5 million in costs.

Much of their savings came from reducing payroll and making sure its more minor team was operating efficiently. "We're getting so much more done in such a shorter amount of time with fewer people," says Driessen.

By going public in 2019, the company ensured more significant access to capital. That has been critical, given that the company can't operate as efficiently as it might in another industry.

Nonetheless, Slang is integrating Scaling Up into every aspect of its operations. "We're here to earn money, not spend it," says Driessen.

The Result



Today, Slang Worldwide has grown to a market capitalization of $69.82 million and has put itself on the path to profitability—a challenge in a heavily regulated industry. The company is now doing business in 12 states.



This AI startup crossed the $13 million revenue milestone



David Rogenmoser and his co-founders are on the front lines transforming many creative industries: they use artificial intelligence (AI) to write content.

Proof, their Austin-based startup, introduced its latest product, Conversion.ai, in January. It uses advanced AI to help companies create Facebook and Google ads, website content, and social media posts. "It's an assistant," explains Rogenmoser, the company's CEO. "It's going to supercharge you, help you phrase things differently."

Here is how Rogenmoser and his partners used the Scaling Up platform to grow.


Rightsizing the team for growth



Proof raised $2.2 million in a seed round around 2017 and gradually expanded its team to 15 people. But by 2020, the company wasn't growing as quickly as its leadership team hoped.

Using the Rockefeller Habits checklist and the FACe (Function Accountability Chart), Dave and the leadership team got clear on what kind of company they wanted to become. One of the first things they realized was that they didn't have the right people on the bus. There were people on the team working on projects that weren't moving the company forward.

"They were doing important things, but we were not growing as a result of all of that work," says Rogenmoser. "They were on the wrong bus."

Although laying them off was painful, he says, "it ended up being a big relief and freed us up to make decisions. From a strategy standpoint, getting our team down to the core, correct people changed everything. We weren't bound by the strategy we had set before."


Clarifying the strategy with Scaling Up tools



With the OPSP and 7 Strata worksheet, the team clarified the company's purpose: getting people to write more words.

They also came up with their Brand Promise: Having the highest quality content, the easiest-to-use interface, and the highest-quality training around.

"If we can do that—create the best app with the best output, we're going to do well and create the flywheel," Rogenmoser says.

The company implemented a five-minute Daily Huddle, in which each team member reports on their Rocks. Although they initially resisted bringing structure to the business, they found that it set them free and gave everyone focus.



Reserving cash for a strategic move



One thing that helped with profit growth was posting a scorecard that tracked monthly recurring revenue upon the launch of Conversion.ai.

"We've gotten very profitable for the last several months," Rogenmoser said in May 2021. "For the first time, we've had cash on hand."

Proof acquired a competitor earlier this year with some of that cash, a move that allowed the company to expand its customer base. "That was an 'aha' moment for us," says Rogenmoser. "Cash sitting around allows you to do something like that. Buying that company was probably the single best decision we made from a growth standpoint."


The Result



The seven-person company is now in growth mode and crossed $13 million in annual revenue for the first time in 2020; it laid off seven people in November as the company got clearer on its goals.



This 6-person company is on track for $1 million in revenue



Bill Wilson—a 26-year Air Force veteran—named his home improvement company Valor Home Services because, he says, "I have always felt like the protector and provider in life." Even before his military career, he helped his father raise his younger brother and sister while he was still a boy, upon losing their mother.

At this six-employee company, he plays that role through his commitment to five-star customer service. After buying out the family-owned company in 2015 and expanding it, he grew it to $630,000 in revenue in 2020.

When he read Scaling Up, he realized he could do more to unleash the company's full potential. In December 2020, he began working with Scaling Up Certified coach Herb Cogliano one-on-one to go deeper into the methodology at his company.

Here's what they pulled off with the company.


Hiring with purpose



Wilson has been using Topgrading to look for A players and evaluate them. He is quick to share what makes Valor Home Services a great place to work—such as the company's vision for making home improvements stress-free, as highlighted in his One Page Vision Summary.

Wilson also cultivates a culture that prizes fairness, structure, and flexibility—powerful draws for many employees. "Most people want to work for an employer that cares, that's flexible and treats them with respect," he says.

Once Wilson finds potential hires, he'll do a quick phone assessment to screen applicants. Then, if they pass muster, he invites them to a Topgrading chronological interview, which lasts one to three hours. Although this is time-consuming, he finds it very worthwhile.

"If you don't have the right people in the right seats, you're not going to be able to drive the bus very far—and if you drive it, you'll be going around in circles," says Wilson. "If you want to get to a destination, you want to have the right people."


Delighting customers with their Brand Promise



With Cogliano, Valor has embraced a Brand Promise of better communication, exceptional quality, and budget accountability. "If the homeowner does not think we've created a stress-free experience, we'll pay them $250 and make it right," he says.

Valor's logo—a shield with five stars—underlines this. It represents both the company's "5-star" service and the five components of the company's "family:" employees, customers, vendors, contractors, and all their families.

Wilson holds a five-minute daily huddle with his lead carpenter every morning. "What I'm looking for is if the project is red, green, or yellow?" he says. "Are we on time, on budget, or are we not? If we are not, I ask how I can help get us back to green."

He also holds an afternoon huddle every day with the administrative team. Meanwhile, his field crew has a morning and afternoon huddle, as well.

At the same time, Valor Home Services has embraced three core values—which Wilson borrowed from the Air Force: Integrity First, Service Before Self, and Excellence in All We Do. "I believe they are all-encompassing," says Wilson.

To make sure everyone on the team understands and lives the core values, he incorporates them into the recruiting and interviewing process. He might ask, "What does integrity mean to you?"

When evaluating the answers to this particular question, he looks for people who understand that they should not only do the right thing when no one is looking but also don't have to ask if it's the right thing. If, for instance, the team has to move a bedroom dresser and sees the homeowner's wallet on top of it, he believes they should know, without asking him, that they should request that the homeowner move it.


Keeping execution on track for exceptional results



Wilson measures team members' contributions according to key performance indicators (KPIs) pegged to their responsibilities.

For field workers, for instance, it's about being "on-time, on-budget, and on-schedule." Each position also has a critical number that aligns with the company's critical number. Team members report on their progress at the company's hurdles.


Building a smoothly running machine



Getting the right systems in place has helped Wilson improve the company's cash flow naturally. "That all takes care of itself," he says.

With business humming, Wilson has had time to complete the One-Page Personal Plan. He's set goals such as exercising more and deepening his friendships. "As an owner, I find I'm very 'all-in,'" he says. "The One-Page Personal Plan helps balance work and life with passion."


The result



Valor Home Services is on track for $1 million in annual revenue for 2021.

They're working toward a Big Hairy Audacious Goal (BHAG) of creating 1,000 stress-free home improvement experiences for customers by December 31, 2030.


Conclusion



Not every company's path to scaling up the same. However, the fundamentals are.

By applying just a few of the Scaling Up principles to your organization, you can set the foundation for phenomenal growth and stability. The only key is to get started and prioritize.

If you want to use Scaling Up to accelerate the growth of your business this year, look into our Scaling Up Master Business Course.

This 3-month program is specifically designed to help you grow and scale with less stress. You'll learn all the Scaling Up fundamentals directly from me, apply the tools with the guidance of a Scaling Up certified coach, and grow alongside a community of entrepreneurs and business leaders alongside you.