The Business Side of Medicine: Allure Medical's Journey from $20 million to $40 million

Daniel Marcos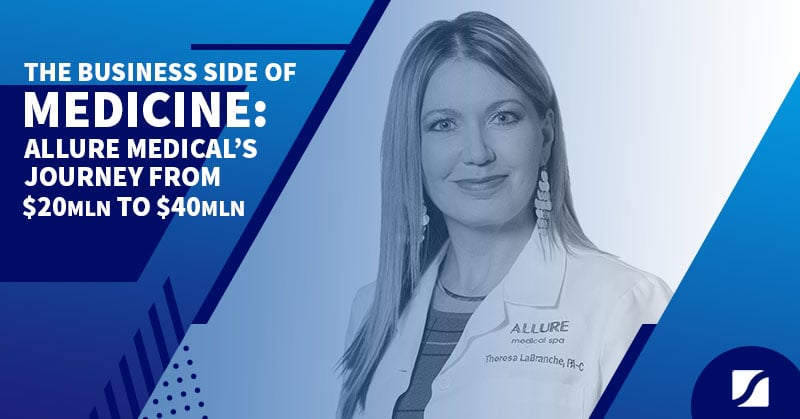 When you're an executive of a fast-growing company, you face a tremendous amount of pressure to lead your business into the future. Every decision could have game-changing repercussions that affect the entire company. To make the right calls for the company, you need the right skills, tools, and mindset.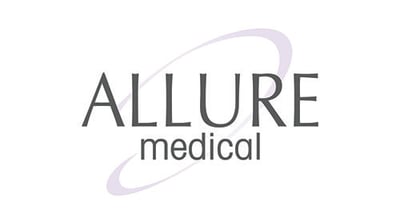 I want to share the story of Theresa LaBranche from Allure Medical. Holding a Master of Science in Physician Assistant from the University of Detroit, Theresa began her career at Allure as a PA and ultimately ascended to COO. She realized she needed a new skill set to maintain her company's competitive edge, so she turned to the Master of Business Dynamics (MBD) program.

Since joining the MBD two years ago, Allure Medical has doubled their revenue from $20 million to $40 million, and they're set to double their figures again next year. I spoke to Theresa to learn more about her MBD journey and how it has impacted her company's future.

[Daniel Marcos] Tell us a little bit about Allure Medical, and how has the Master of Business Dynamics program helped your executive team scale the company?


[Theresa LaBranche] Allure Medical is a medical company with several service lines. We're now in six states. I take care of Homeland Security here as Chief Operating Officer. The team here is crazy about learning, we have been going to Verne's ScaleUp Summits for years and about two years ago we decided it was time to take it to the next level.

It was at the Summit where I met your team and they told us about the MBD. The program really fit our whole philosophy about learning and development. There were three of us at the time that felt it was time to take ourselves to the next level so in turn we could have a bigger impact on the organization. We started with Traci Grossman, who handles most of the expansion work as the Chief Development Officer, Jamie Peysakhov, who is a leading provider and part of our senior leadership team, and then myself.

It has been an amazing experience and after seeing our enthusiastic response to everything we learned throughout the program and the impact it has had on our leadership and bottom line, our Chief Financial Officer, Julie Roback, decided to enroll as well.

Having more of our team involved in the MBD just opens up such productive conversations about the content, inspiring us to ruminate on ideas and pushing us to develop things on a deeper level across all different areas of the business.


It's just been a great experience going through it together, and the results we've witnessed as a company only strengthen our resolve to continue implementing everything we've learned.

Before we began the MBD program, our revenue was around $15 million. When we started the MBD program, we were at about $20 million. After taking the MBD, we doubled that and reached $40 million last year. And we're on track to double again this year.

There's no doubt in my mind that the MBD increased our knowledge, which in turn led to our continual growth that then impacted the growth of the company. It's impacted how we do things, not just in terms of how we execute but also our understanding of the strategy.

[DM] What was it about the MBD program that really caused a big shift for you and the company?

[TL] First of all, as medical professionals, we're all book nerds. None of us had business degrees, so we had to read all these business books to learn about business. When you hear the authors actually speaking during the MBD, the business books we've read become animated. And there are stories or insights that may not have been in the book. That content really resonated with me.

So with the MBD, I was able to really absorb more information by hearing the author speak. Another really useful aspect were the live sessions with other MBD participants.


It has been really valuable to share a class with other leaders from various industries and be able to bounce things off each other.

They ask questions that you didn't even think of. They can hear your questions, too. Sometimes, they even offer content in addition to the instructor, which is really useful. Collaboration and networking are truly priceless.

[DM] Were there any specific programs from the MBD that became transformational for the team?

[TL] Honestly, I can tell you all six classes and modules that I've been through have changed our business. Jack Daly was just amazing with the Hyper Sales Growth. In fact, the entire sales team has read Hyper Sales Growth, and we've taken his recommendation to create our sales playbook. Our sales team just adores him and his work.


Every author is just so passionate when they speak, and I think that really makes a difference. Scaling Your Business Without VC, for example, does not seem to be exciting content at first. But when John Mullins presents it, you can really feel his excitement and gain their knowledge.

Our first MBD class was ExO. Actually, our founder, Dr. Charles Mok, first recommended the book to us. Then, hearing Salim Ismail talk about ExO content just made it so much more exciting and fun.

My entire marketing team is now going through the Mastering New Marketing content by David Meerman Scott. At first, the marketing directors thought that his content was more high level and not necessarily appropriate for the whole team. But I don't believe you can be a specialist without having a clear overall strategy in your mind, and so his content has really helped the marketing team and it has been amazing.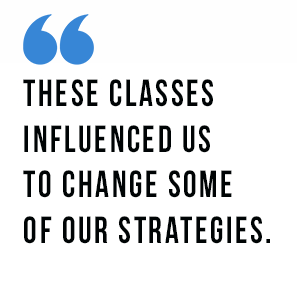 These classes influenced us to change some of our strategies. For example, after the Marketing and Sales classes, I recognized an opportunity that I hadn't previously seen. In those classes, they were talking about going to the richest source of customers. I realized we had always been going into under-penetrated areas.

So I asked myself, what if there was a place where our core customer, who is over 55 years old, were together? Well, of course, there's retirement homes. And so that's how we started another service line going into these nursing homes to deliver our treatment right where they live. It's going really well now. Honestly, this innovative treatment model happened because of those two classes.

We've also become really huge fans of Verne Harnish. We learned about business by going to the two ScaleUp summits each year, where we also got to network with other industry leaders. I've read Verne's book three times, and every time I read Scaling Up, I garner a new meaning from it because my knowledge has deepened each time I read it.


Outthink the Competition took me by surprise. At first, I didn't think it was for me, but it turns out the class made a huge difference.
Our founder is an avid entrepreneur and innovator, and he could be throwing me 50 ideas a day, of which I'm expected to interpret, evaluate, and execute the best ones.

Outthink the Competition really helped me solidify how to determine which innovations would be game changers, which ones are just tactics, and which ones to just throw out. It's a real game changer. The class is also completely collaborative, so you can go through the homework together and ask questions, which was really, really helpful.

Overall, every class has been fantastic. I actually feel a little sad that the MBD program is almost coming to an end! After we complete the MBD, we're likely going to continue with other programs we're most interested in.

[DM] Can you describe the journey of why you decided to learn business through the MBD, and why did you decide to bring the team along?

[TL] We had already been attending the Scale Up summits for several years. Initially, five or seven business leaders would attend. Now, we bring at least 20 people to the summit because of how much value we gain.

We figured that if Scaling Up has acted as our guiding light in business, anything associated with it would be good. So when we saw that Scaling Up was part of formalized learning opportunity through the MBD program, we knew it was for us.

We decided to bring the team along when we realized how important it was to get everyone on the same page. You see, when only five or seven of us attend the Scale Up summits, the rest of the team dreaded our return because they knew we'd be coming back with all these new things to implement, but they weren't excited about.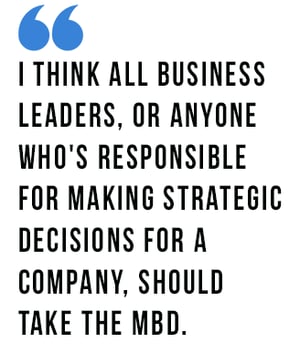 Now that we get our team involved, they get just as excited as us. So it delivers more impact.

[DM] This has been phenomenal. I really have enjoyed hearing your story and the impact MBD has had. Who would you recommend the MBD program to?

[TL] I think all business leaders, or anyone who's responsible for making strategic decisions for a company, should take the MBD. Mid-level leaders or anyone who wants to move to the next level should also definitely take this because the more knowledge they have, the easier they'll transition into executive positions and be able to make good strategic decisions.

I also think pieces of the MBD program can be used for almost everyone if you separate it out and specialize it. For example, our marketing director doesn't need the entire MBD program, but he is benefiting from taking Mastering New Marketing with David Meerman Scott. We also bought a copy of the Hyper Sales Growth book for everyone on our sales team, and it's really helping them.


Anyone in leadership positions or strategic positions that are making decisions should take the entire MBD program. It really changed our business.

[DM] Amazing. Thank you so much, Theresa. I really appreciate your time and your willingness to share your story and the impact the MBD has had on Allure Medical.


.