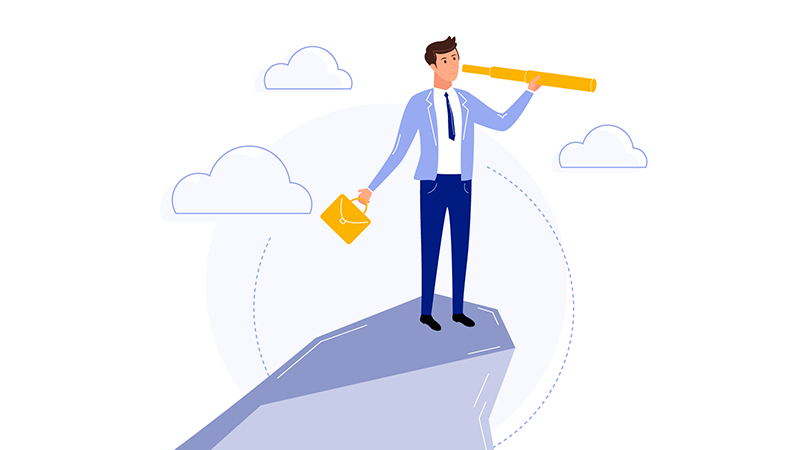 If you asked 10 employees what your company's vision and action plan is for this year or the upcoming year, could they tell you? Would you get 10 different answers?
If they can't, or if their answers are not aligned, then I can almost guarantee your organization's growth and ability to scale is limited. Here's why. Even if YOU have a clear vision of where you want your company to be in one, five or ten years from now, without a strategic plan that unites everyone, that vision is just a dream.

In order to scale and achieve your company's vision, you need to easily communicate a strategic plan to all your employees, so everyone can stay focused and aligned. This might be easy during the early days of having just a handful of employees, but becomes significantly harder as your company grows

This article will introduce you to the One-Page Strategic Plan (OPSP), a simple yet powerful tool that helps you craft an industry-dominating strategy while keeping everyone in your company on the same page, literally and figuratively.
The One-Page Strategic Plan

And Why You Need One
The real power of the OPSP is it makes it easy for everyone in the company to know where they're going and what they need to do to get there, without being bogged down by an overly complex business plan possibly riddled with unclear and even contradictory statements.

The OPSP is a succinct way to communicate your vision and action-oriented strategic plan to align every employee in your company. Just take a look at what some firms achieved in the span of a year, just by beginning their year with a single-minded focus and plan instead of a random list of 75 things to do.


Virtual Technology Corporation exceeded their sales goal by $1.4 million
VMS flawlessly executed on the largest quarter of business in their history
Dial One Printing added five points to their gross margin
Capital Recovery Group increased sales on a new service offering by 2000%
ICC/Decision Services saved 160 hrs per week of work among 14 employees, allowing them to take on additional business without adding to headcount.

A good One-Page Strategic Plan can help you achieve results like these because it brings better alignment, accountability, and execution in your organization.


OPSP Experiences: Holganix, Markitforce, and Towne Park
Barrett Ersek, co-founder of natural-lawn-care firm Holganix in Pennsylvania, has created five companies over 20 years. He describes the OPSP and other strategic habits of this methodology as a blueprint for what he needs to do to grow his business.

Ersek recalled, "When I was in my 20s, I was running a business with a checkbook in my back pocket. And then for the first time in my life, someone gave me an instruction booklet".

For Alan Higgins of Australia-based Markitforce, a point-of-sale and warehouse fulfillment firm, the OPSP is an "automatic decision-making machine". The founder and chief engagement officer noted:
"If there's ever a fork in the road or a decision to make, we refer back to the OPSP to see if we're on strategy. If we're not, we chat about whether we should walk away from the opportunity."

The OPSP is one of the most valuable tools at 9,000-employee Towne Park, a hospitality services firm based in Maryland, according to founder Jerry South. "It allows me to think strategically about the business and compartmentalizes some of the big decision we are wrestling with and breaks them down to pieces," South said. "Plus, it creates the clarity needed around what's important in the business."

The Components Of An One-Page
Strategic Plan
Let's walk through the main components of an OPSP that requires you to answer seven basic questions:
who, what, when, where, how, why, and the often challenging question, "But should we or shouldn't we?"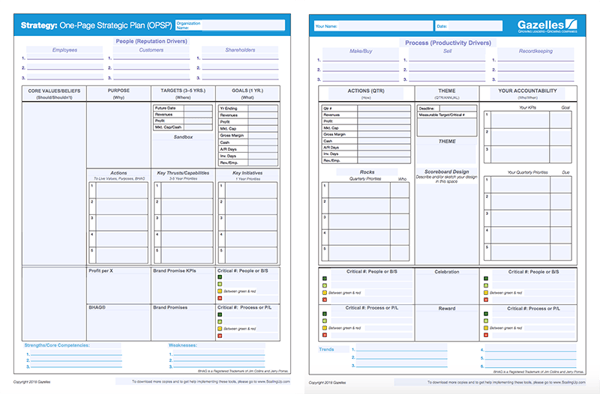 For a clearer view, download the full OPSP here.


Column 1: Core Values / Beliefs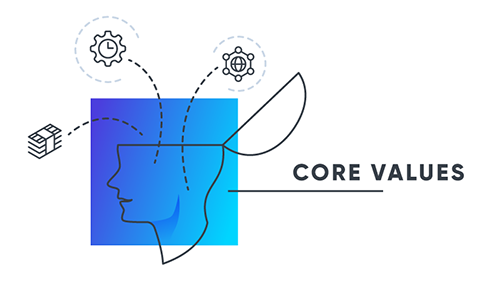 These are your "shoulds/shouldn'ts". It will list a handful of rules defining the boundaries for decision making. These core values will help you answer the question: "But should we or shouldn't we?"


Column 2: Purpose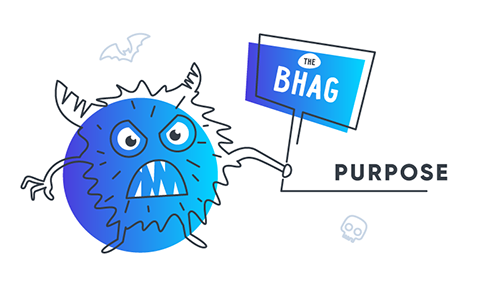 This is your why. It expresses the impact your company wants to make. It requires two main decisions:
Purpose: often referred to as the "company mission"
BHAG (Big, Hairy, Audacious Goal): the measurable piece of the Purpose that the business can achieve in the next 10 to 25 years
Column 3: Targets (3-6 years)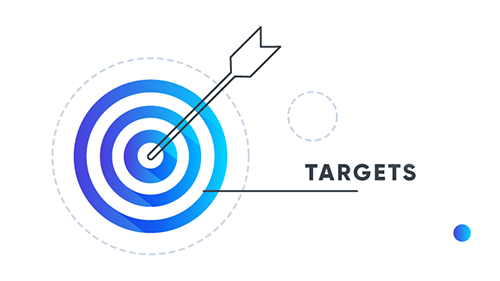 This defines where your company is headed in the next three to six years. It includes measurable Brand Promises to your customers and also summarizes a handful of major Capabilities and Key Thrusts your company must pursue.


Column 4: Goals (1 year)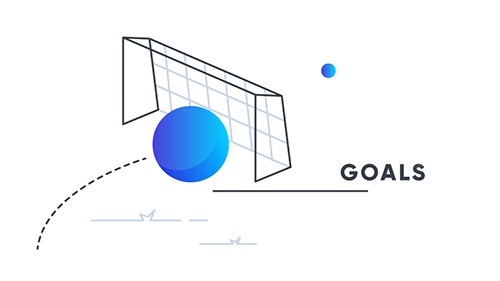 This describes what results need to be achieved in the next 12 months.


Column 5: Action (Quarter)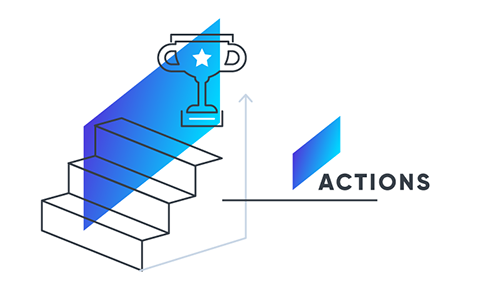 This details how your company plans to achieve its vision, focused on a measurable
"next step" 90-day time frame.
Column 6: Theme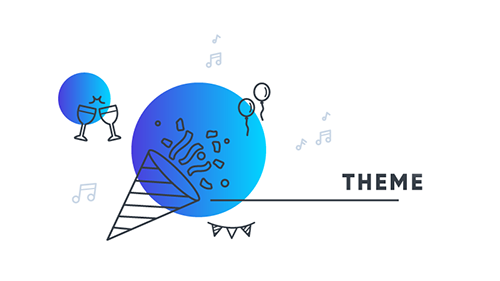 This describes the theme, celebration, and rewards associated with the #1 priority for the quarter or year.
The theme celebrations give everyone a definitive finish line and a chance to have some fun.


Column 7: Your Accountability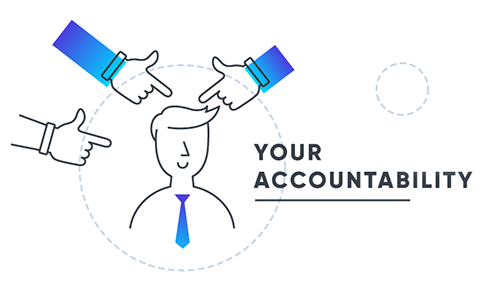 This delineates who is accountable for various aspects of the OPSP.

Lastly, the "when" question is represented by each column's time frame.

Strengths, Weaknesses, Trends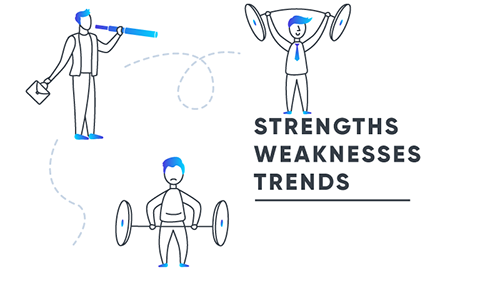 Along the bottom of the OPSP, you will summarize your company's top three inherent Strengths/Core Competencies and Weaknesses. There is also room to highlight the top six trends likely to hit your company and the industry you're in like meteors.

The Strengths, Weaknesses and Trends (SWT) serve as the foundation upon which your Vision is built. It is an updated approach of the traditional SWOT analysis, which stands for Strengths, Weaknesses, Opportunity and Threat.

While the traditional SWOT analysis has its place in the strategic planning process, its introspective focus isn't the right tool to spot trends in other industries and distant markets. The SWT in section the OPSP helps you factor trends into your plans.


Final Steps: Tips To Fill Out Your
One-Page Strategic Plan
The OPSP tool is designed to align both horizontally and vertically, providing a logical framework to organize your strategic vision and guarantee you have all the pieces to make it whole. The physical structure of the OPSP forces prioritization and simplicity. There's not a lot of space to write, so you must be concise.


For a practical way to learn how to apply this tool into your current business while getting mentorship, peer-to-peer feedback, and customized support as you implement, check out my Scaling Up Master Business Course here.
To summarize, the OPSP process provides your organization with:
A

framework

that details your corporate vision.
A common

language

with which to express that vision.
A well-developed

routine

for keeping the vision current.