There is an object in the
Pirates Of The Caribbean
movie franchise that I would say aptly sums up what we're going to talk about in this article — the compass. If you are unfamiliar with the movie, the compass is a magical item that doesn't point North, it points to the object you desire — but only if you know
what
you desire.
The One Page Vision Summary is your compass, guiding your company towards its "desires" — but first you must be clear on where you want to go.
The One Page Vision Summary And Why You Need One
If you want to get everyone in the company on the same page, then you need to have A PAGE to get them on.
A good One Page Vision Strategy (OPVS) drives engagement, alignment and focus throughout the organization.
It provides a one-page format to communicate key aspects of the company's vision to employees, customers, investors, and the broader community.
JSJ Corporation OPVS

"I had been the chief operating officer of JSJ since about 2000," recalls Nelson Jacobson, CEO of JSJ Corporation. "We went through the post-9/11 recession. At that point, it became a very different company.

"When I became the CEO in 2005, I was searching for a tool that would make us a more cohesive operating entity. The OPVS gave us a way of tracking and driving business performance."

Having used the OPVS since 2006, Jacobson admits that it has been critical to the growth of JSJ Corporation, the Michigan-based parent company of six durable-goods firms. In fact, the OPVS helped the leadership team make one of its toughest decisions: to sell one of its companies, a lithographic printing firm in California.

"It helped us to evaluate which were the right businesses to hold," he recalls. "That one didn't fit." Fortunately, the parent sold it at a good time. "We used those funds to invest in and grow the remaining businesses," Jacobson says.

Of course the OPVS has taken commitment but the payoff has been big and measurable. JSJ have developed new technologies, launched additional product lines, and expanded geographically as a direct result of decisions it made while using the OPVS.

"We've had continuously improving profit and growth since we started," says Jacobson. "The OPVS has brought better alignment, accountability, and execution."


Breaking Down The OPVS
Check out the OPVS below (and HERE you can download a copy of the one page template to fill out) — it's divided into three sections.


Section 1: Vision
The top part basically outlines the broader part of your vision and includes: Core Values, Purpose, Brand Promises, and
Big, Hairy, Audacious Goal (BHAG)
.
If everyone in your organization is clear on where you stand in these four areas they'll already be way ahead than 99% of employees in most other organizations!
Section 2: Priorities
What follows is the second section where we lay out your priorities. Where you focus for the next quarter, year, and three to five years. With your first section in place, knowing where to focus becomes much easier.
Section 3: Objectives
Finally we come to the last section, and this is where things get more personalized to each individual employee. Based on your answers from the first two sections, each of your employees should ask themselves:
"Given our vision and priorities, how can I contribute to help the company achieve it's goals — both in my ongoing job and my single priority that I'm going to focus on over the next 90 days?"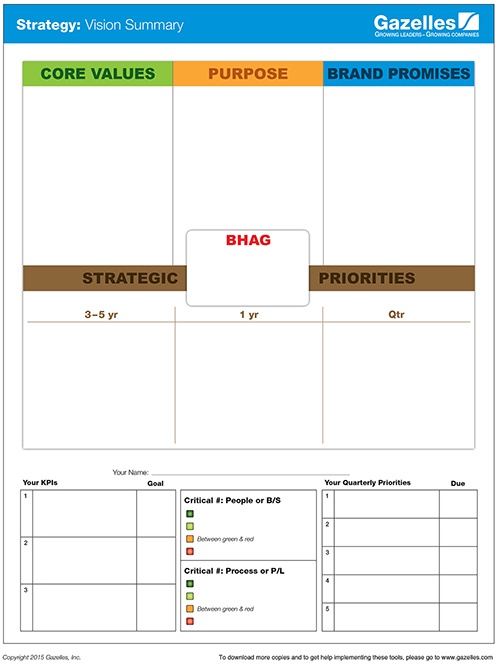 Filling Out Your OPVS
Can you see how having a good OPVS is critical in getting your organization aligned and headed in the same direction of achieving your goals and scaling your business?
The OPVS is filled out from top to bottom — Scroll down to the bottom of the article and print out your copy of the OPVS and then we can work through it together.
Core Values, Purpose, Brand Promises And BHAG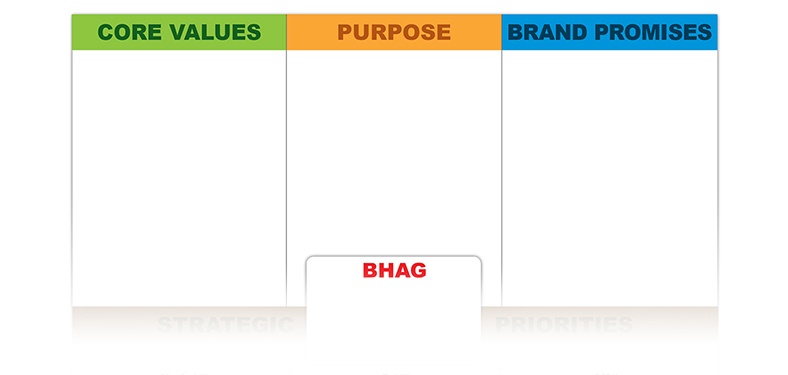 "If the Core Values are the soul of the organization, the core Purpose (some call it "mission") gives it heart."
Your Core Values and Purpose go hand-in-hand and with these two in place, you can use it to define your Brand Promises. Once you have the rest of your vision in place, you can finally use that information to determine what your BHAG is going to be.
Core Values
These are the rules and boundaries that define the company's culture and personality. They're your company's shoulds and shouldn'ts.
Your organization's Core Values should so fully permeate the company that you would be comfortable referring employees to them when faced with a tough decision or ethical dilemma.
Think of your company as a child that is still forming its values. As the child (and your company) grows, its values solidifies and define who they are. Your Core Values are very much the same, they take time to form fully. But as you continue to refer to and embody them, they too will slowly set and define your company culture and future decisions.
Note:

By the way, don't feel compelled to call these concepts Core Values. Call them whatever fits your company, be it, Rules, Beliefs, HP Way. The key thing is to figure out your values so that as you scale your business, your team can use these values as a guide to decision-making and as a way to keep your company culture strong.
Purpose
Your Purpose answers some very basic Why questions:
Why is this company doing what it's doing?
What is the higher purpose?
Why should I have passion for what we're doing?
Why would our customers miss us if we weren't around?
Your team needs a reason other than "making money" to to be inspired to wake up each morning and do what they do.
Research finds that if you ignite and capture your team's hearts, not just their heads, they will give you 40% more discretionary effort.
Gazelle's Purpose

At Gazelles, we are an executive education and coaching company.

Why does this matter? In the end, it's all about freedom (which is our Purpose). It's freeing leadership teams from the day-to-day so they can get out and grow the firm.

It's about helping entrepreneurs, who launched a business for the freedom and independence it promised, to deal with the new constraints of their own creation. And ultimately, we see ourselves as freedom fighters.

"A country with gazelles excels" is our motto. There cannot be a truly free society without growth firms underpinning a healthy economy and generating jobs. You don't have to buy into this, but this is the reason why we wake up and keep plugging away.


Brand Promises
What differentiates you from your competition?
Your Brand Promises.
I'd suggest writing down three brand promises in this column. They key is, your Brand Promises should be defined quantitatively so it can be measured and monitored.
It should also be meaningful. Avoid using vague words such as, "quality," "value," or "service" as these definitions might vary depending on the group of customers you're facing.
Here are some examples of Brand Promises from some prominent companies:
Rackspace: Fanatical support (answering customer calls within three rings).
FedEx: 10am delivery.
BMW: The ultimate driving experience.
Walmart: Save money. Live better.
Apple: Think different.
BHAG
Your BHAG is what anchors the above three visions. I've talked about this extensively in my article,
BHAG — Why The Most Successful Companies Set Ambitious, Long-Term Goals & Why Yours Should Too
, but here is quick summary of what it is: a BHAG is a long-term, 10 to 25-year goal, guided by your company's Core Values and Purpose.
But it has to be a challenge so audacious and outside-the-box, it will take a well oiled company with everyone on-board, heading in the same direction to achieve it.
Laying Out Your Priorities

Now that we've got our vision in place, we need a way to get there. This is where our strategic priorities come in play. I've divided it into three to five year goals, one year priorities and quarter year priorities. Each goal, should work towards achieving your BHAG.
You'll want to recruit the smartest people in your company to advise you on what your priorities should be. It is also helpful to talk to those who have already been where you're about to go.
Start from the first column on the left, so you work backwards.
Three to Five Years
These goals are significant medium-term priorities that your company should list and are meant
to provide a clear strategic direction for the next several years.
Your priorities don't always have to be a new goal to reach, it can also sometimes be about a dramatic refocus of the core business. Look at Steve Jobs and Apple as an example.
When he became Apple's CEO in 1997, he pulled Apple out of all of its current business lines and focussed on producing just two desktops and two laptops. And look at just how far that decision has brought them today.
One Year
"The main thing is to keep the main thing the main thing" — Stephen R. Covey
In this column, you want to list your #1 Priority. While it's tempting to have a few priorities for the year, having one overarching priority creates clarity and power throughout the organization by laser-focusing everyone's attention.
Along with your #1 Priority, list the Key Initiatives necessary to achieve this #1 Priority.
Quarter Year
Sometimes we have semi long-term goals that we forget to celebrate the smaller wins. I talked about it briefly in my article,
10 Rockefeller Habits — The Only Framework You Need To Scale Your Business NOW
, under Rockefeller Habit #2.
In this column, you set one #1 Priority. It's a 90-day goal that helps move you towards your one-year goal. Yes, whether it's a quarter, or a year, you should set only one priority for each time frame. You should also set the "Rocks" required to reach this goal.
Creating Personal Objectives

Now we come to the section where each employee can personalize the plan. Once the vision is set, sit down with each individual to help them establish what they can do to over the next 90 days to help the organization succeed.
Here they can list a handful of key performance indicators (KPIs), priorities, and a Critical Number for the quarter. Of course these should support and align with the company's vision.
Your KPIs: Every employee or team should have an ongoing KPI or two that enables them to quantifiably answer the question, "Did we have a productive day or week?"

Your Quarterly Priorities: In addition to an individual's ongoing work, what are a few priorities for the quarter that will raise his/her performance or drive a special project that aligns with the employee's Critical Number and the #1 Priority of the company?

Critical Number: What is the single most important quantifiable quarterly achievement for that person or team that will help the company achieve its vision?
Each team member will fill out this section differently, so each person should post their personal Vision Summary up where they can see it easily, on a daily basis as a visual reminder of your strategic plan and their part in making it a reality.

For a practical way to learn how to apply this tool into your current business while getting mentorship, peer-to-peer feedback, and customized support as you implement, check out my Scaling Up Master Business Course here.



Your Own One Page Vision Summary
So here's the question now — does your company have a One Page Vision Summary?

If you do, leave a comment and let us know how it's working.

If not, download your copy HERE and set some time aside with your leadership team (and later your employees) to fill it out. I guarantee it will make a difference!
Recommended reading:
The Inside Advantage: The Strategy That Unlocks the Hidden Growth in Your Business by Robert H. Bloom and Dave Conti's book


How Companies Win: Profiting From Demand-Driven Business Models No Matter What Business You're In by Rick Kash and David Calhoun