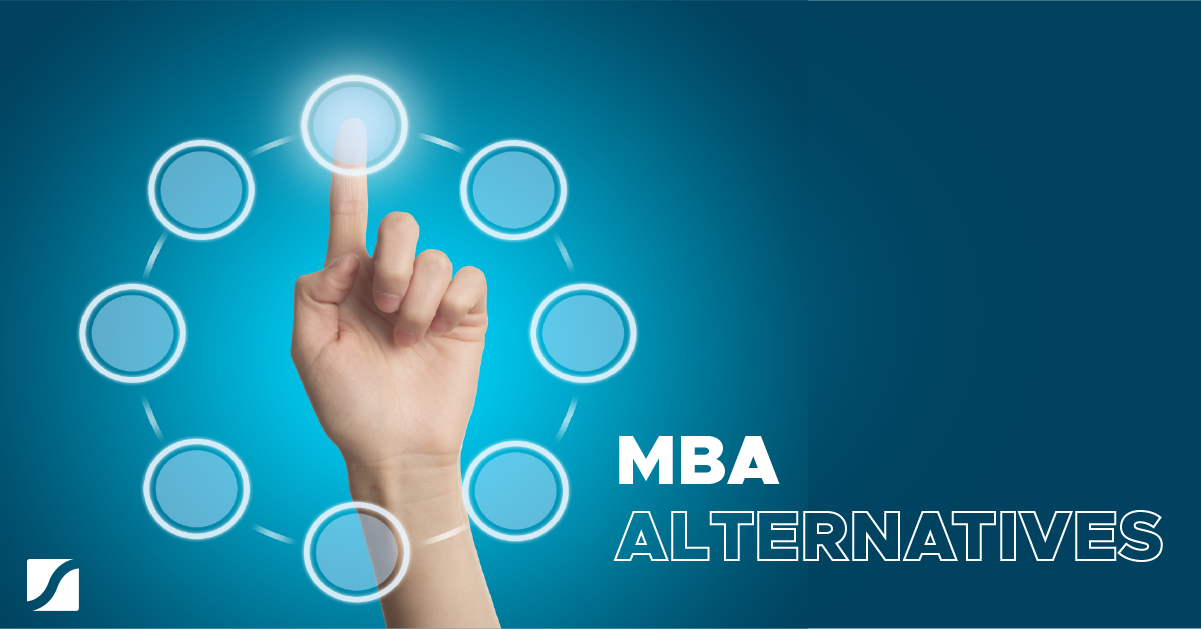 If you're an entrepreneur, CEO, or other corporate executive, you know the value of continuous business learning.

But spending years at a university earning an MBA doesn't sound very appealing when you have countless other priorities demanding your time today.

An MBA might not even meet your needs if you want to learn how to scale your business. So, do you abandon your commitment to regular upskilling and lifelong learning?

No way.

Business school may not be for everyone. If you're a busy executive growing your company, you have alternatives. The trick is finding the one that's best for you and your organization's leaders.

If you're not sure where to start, we've compiled an overview of the following 8 MBA alternatives.

From months-long programs that cost thousands of dollars to short sessions open to everyone at no charge, you're bound to find training worth looking into — wherever you are in your business growth journey.

Here's which programs we're reviewing:


For each program, we're evaluating them by 4 characteristics:
How much it costs

The time needed to invest in it

Business competencies required and

What people are saying
Let's get started.


altMBA
altMBA is sold as an online leadership workshop. It features the teachings of entrepreneur and author Seth Godin. Coaches lead students through topics such as goal-setting, gaining buy-in, marketing methods, empathy and worldviews.

How Much It Costs

The program is $4,450, which includes the workshop as well as course materials. Opportunities to defray those costs are available


Estimated Time to Complete



The length of the altMBA workshop is 31 days. The weekly time commitment is 20 hours.


Business Competencies Required



Students typically have about 10 years of professional experience and are looking to advance in their careers or shift to a different path, including entrepreneurship. Participants must apply, with the workshop basing acceptance on factors such as background and personal goals.


What People Are Saying



One reviewer praised the program's focus on personal growth. A blog examining the value of the workshop gave it high marks for its diverse participants but also noted that classmates have different career priorities.



Pinglr



Pinglr aims to simplify self-learning by curating information that's available online. Courses cover topics ranging from productivity and "learning how to learn," to digital marketing and negotiations. Students have the opportunity to practice what they're learning and receive feedback.


How Much It Costs



The program is $99 monthly. For participants on an annual plan, the monthly fee is $82.50.


Estimated Time to Complete



The length of training varies, but students typically can complete their classes in days. A course on negotiating lasts 5-6 days for example, and digital learning is a 9-day class,


Business Competencies Required



Pinglr's website indicates that the courses target a variety of groups. Individuals from students to entrepreneurs can find offerings that address their interests.


What People Are Saying



The website features a review from an early user. He praises the program as easy to incorporate into his daily responsibilities.



Quantic



With degree programs for early- and mid-career professionals, Quantic offers bite-sized online lessons and frequent, personalized feedback. An MBA curriculum includes topics such as markets and economies, data and decisions, and finance. An executive MBA (EMBA) program also includes subjects such as entrepreneurship and strategy. Additionally, Quantic offers 47 introductory courses.


How Much It Costs



The program's fee is $9,600, with opportunities to lower costs. The introductory courses are available at no charge.


Estimated Time to Complete



Each academic program lasts 13 months. The introductory material is individual lessons.


Business Competencies Required



The application for the MBA program examines factors such as academic background and career accomplishments; it caters to early-career professionals who hold promise as leaders. The EMBA program seeks high-achievers with industry or leadership experience.


What People Are Saying



A BusinessBecause review examines Quantic's programs. It praised their flexibility and low cost in comparison to other MBA programs.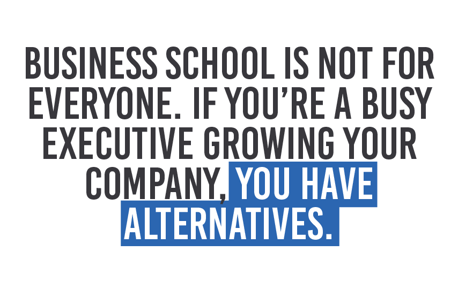 Stoa



This alternative to business school focuses on technology and business fundamentals. Stoa is not degree-granting, but it provides online training from industry leaders who share what top employers are seeking in employees. It offers opportunities for students to work through real business problems and offers live and recorded training, Topics include analytical thinking, marketing, entrepreneurship, and leadership,


How Much It Costs



An article in The Ken describes the program and its fees. It lists the cost as $3,360.


Estimated Time to Complete



Taken part-time, the Stoa program lasts 6 months. The curriculum calls for 30 minutes a day and 8 hours over 3 weekends a month.


Business Competencies Required



Stoa describes itself as a business management program. Its website notes that students who need additional assistance can get more information through prompts and additional resources.


What People Are Saying



The program's website offers comments from a variety of students. They note the program led them to opportunities to advance in their career.



The Power Business School



The 15-minute classes of The Power Business School feature business experts and entrepreneurs.

Their primary program, ThePowerMBA, covers topics such as business strategy, scaling and growth, entrepreneurship, leadership, fundraising, and strategy. Another program of theirs, The PowerMBA Advanced, covers digital marketing topics. The school also offers free Introductory courses for new students.


How Much It Costs



The PowerMBA program is $999.

The PowerMBA Advanced costs $1,599.

Introductory courses are free.


Estimated Time to Complete



Participants study at their own pace, with 15 minutes of class each day. ThePowerMBA includes 88 hours of in-class time. The PowerMBA Advanced is 120 hours of class time. Introductory courses are 15 minutes.


Business Competencies Required



The Power Business School describes itself as a good fit for professionals of any background who want to study business, advance their career, or pursue entrepreneurship.


What People Are Saying



Reviews on Trustpilot rank as excellent. Comments note the program's innovation and quality.



Growth Institute



These are our own learning programs. At Growth Institute, we offer online training to help mid-market companies scale their growth.

Options include our Master Business Courses and our Master of Business Dynamics All-Access (MBDAA) membership.

We also offer another subscription of on-demand seminars, regular interviews, and more for teams and individuals to take advantage of.


How Much It Costs



The price varies according to the offering. The most basic subscription program of on-demand vidoe seminars costs $99 a month. Individual on-demand seminars are $99 on average.

Master Business Courses cost $3,990 to $5,490 on average, and the All-Access (MBDAA) membership goes for $1,700 a month.


Estimated Time to Complete



Short sessions and on-demand training last 90 minutes or less. Master Business Courses are 3 months in length, and the Master of Business Dynamics is 18 months. There is also a subscription option: MBD All-Access. With this, you pay monthly for access to all Master Business Courses and seminars on the platform.


Business Competencies Required



The programs are intended for entrepreneurs and small-to-mid-market CEOs and executive-level business leaders. The Master of Business Dynamics program evaluates applicants on the experiences they can share as well as their background and achievements.


What People Are Saying



Trustpilot reviews get an excellent ranking. Reviewers offered praise for the thought leaders featured in programming and the resources the courses offer.
Udemy



Udemy is a MOOC (massive open online course) platform. More than 180,000 online video courses cover a variety of topics, including those related to business and leadership.

Udemy's business-related offerings cover everything from financial analysis, to SQL bootcamp, to leadership.


How Much It Costs



Fees vary, with prices ranging from free up to to $300 or more.

Udemy offers plans, such as team plans for $360 a year per user and a Udemy Pro monthly subscription that features information technology (IT) certification training. Udemy Pro costs $20 a month.


Estimated Time to Complete



Time requirements vary by course. One SQL bootcamp has 18 sections to complete in 322 lectures, with the estimated time of completion at 21 hours and lecture videos adding 20 hours. One financial analysis course totals 18 hours, and a "Think Like a Leader" class is 27 hours.


Business Competencies Required



Most courses have no prerequisite requirements.


What People Are Saying



BusinessBecause calls Udemy a great value. It praises the program's flexibility and offerings that feature industry experts.



Y Combinator



Y Combinator provides seed funding for startups, and its Startup School offers training for those who want to learn how to start a company. Its curriculum includes courses such as How to Get Startup Ideas, How to Pitch Your Startup, and How to Set KPIs and Goals. Participants can track their progress on their startups and find a co-founder.


How Much It Costs



Startup School is free.


Estimated Time to Complete



The top courses listed on the Startup School website last less than an hour each,


Business Competencies Required



While the program welcomes anyone, it targets aspiring entrepreneurs. Each course description describes those who would be a fit. The KPI course description notes its audiences include those who aren't tracking key performance indicators or can't decide on which KPIs to track.


What People Are Saying



One review of the program (posted prior to its becoming a continuously available curriculum) praised its focused approach to entrepreneurship training.



Find Your Best-Fit Alternative To Business School



Whether you're weighing your options for further learning or wondering whether business school is worth it, it's a great idea to include alternative MBA programs in your research.

With the right combination of online learning, guidance from mentors and peer feedback, you might find you have all the tools you need to accelerate your own growth — and scale your business.