The more people work together for an outcome, the greater the chances that everyone wins.

That's the premise that drives the incredibly powerful management system called The Great Game of Business™.

It's such an easily accessible framework with which to grow your organization because it is all about accomplishing what you already want to do:

Everyone in the company understanding your financials and how their decisions impact them

Every member on your team operating as if they own the business

Your employees making educated decisions with intentionality and insights

The Great Game™ gives you the framework and the language to achieve these results.

It's no surprise if you are thinking about adopting GGOB within your own company, given the success stories of the thousands of organizations that have transformed their culture and revenue with this system.

So the question is now: Where do you start?

The methodology is straightforward but the implementation of the principles of The Great Game of Business are not.

It's a process that takes time, energy, and commitment across all levels of your organization to execute well.

That being said, there are 3 ways that you can approach this process.


You can implement it yourself.

You can hire a coach to help you.

Or you can go for a third option that combines learning, coaching, and implementation all in one place.

In this article, I'll walk you through each one of these approaches and the pros and cons of each.


#1 Do It Yourself With Self-Implementation



The self-implementation option can be the most appealing.

Upfront, it's the cheapest route to go.

You'll be able to learn and then implement at your own pace. And it will be easier to adapt the methodology based on how your organization operates.

From your side, there are also plenty of resources that will help you prepare.

You can read The Great Game of Business book to learn the origin and basics of the methodology and follow that up with the Get In The Game book which walks you through the 10 steps of implementation.

There is also no shortage of helpful resources online.

With the fundamentals, you'll be able to design your own implementation plan and work with your team to integrate The Great Game with your own company.

But the tradeoffs of this approach won't necessarily make that small initial investment worth it.

We have a saying here at Growth Institute.

If a problem is created with one mindset, you won't be able to solve it with that same mindset.

The path to your success will be unreliable because you're trying to solve the issues within your business without much shift in perspective.

Your progress will depend heavily on your understanding of The Great Game principles and your team's ability to break out of current processes and patterns to think differently.

Without the guidance of an experienced practitioner giving feedback and accountability through every step of your implementation, your progress can get dragged out beyond your timetables or fall flat.

There are many moving parts to The Great Game. Getting many of them right is critical.

Especially because this system works best when it's applied as a full team effort, meaning every employee at every level of your organization.

So the pros: low up-front cost and the ability to tailor the method to your business.

The cons: longer lead times to implementation and seeing results and it can get potentially more expensive on the back-end.

If cash is the biggest roadblock and you need time to dip your toes into the methodology, this may be the option you consider.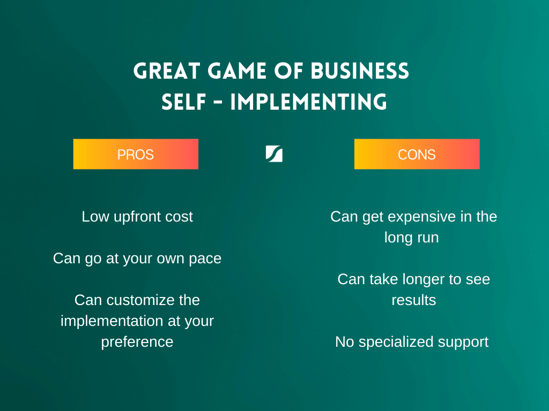 #2 Hire a Business Coach To Help



Another way to implement is to work directly with a Great Game of Business business coach.

You'll get the best results when you pair up with a coach from the Great Game Of Business coaching community.

With this option, you get the tailored experience of a coach dedicated to you and your business.

They'll work with you to embed the principles of The Great Game within your organization so you can continue to operate this way for years to come.

The coaches take you through an Implementation Roadmap that is especially designed to walk you through the process at all levels of your organization.

Working exclusively with a coach has its perks.

The approach takes around 90 days to complete and your coach takes on the responsibility of creating your implementation plan.

During that time, you'll get the chance to have your questions answered whenever you need.

This option will be the most expensive out of all three.

If you are prepared to make a high upfront investment and need a more customized roadmap for your business then coaching is the way to go.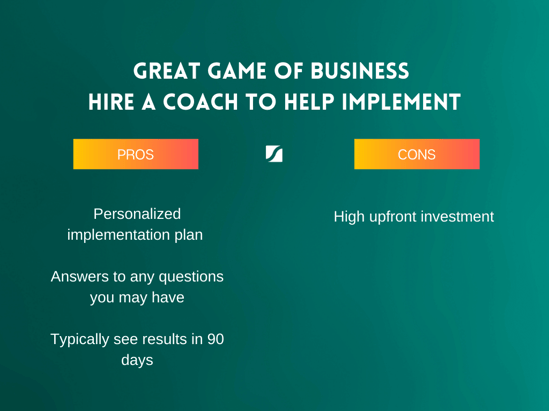 #3 Implement With The Online Coach-Led Master Course



As you begin to implement The Great Game of Business, you'll find that committing to the system is a challenge.

To ensure success, you need to get everyone on your leadership team aligned and fired up.

Then, you'll want to make sure that the critical components are smoothly executed.

Why?

Well, in the course of adopting The Great Game, you'll come across a lot of driving decisions.


What is our Critical Number™?

How do we articulate our Why for playing The Great Game?

Who needs to be responsible for rolling out The Great Game?

Which programs do we use to give our employees a Stake In The Outcome?

Where do our employees most need financial literacy training?

With so many moving parts, you'll benefit dramatically from an ecosystem of learning, support, and accountability.

That's why we created The Great Game of Business Master Business Course.

This 8-week course is the perfect middle ground between self-implementation and hiring a dedicated coach.

This course is based on a Hybrid Learning Model that combines theory, practice, coached implementation support, and community.

In this program, you learn the methodology directly from Jack Stack and then implement it with the help of experienced coaches who guide you at every step of the way.

In this case, Steve Baker, co-author of Get in the Game and VP of Great Game of Business, Inc. will be your coach!

You get to drive the strategy your team uses to implement but Jack and Steve literally jump off the pages of their books to help you.

All the while, teams from other companies will go through the course alongside you.

It's a global community of like-minded business owners and entrepreneurs with unique perspectives, stories and experiences that can help you break out of the mindsets and obstacles that have you stuck. And you'll be able to turn to them for feedback and support at any time!

All the content, coaching, tools, and peer support are delivered remotely. Start exploring the "Great Game Of Business Master Business Course" with our free trial.


You'll make full use of these elements through a 4-step process that structures the program.

Here's a breakdown of what going through that looks like:


1. You Learn The Methodology Directly From Jack Stack



Transforming your organization with The Great Game of Business starts with really understanding the methodology.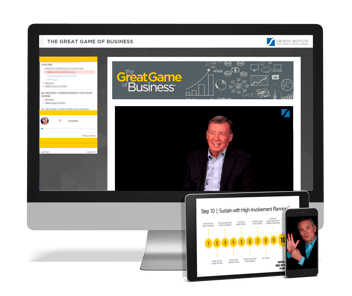 Here, we'll take you through 7 core video modules that cover each important aspect of the methodology in great detail.

Each video comes directly from Jack Stack, who authored the book and co-created The Great Game principles.

This means that you will learn it exactly as it was intended from the book, with a focus on action steps for you to take with you.

Each week, you'll cover a new module that will be your focus for that week.


2. You Work With Certified Great Game Coaches



Now that you've learned the key points of the methodology, you can jump into your implementation.

And you won't have to do it alone.

You'll go through 7 live coach-led sessions throughout the program.

The sessions are all about answering the questions you have and help you plan your next steps in the implementation process.

Steve Baker and his team of coaches will be an invaluable source of feedback and guidance for you and your team as you learn and implement the methodology.


3. You Use Tools To Implement The Great Game System



Throughout the program, you will need to make decisions about what your Critical Number is, who is accountable for rolling out The Great Game internally, etc.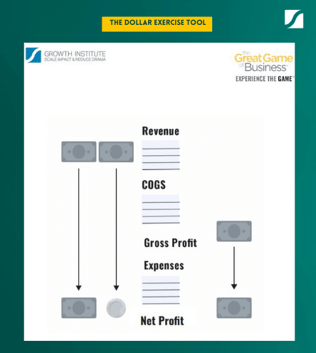 That's why you'll be provided with a full suite of tools that your and your team will use to apply the methodology.

The Dollar Exercise is just one example of the tools you'll work with.

The tools are designed to speed along your implementation quickly and easily and keep your team aligned on your priorities.


4. You Will Collaborate With Your Peers in Masterminds



The final step of the program is the level of community support you will have access to.

Each cohort is limited to a certain number of teams that will go through the course alongside you.

These executives from other companies are your peers in the course.

They are learning the same concepts, going through the same process, and likely have the same questions as you do.

There's a lot that you can learn from each other. And that's why we've made Masterminds a large part of the program.

These sessions are where you get to meet with the community, talk out your problems, swap tips and stories, and build relationships that can live beyond the course.


Putting The Learning Process Together
These 4 steps are what make The Great Game of Business Master Business Course such a powerful way to bring rapid transformation to your company.

It tells you exactly what you'll be learning week by week. The coaches will guide you through the implementation process. And you'll get exposed to insights from the community of your peers that you wouldn't get anywhere else.

The time you'll need to invest? Just 3 hours a week for all 7 weeks of the program.

We also keep the cohort sizes to a limit, so that every leader in the course gets the most value out of all the coaching seasons and the mastermind groups.

If you want to join the program, learn more about our next class here.



More Resources For The Great Game of Business



Learning The Great Game of Business
The Great Game of Business Book
Get In The Game Book
Intro to Open Book Management
10 Steps To Implement The Great Game of Business
How To Take Small Steps With The Great Game from GreatGame.com

Implementing The Great Game of Business
The Great Game of Business Master Business Course
The Dollar Exercise Tool
Great Game of Business Coaching