6 Time Management Challenges For Executives (And 6 Ways To Solve Them)

Daniel Marcos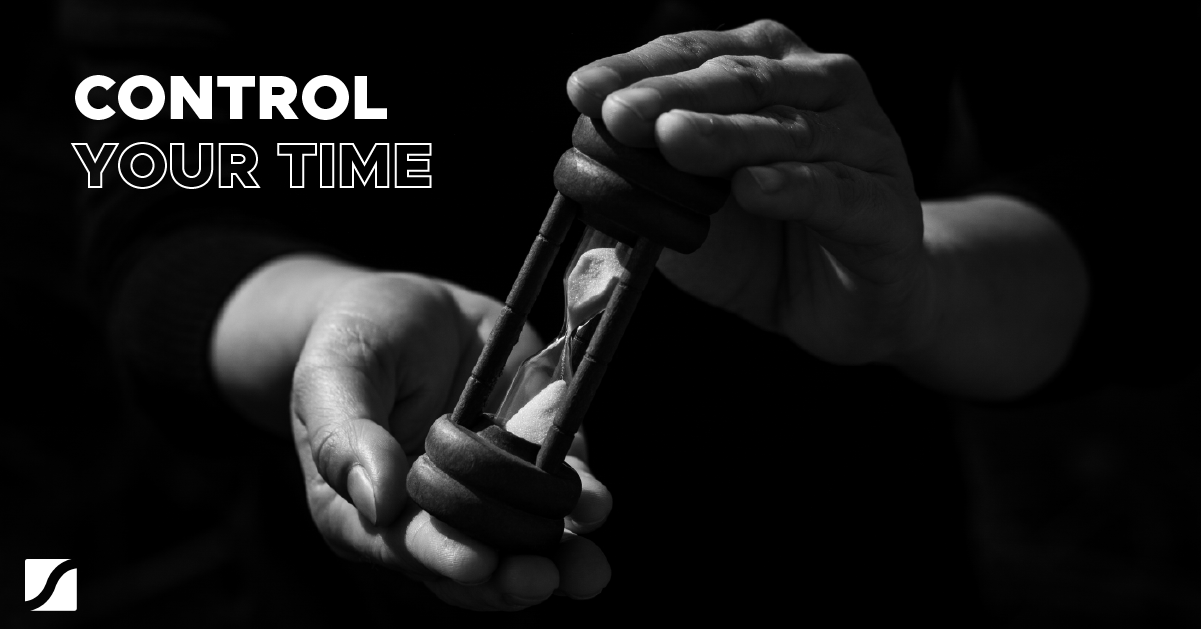 In one of his teachings, CEO coach John Wilson tells the story of an executive who worked constantly.

His name was Derek Bullen and his 24/7 approach to managing corporate growth left him burnt out.

And yet his business still struggled.

Eventually, Derek pushed himself to find a balance for his life — and create a multimillion-dollar information technology staffing business.

How did he do it?

His first step was to look inward.

He disrupted himself. That overworked CEO discovered his new approach to time management by taking a step back and determining what he wanted to do and how he wanted to do it.

If you're facing the same time management challenges, you're not alone. Our global business environment is ever-changing. Being all places at once is now the norm.

The key is to know how to prioritize, get a handle on your time, and manage your business' growth by first reflecting on your own challenges and how to overcome them.

Here are 6 of the biggest time management obstacles in your way and the tools and solutions you can use to overcome them.

What we're covering:


Challenge #1 - Maintaining Discipline

Challenge #2 - Understanding Purpose

Challenge #3 - Staying Focused

Challenge #4 - Doing It All

Challenge #5 - Boosting Motivation

Challenge #6 - Finding The Right Answers (and Questions)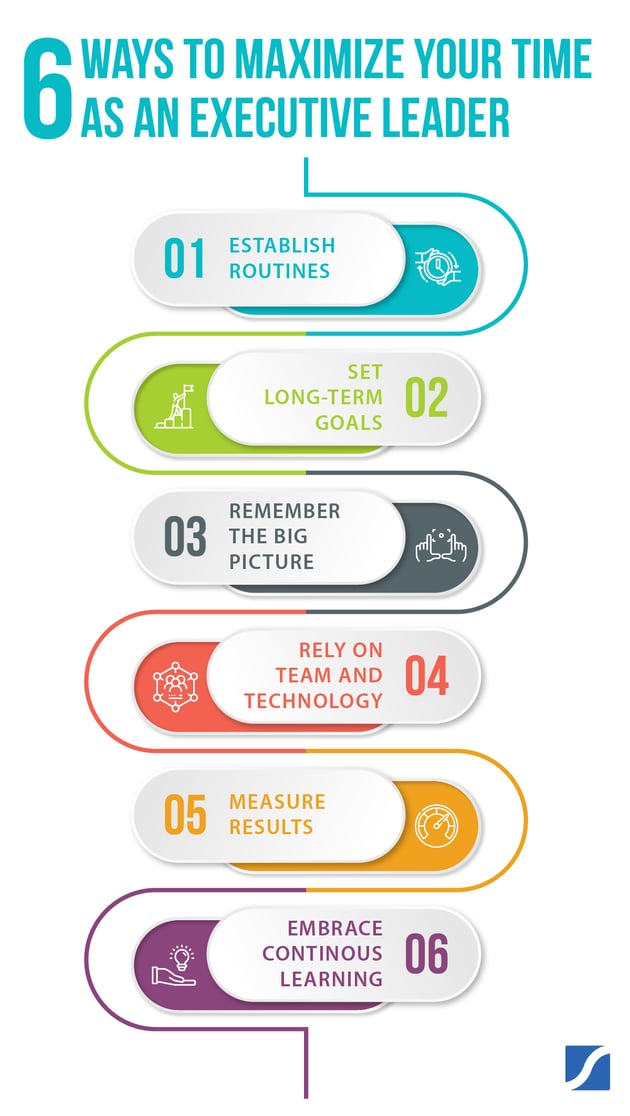 Challenge #1: Maintaining Discipline
Disruptive Solution: Establish Routines

Verne Harnish, author of Scaling Up, often cites this mantra: Routine sets you free.

Best way to become proficient at the guitar? You need routine practice.

It's the same for executive leaders. To accelerate your business' growth, you need clear goals and routines in place.

That emphasis on structure starts with establishing a routine that works for you, as the company's leader.

For example, Marcos rises a whole 2 hours before anyone else in his home awakens, to allow time for exercise, education, and meditation.

Then, once you're thriving, you can better support your organization to do business efficiently through routine systems and processes.

Allowing space for creativity is critical if you want to establish a growth mindset for your business, says Barbara Turley, CEO of The Virtual Hub.

But even she admits that her company has prospered by also focusing on structure and alignment.


Challenge #2: Understanding The Purpose



Disruptive Solution: Set Long-Term Goals

Microsoft co-founder Bill Gates has said, "Most people overestimate what they can do in 1 year and underestimate what they can do in 10 years."

That's why Harnish recommends playing the long game to help you accomplish day-to-day tasks most efficiently.

Establishing a 10-to-25-year Big, Hairy, Audacious Goal, or BHAG, is a powerful way to solidify your company's core values and purpose. The reason is that it gives your company a massive goal to achieve and leaves no question that it will require daily commitment.

A BHAG creates a sense of urgency in meeting that big goal. If, like SpaceX, your BHAG is "Enable human exploration and settlement of Mars," then you can be confident that you and your team will have to focus yourselves daily to accomplish such an ambitious goal.



Challenge #3: Staying Focused



Disruptive Solution: Remember The Big Picture

This ties into the previous point. It can't be done unless you've already established a big picture vision.

As you build your own goals, maintain focus by ensuring that each of those objectives gets you closer to your organization's BHAG.

For example, Jack Daly, author of Hyper Sales Growth recommends that sales leaders focus most of their work on their best customers — those in the best position to help them meet your company's goals.

Zero in on the work that's most likely to move the needle toward accomplishing your BHAG. It's a vastly more efficient way to conduct day-to-day business.

Marcos uses what he calls a "Preparation Sheet" to keep him on track with his focused goals, writing down items of importance, something positive about each item, and how to measure success.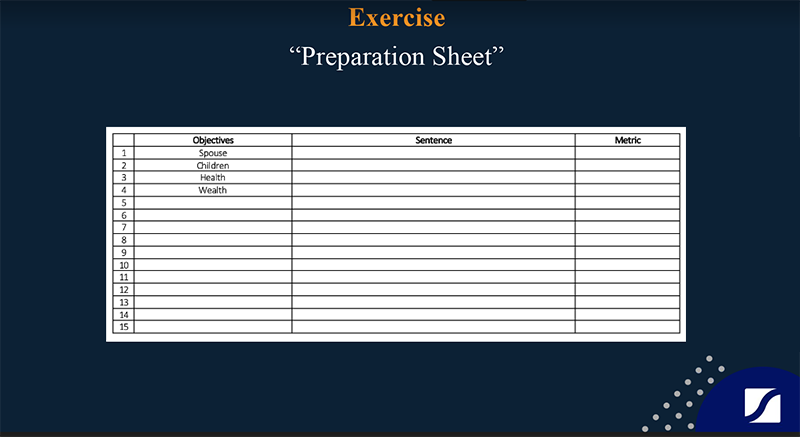 He reviews that information daily to inspire action on those priorities.

He also uses his "Top 5 Tool," planning out his top 5 priorities each day and then regularly reviewing them to make sure they align with the company's BHAG.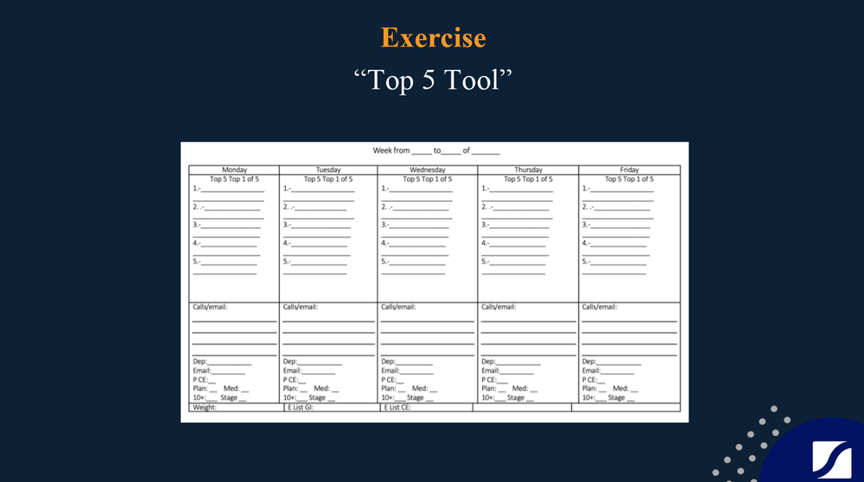 Challenge #4: Doing It All



Disruptive Solution: Rely On A Great Team And Technology

For Wilson the value of delegation works this way: If you surround yourself with good people, you'll have more time to do the strategic work of an executive — and build the business the right way.

The idea is that good people not only deliver top performance faster than anyone else, they also excel at reducing stress and drama, leaving you more time to focus on what matters.

That's one way Derek Bullen grew S.i. Systems.

Daly also believes in delegating where it makes sense. There are many tasks to accomplish in sales, he tells sales leaders, but not all of them require the sales leader to accomplish.

Capitalizing on new technologies in your industry is another way to handle workloads efficiently, according to Salim Ismail, author of Exponential Organizations.

When done right, you can use data and technology tools to achieve more in less time.


Challenge #5: Boosting Motivation



Disruptive Solution: Measure Results

Things that get measured get done.

All employees in your company — including leaders — should be accountable for their own actions, goals, and results.

One step further? Keep those metrics close at hand with a business dashboard.

It's a great way to ensure easy access to real-time data on team performance and the health of your company's health. Dashboards display a variety of data that can inform strategy and motivate you to take action.

Ismail recommends that your dashboard provide external and internal information.

External information includes performance data such as conversion rates, subscription drop offs, sales, and inventory. Internal information relates to employee or department performance indicators.


Challenge #6: Finding The Right Answers and Questions



Disruptive Solution: Embrace Continuous Learning

Disrupting yourself shouldn't be a one-and-done affair.

In fact, Harnish puts a focus on growth and learning at the top of his list of tips for Scaling Up.

These resources below will give you tested tips to up your executive time management ability.


Executive Time Management Resources



Setting long-term goals, harnessing technology, measuring results, and hiring smart are just some of the strategies you'll find in the resources below.


Books To Help With Your Executive Time Management


Training To Help With Your Executive Time Management






Disrupt Yourself To Become A More Productive Leader



Whether you face challenges with prioritizing tasks, managing time, or simply scaling up your business in today's volatile business climate, the key to disrupting yourself starts with you and your mindset.