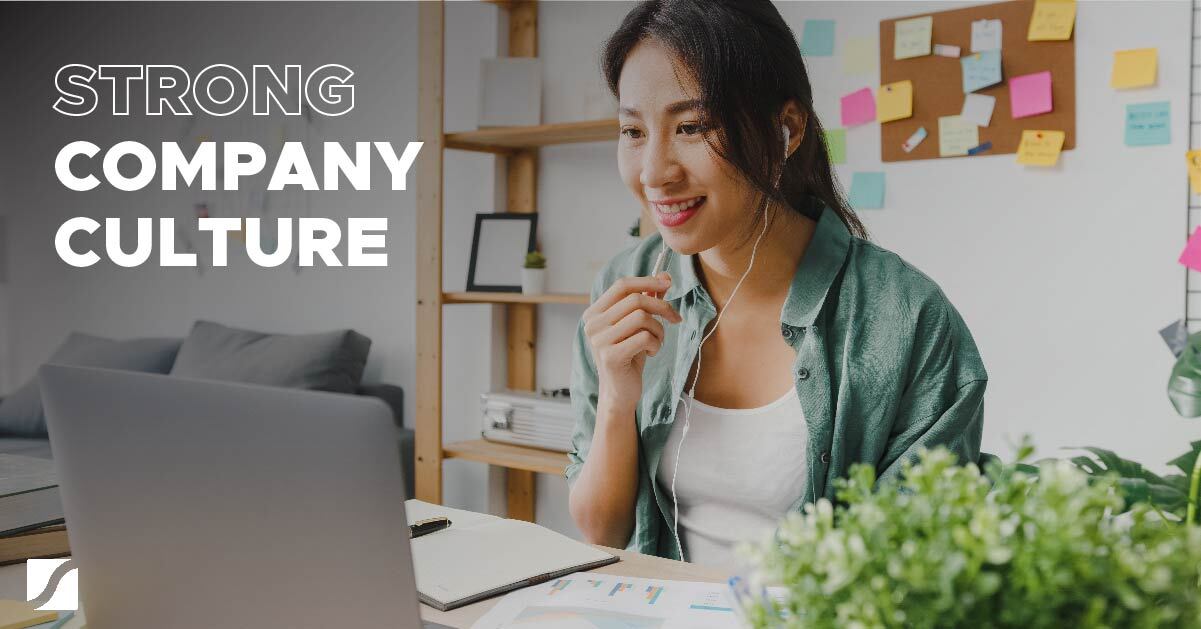 If you were bottling a secret sauce for successfully scaling a business, you'd include heaping measures of healthy culture and strong teamwork.

And in times of upheaval, you'd double those ingredients.

Findings from the Institute for Corporate Productivity (i4cp) show that high-performing organizations are 3X more likely to have a culture that embraces disruption as an opportunity to adapt. That same research found that 63% of high-performing businesses report strong collaboration.

But establishing the culture and teamwork that are so vital in corporate growth isn't easy. Scaling up is, after all, complex business.

Throw in workplace changes related to a global pandemic, and that challenge gets even bigger. So how do you navigate it?



Building Culture In A Shifting Work Landscape



"Work from home" is among the significant workplace shifts related to the coronavirus.

Owl Labs' report on remote work in 2021 shows the trend may be here to stay: 80% of employees surveyed expect to work remotely at least 3 days a week, even after the pandemic.

So how can you facilitate all the activities to develop a healthy work environment when your team members are distributed?

And with widespread remote work becoming the rule, not the exception, what long-term adjustments can you make to strengthen those teams?

Let's dig in. In this article we'll help you measure the resilience of your own organization's culture and look at 5 steps you can take to strengthen your teams right now, even if many of them are working remotely.



4 Questions To Evaluate Your Company's Culture



Strong cultures are at the heart of successful businesses, i4cp has shown. These healthy cultures are vital to job satisfaction for you and your teams and reflect powerfully on your company's brand.

Teams with a healthy culture are more productive and foster greater creativity. Their members also are more likely to stay at their jobs—another important consideration today, with a 2021 Willis Towers Watson survey showing 6 in 10 employers were having problems retaining workers and expected the problem to continue.

And a strong culture is a resilient culture, one that can adapt to shifts like the pandemic-related changes playing out now. So, an important first step in strengthening the culture of your company is to take the pulse of its adaptability.

Organizational culture thought leader Keith Ferrazzi has talked about 4 factors you can consider about your organization's employees. Your answers to the following questions about your teams can help you determine if your company culture is resilient in the face of change:


Do they feel comfortable sharing honest dialogue and feedback?
Open communication is critical in identifying and solving problems.


Do they care for each other and support each other in success and failure?
A focus on collective achievement, rather than individual success, is vital to navigating challenges.


Do they readily ask for and accept help when they need it?
In a healthy business culture, employees are willing to admit when they are struggling with a problem—and seek out to solve it.


Do they collaborate effectively to face changes or challenges?
Teams that thrive in the face of difficulties pull together to develop focused solutions, despite external obstacles.

Do your teams meet the mark in all of these measures? Or is it time for a shift in your culture?



5 Ways To Strengthen Teams In An Era Of Remote Work



If a culture reset is in order, taking key steps now can help you build a strong sense of teamwork and resiliency—no matter where your employees are located or what external challenges your company faces.

Strengthen your team and scale your business by following these 5 steps.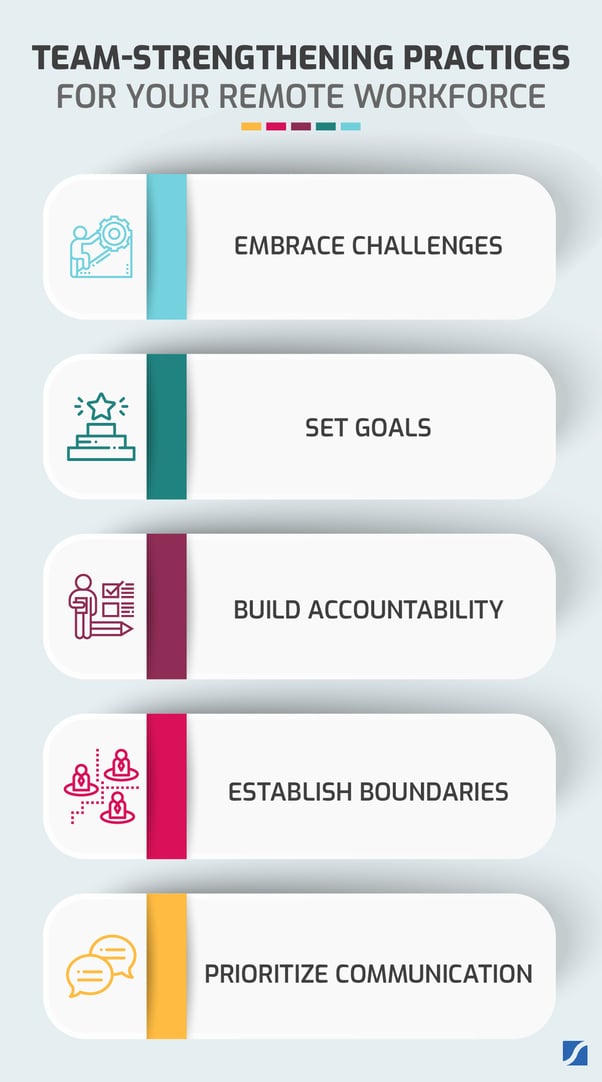 1. Embrace Challenges



Get beyond your team's—and your own—insecurities.

Acknowledge challenges, fears, and concerns. Then don't shy away from them; embrace and address them promptly. Ask employees to share their thoughts about the team and problems that exist, and then seek out solutions. This open acknowledgment and swift response builds trust and encourages healthy resolutions.


2. Set Goals



Establish clear performance goals that take the roles of all team members into account.

Clearly defined goals help focus employees and boost morale. And inclusive goals provide a common purpose that encourages collaboration, regardless of workers' physical location. They unite everyone under a common vision and outline objectives the whole team can work toward together.

3. Embrace Accountability



Incorporate deadlines and productivity measurements in the projects that contribute to the strategic vision, and set times for checking in on progress.

These clear timeframes and performance standards makes goals seem clearer, and it helps keep employees on task. It also can help your business to measure how its culture and team performance are affecting efforts to scale.


4. Establish Boundaries



Set expectations for how your teams spend their time—whether it's working traditional hours and disconnecting at the end of the day or allowing blocks of time off the clock throughout the day.

Solicit employees' input for ideas on how to set guidelines for availability. Then, when you set a policy, build trust and morale by doing more than paying lip service. Honor your commitment to work-life balance practices consistently.


Prioritize Communication



Face-to-face communication is important, especially when working remotely.

So establish standards for when this type of communication is the expectation. Then find collaborative tools that facilitate all types of remote communication, including informal chats that otherwise could be missing as employees work from home. Build resilience through communication practices such as:


Encouraging employees to openly share their concerns

Soliciting objective input on ideas and projects

Asking questions to learn about employees' work progress and concerns

Learn From A Top Organizational Culture Thought Leader



Now you've explored the value of a healthy culture and strong teamwork as you scale your business during these challenging times. You've gauged whether your own teams could use a reset. And you've learned key steps for facilitating stronger, resilient teams, even if many of your employees aren't physically in the office.

Now, you can hear directly from NY Times best-selling author Keith Ferrazzi in our upcoming training! Click below to learn more.