Employee & Leadership Development: How To Get Started [+ Examples From Top Companies!]

Daniel Marcos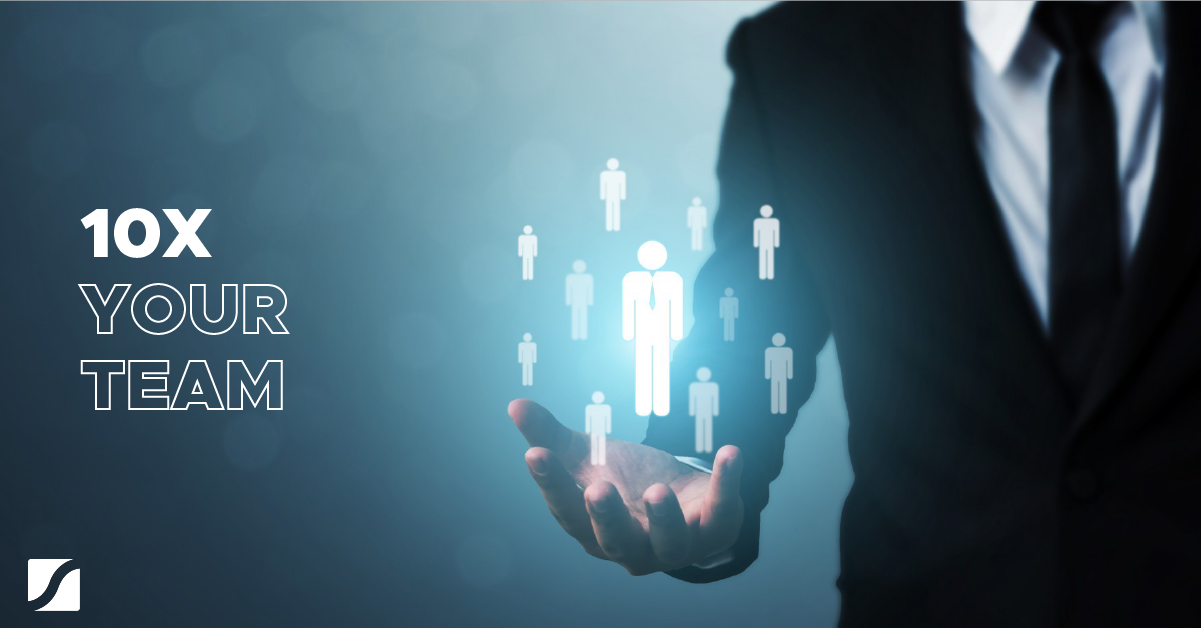 Career salesman, author and speaker Zig Ziglar was known for his wise pointers.

This one is my favorite:

"You don't build a business. You build people. Then people build the business."

It's so relevant to the challenge of entrepreneurs and leaders of growing businesses.

Whatever you're building, you'll need a team of talented and motivated people to take you there. And it's your responsibility as the CEO (or leadership team or department head) to grow and develop them.

Let's talk about learning and development and how the world's top companies are investing in it to solidify their long-term growth.



The Business Growth Barrier of Leadership and Employee Development

As you scale up, you'll reach 3 barriers that keep every company from growing to the next level.

These 3 barriers are:


Leadership development
Scalable infrastructure and
Marketing effectiveness
Learning and development becomes so critical when you're stuck by the first barrier: leadership development.


Development Puts Business Leaders Ahead Of The Competition
Henry Ford got it right.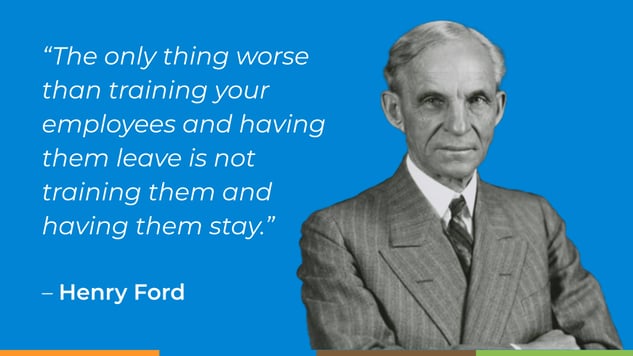 This applies to the leaders as well. As business leaders, we're not a profession. We can't call ourselves professionals.

Pilots are professionals. A commercial airline is the safest place you can be on the planet. And that's because commercial pilots are required to have 60 hours of training per hour.

It's the same with doctors, accountants, etc. They're all required to get certified and upkeep their skill and knowledge. But we rise to the position of CEO, or COO or any comparable title.

We have the letters but we didn't take a course to earn and keep them.

When you board a plane, the pilot wants to deliver a drama-free experience. It's the same when you're piloting your organization. You need the learning and development to perform better than you did yesterday.

At a very simple level, it doesn't even matter what you learn if you're willing to spend an hour a month. That investment in learning is going to put you ahead of most of your competition.

We live in a world where we're always updating our apps, operating systems, and phones. But how often are we updating our people, including ourselves?



The Impact of Leadership and Employee Development
When you don't develop your leadership team, you can get overwhelmed by all the challenges of scale: bigger competitors, more employees, increasingly complex projects and communications, and the need for more powerful systems.

But what happens if you don't develop your team to 10x their current potential?

People are more likely to move if their employer doesn't invest in their growth, according to an IBM study.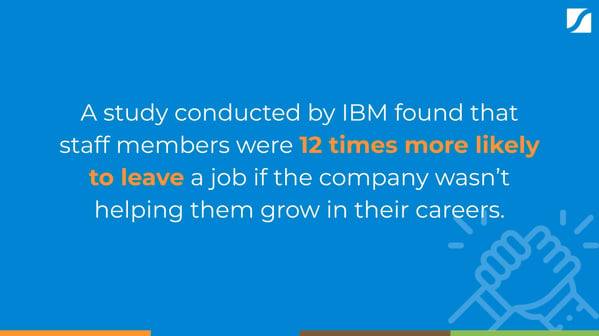 This means that lack of growth opportunity is contributes to employee disengagement. Around the world, unengaged employees account for up to $7 trillion in lost productivity.

But there's a flipside to this.

What happens when you make the investment to 10x your team?




How crazy is that?

Just by teaching and coaching your people, you could see growth up to 600%! And this expectation isn't just based in theory.

Some of the world's most valuable companies have been putting this knowledge into practice for years.

Let's look at some real-world examples.



How The World's Most Valuable Companies Are Developing Their People To Spur Growth
The best way to summarize what is key here is in one word: relevant.

How do you as a leader remain relevant and how do you keep your company - and everybody in it - relevant?

Here's what these leaders and companies are doing.


Bill Gates and his "Think Week" at Microsoft
For Bill, his way to stay relevant was to take his record 112 books, manuscripts, and documents to his "Think Week".

For 18 hours a day and 7 days straight he would plow through that information. Out of that, Bill was just looking for 1 or 2 breakthrough ideas that would keep him and his organization relevant.


Eric Schmidt's Weekend Reading At Google
Erik Schmidt had just become CEO of Google when he was asked a great question:

"What are you doing to keep up with the Google boys particularly with all this new technology that you'll be leading?"

Erik's response was simple:

"I just shut my blackberry off and read a book or two every single weekend."


Mark Cuban And His 1 Idea
My friend Verne Harnish knew Mark Cuban for several years.

But until he read Mark's book How To Win At The Sport of Business, Verne had no idea about Mark's routine of reading.

Mark reads at least 3 hours every day! And he does it to find just 1 idea that can help one of the 150+ companies he either owns or invests in.


Henry McGovern And His "Training Company" Amrest
Around the time the Wall was coming down, a 20-something Henry McGovern opened up his first Pizza Hut in Poland.

Speed forward 25 years, and Henry stepped down from his restaurant chain Amrest with 49,000 employees.

He didn't just scale. He turned it into the best performing European-owned restaurant chain in the world.

When asked about the stellar success of Amrest, Henry said, "We're more a training company than a restaurant company."


Steve Jobs and Apple University
We reached the 10th anniversary of Steve Jobs' passing not long ago.

Steve was one of the first successful young entrepreneurs that gave legitimacy to the profession. By age 30, he had scaled Apple to almost 2 billion in revenue.

Verne likes to state that he expected the company to fail after Jobs' passing. But Jobs impressed him again with the creation of Apple University, the company's corporate university in Cupertino, California.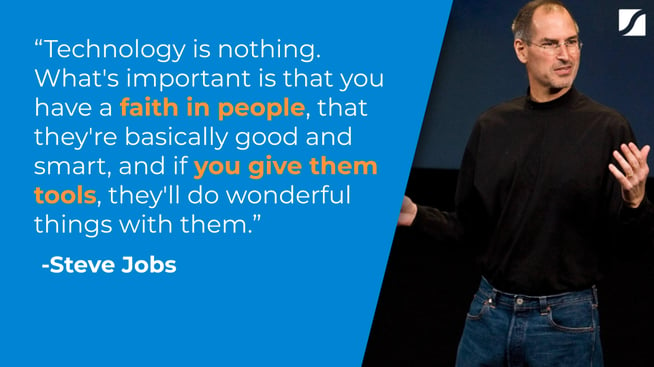 The university functions as both a training facility and a place for employees to adopt the key tenets of Apple culture. And the company has just kept going - recently reaching a 2.3 trillion valuation.

So, how can you achieve the same learning initiatives (and results) with your organization?



Build Your Own Learning & Development Program
Research has found that the best investment if you've got a marginal dollar is not in R&D or operations or any other area.

It's in the brains of your people.

A corporate university is one example of how to do this. It's a strategic tool designed to grow your organization and your people.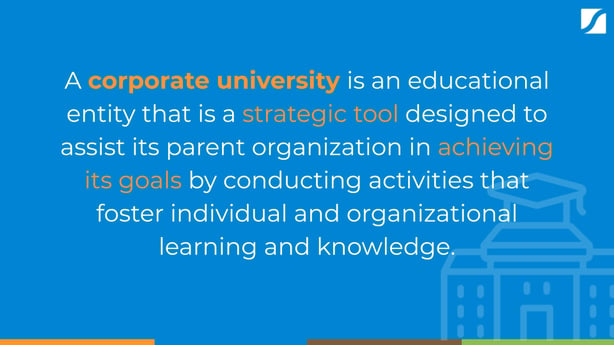 With Apple University, Jobs wanted to ensure the organization would continue to perform even in his absence. Maybe that's why 90% of Fortune 500 companies have a corporate university today.

But the challenge is this:

How do we make it easy for you to just adopt a corporate university - or similar learning program - that works?



Introducing The Master of Business Dynamics All Access Program
We created MBD All Access to help growing organizations learn, implement and scale rapidly.

As a business leader, you don't have time to learn. You have even less time to develop your team.

The MBD All Access program does it for you.

Through years of focus and iteration we've been able to achieve almost 70% graduation rates from our courses. I've seen these results firsthand – you'll implement just about everything you learn. You'll learn the top strategies to grow your business, you'll join a community of your peers, and you'll do all that with the guidance of our team of business coaches.

Click here to learn more about the program.