Last week, we invited Salim Ismail to join us on a webinar featured on the Business Growth Lab to talk about how organizations can accelerate their growth from acceptable to exceptional in today's rapidly changing world.
Salim has extensively researched what Exponential Organizations (ExOs) do to grow, combat, change and create 10 times more impact than their peers. With sharp insights into ExOs, he has helped a new generation of leaders manage exponentially growing technologies and defined the attributes organizations need to accelerate growth.
In the webinar, Salim gave us a peek into the compelling future of enterprises. This article summarizes the emerging trends and market dynamics Salim covered in the webinar, as well as the four specific steps organizations need to do in order to exponentially grow and keep up with a rapidly changing world and market. Here are the key points of each step.
Step 1: Transform Leadership
The world is facing an unbelievable pace of change. All of our education, training, and intuition about the world teaches us linear extrapolation. Yet the world is moving exponentially.
Take a look at 3D printing. When it first came out in the early 80's, the price performance was terrible. You could print out like .001 widgets an hour. Two years later, it double to .002 widgets an hour. And every two years it continues to double and grow exponentially.
These doubling patterns are unbelievably consistent through market forces. Drones used to have a range and capacity of carrying a 20 kilo package for 10km. Its price performance began doubling every nine months.
Every nine months, like clockwork, it doubled. From 20 to 40, then to 80 and 160. Then exactly on cue, in December 2017, Boeing announced this drone can carry 300 kilos. The price performance, once that doubling pattern started, did not stop. Every nine months it will continue to double until soon we'll have interesting parking applications where a drone will pick up a car and put it in a parking spot.
How do you increase the metabolism of your organization to match the crazy acceleration on the outside? You need to spot these doubling patterns early. If you don't, they will disrupt you. If you spot them early, you can leverage them and build your business on top of them.
Bottom line: To keep up with this exponential rate of change, transforming leadership is the first key step. We recommend making changes in the following four areas: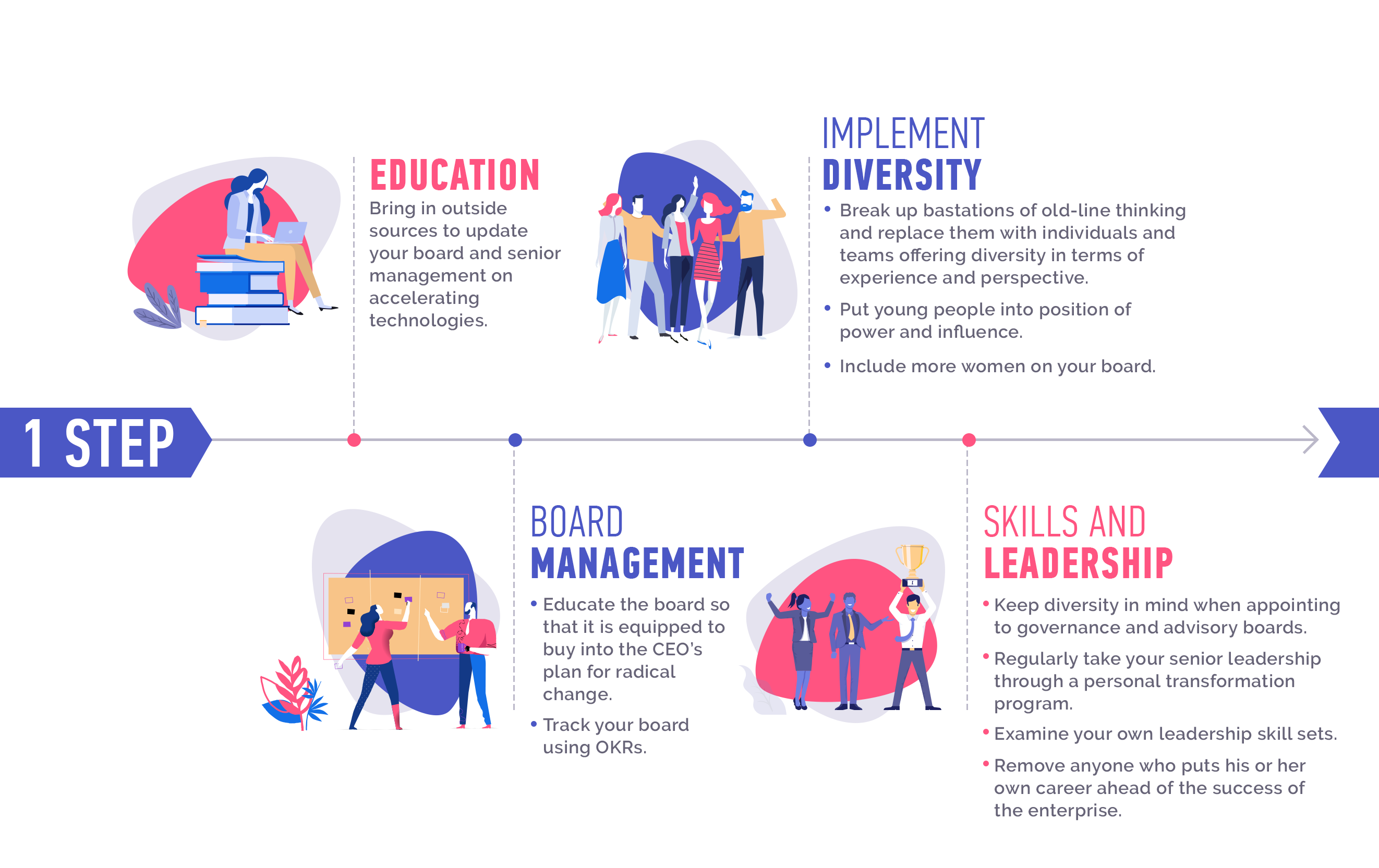 Step 2: Partner With, Invest In, Or Acquire ExOs
Imagine all the opportunities which you can build a business upon, if only you can spot the doubling trends. When radical disruption has become the status quo, any entrepreneur can enter a legacy industry, take on a beginner's mind, and totally disrupt it.
Take Elon Musk. His methodology is very, very simple. He looks at a technology that's accelerating. He looks out 10 years. Where will that technology be in 10 years on a doubling pattern? And then he aims his company to intercept that curve.
Since it takes about 10 years to properly build a solid, global company, he can fully take advantage of where the technology is accelerating.
So here's a big tip: Pick a technology in your industry or domain that's growing exponentially, aim a few years out, and aim to build your products and services there.
One important thing to note: If you try disruptive innovation in a legacy organization of any kind, you'll find the organization's immune system, which likes to keep things in status quo, will attack you.
Bottom line: A really central part of how we need to navigate this is to keep your disruptive innovations separate from the core operations by partnering with, investing in, or acquiring ExOs. Here are four options existing organizations can follow through with to work with ExOs.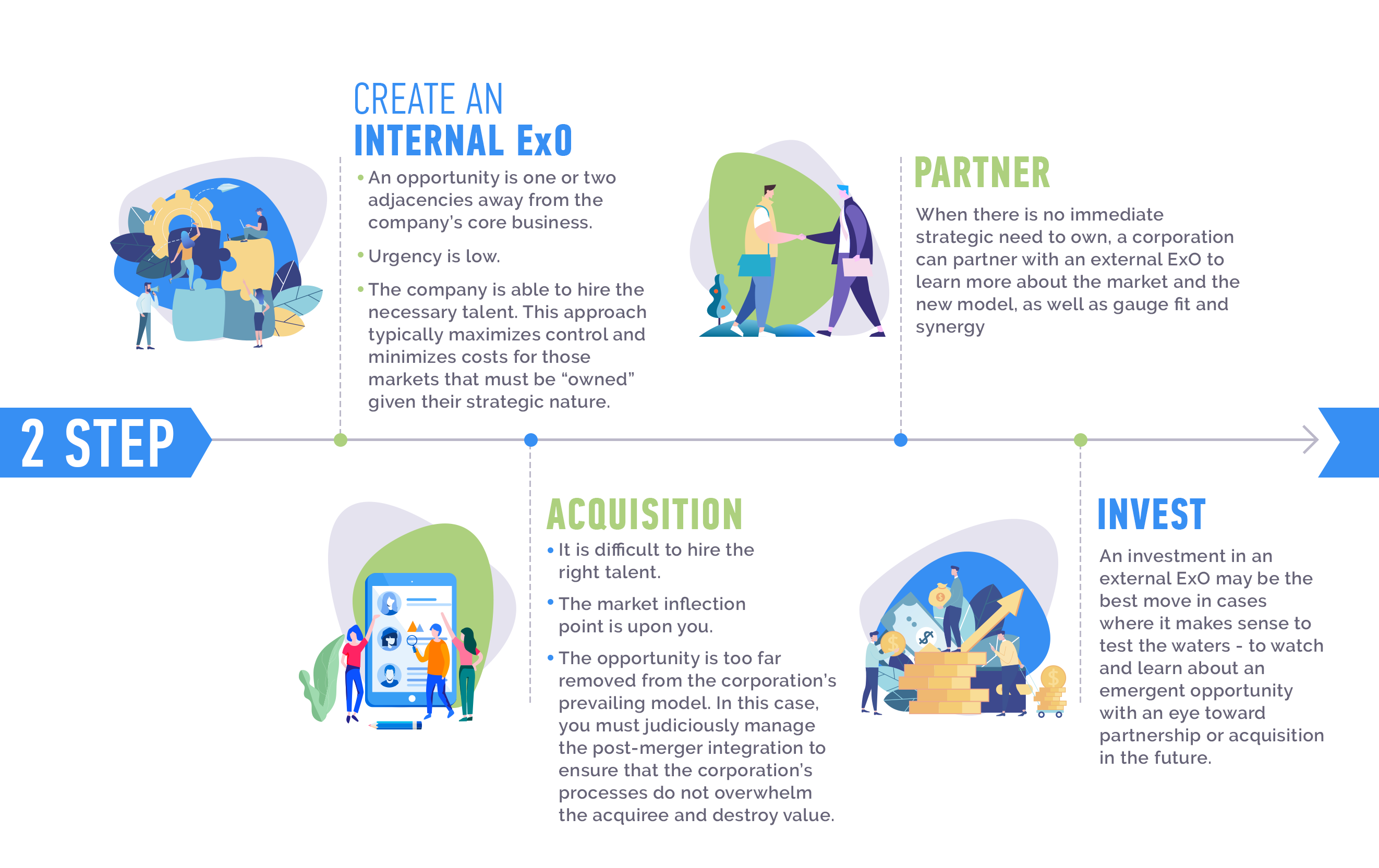 Step 3: Disrupt X
Once you take the actions to avoid being attacked by a legacy organization's immune system, you have the freedom to go to the next step; which is to disrupt.
This is where you can find new business models at the edge. In your organization, you're bound to have a few people that are totally crazy. They're super smart, they're really loyal, and they have great ideas. You never know whether to fire them or to keep them.
Take those people, they're the gold. Take them to the edge of the organization, give them a small team and say, "Go find an adjacent industry where we can 'really do some damage'"
Keep it stealth and as secret as possible so you're not invoking the mothership's immune system to attack because it's a different business sector.
Another approach is outsourcing the way H-Farm did. H-Farm is an incubator outside Venice in Italy. They have 400 entrepreneurs in residence. A big company like ING Bank or Porsche or somebody will show up and say, "I have a business problem." 400 entrepreneurs will think about it, and they will fund the best idea.
So that's a very interesting way of outsourcing disruptive and innovative ideas. You don't need a lot of money. You don't need a lot of bandwidth. You can just kind of show up with ideas or data. Show up with your existing problems, and people will help you solve it.
Another way of doing it is replicating Google[X]. At the core of Google is their core information capabilities to manage information. And then they add hardware, Google Glass, Google Car, and Google Loon to go into adjacent spaces.
Bottom line: Here are the four ways your organization can leverage disruptive technologies.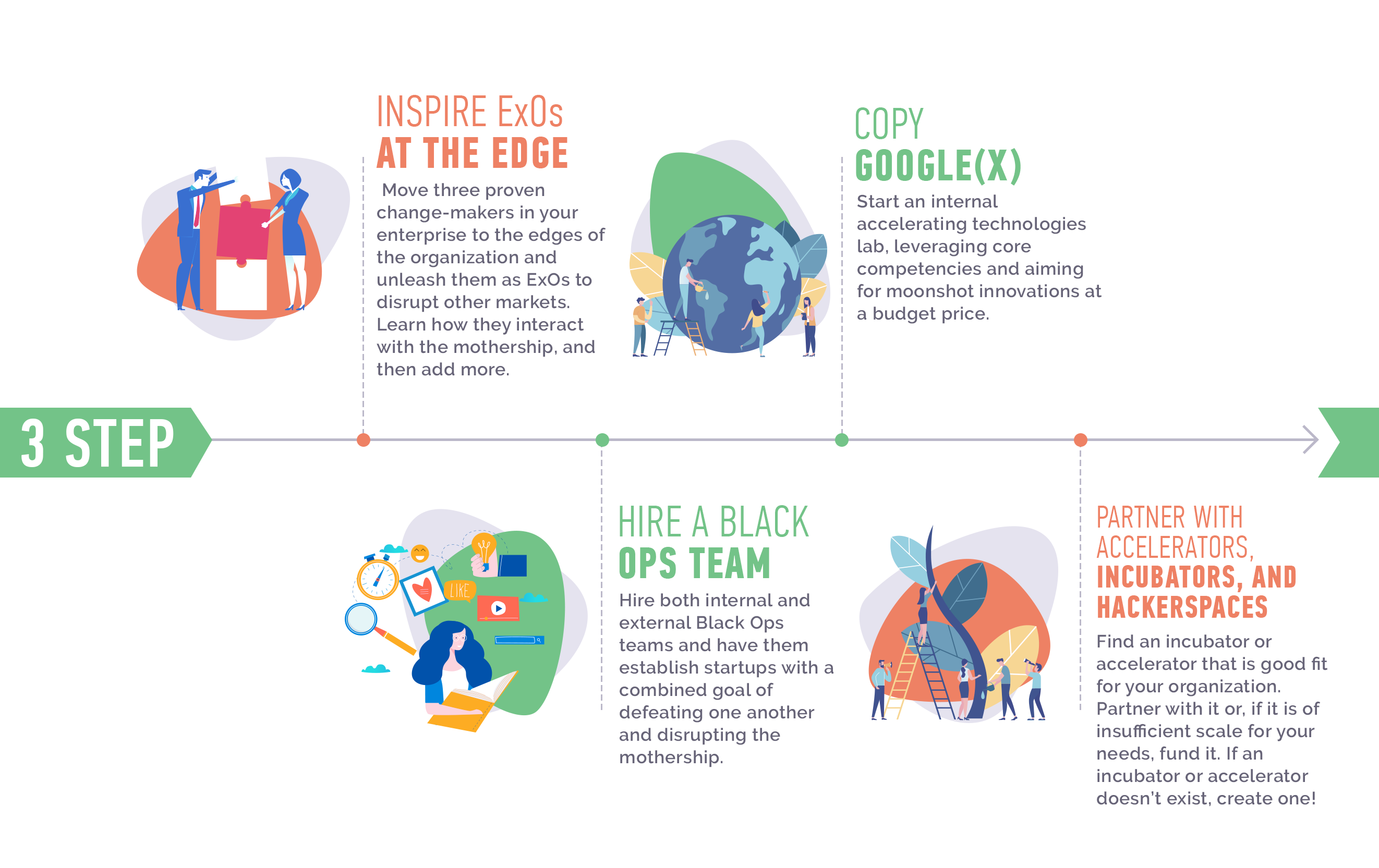 Step 4: ExO Lite
Exponential Organizations (ExOs) have 11 attributes in common. Of these 11 attributes, seven of them are the most important for existing organizations: MTP, community and crowd, algorithms, engagements, dashboards, experimentation and social technologies.
What we found in our research is if you fully implement four out of these seven, you get a 10 times improvement in your organization and give you a 10 times breakthrough. If you're building a startup, you should be implementing all 11 attributes because if you're not, somebody else is.
Bottom line: If you have a legacy organization, pick your top four attributes from the following list of seven most important attributes for existing organizations.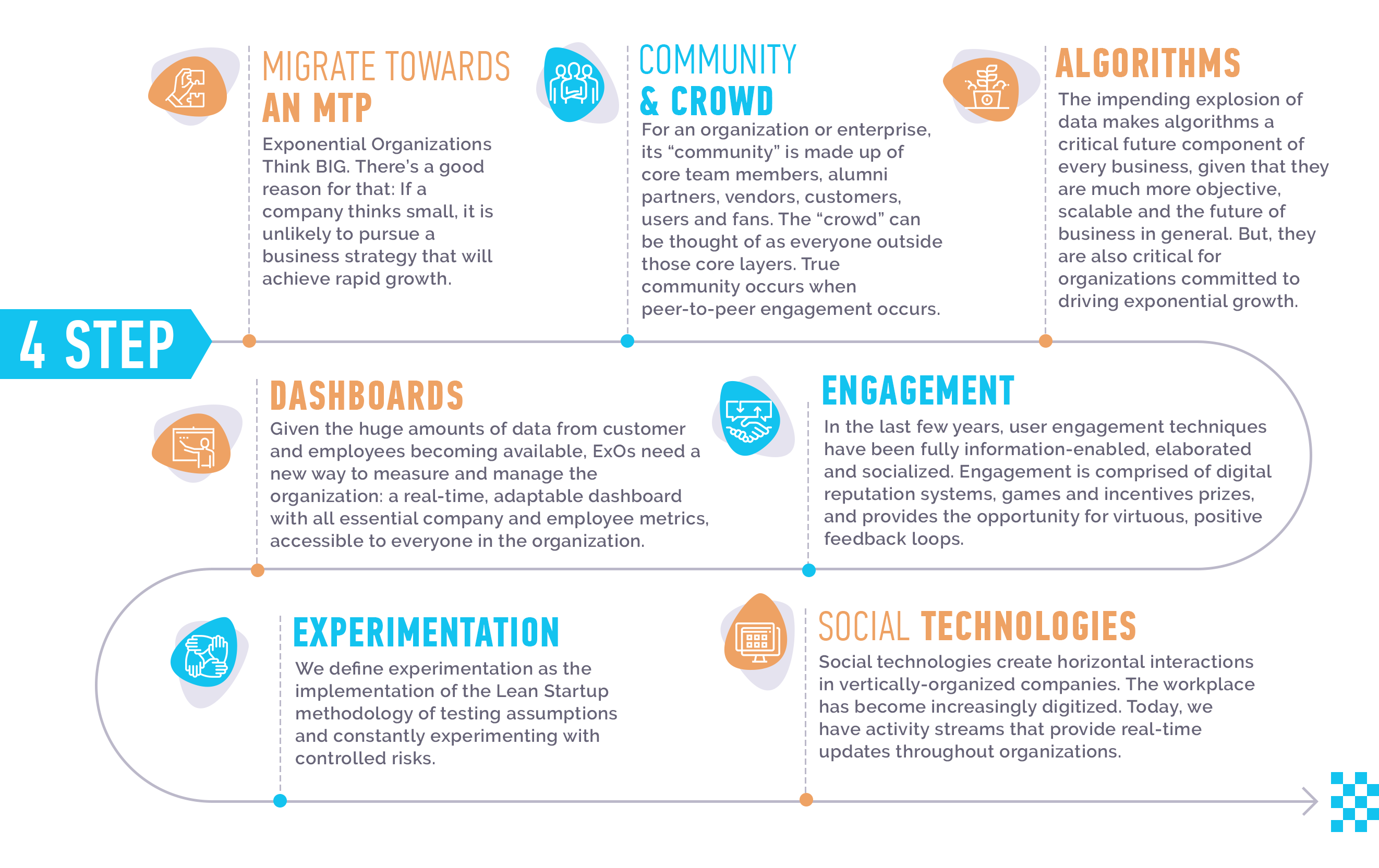 How To Implement These Steps Effectively
There are a couple of case studies you could model. A good one is a company out of Australia called Smartgroup. Smartgroup is a B2B organization specializing in HR benefits and fleet management for big companies.
The CEO of Smartgroup read the book, "Exponential Organizations". He launched 11 projects inside the company, one for each of the attributes. An MTP project, an algorithms project, and so on to a total of 11 projects. Every quarter, he re-ups the project.
The result: They've seen their market cap triple three years in a row. Each year it triples, the market cap triples. If you were to check out their stock price on the Australian Stock Exchange, you'll see it's done very well. And so, if you want to do this really aggressively, just launch a dozen projects inside your company and go.
Transform Your Business into an Exponential Organization
The Exponential Organization Master Business Course provides you with professional feedback, peer support, accountability and external perspective (we all know how it is hard sometimes to think "outside of the box") so you can apply the ExO methodology successfully in your organization.
Within the program, you'll be getting the highly-qualified guidance and support from Salim Ismail, Kent Langley, and ExO Coaches, plus an extremely dynamic and valuable network of leaders from all over the world.
Go here to know more about the course and be notified when the new cohort starts.