To face today's challenges, we need strong leadership and for our teams to be quick on their feet.
To do so, we need to ensure that we are effectively - and continuously - growing stronger leaders.
As a CEO and CEO coach working with hundreds of business leaders for over two decades, I have witnessed the difference between good and extraordinary leadership more than once.
The key difference I found, is extraordinary leaders have an unshakeable commitment to developing themselves as much as they focus on growing their business.
To put it in the words of John F. Kennedy: "Leadership and learning are indispensable to each other."
By adopting the following seven leadership development habits, you can 10x your leadership capabilities and take your team with you.
1. Start By Committing Yourself To Excellent Leadership
Excellence cannot be attained without a commitment to constant learning. That goes for your entire team, but it all starts with you.

Are you asking yourself these kinds of questions?
"What else is possible?"
"How can I do this more effectively?"
"Which approach works best for me?"


When you're committed to your own leadership development, these are the questions you tend to focus on the the most.

Mark Divine –a former Navy SEAL, author of the bestseller Staring Down The Wolf, and our leadership thought leader at The Edge – says that there are three key attributes for achieving excellence:


1. Curiosity
2. Innovation
3. Simplicity
These three should be fostered in your team, but you are the one who needs to commit to them first if you want to be able to lead by example.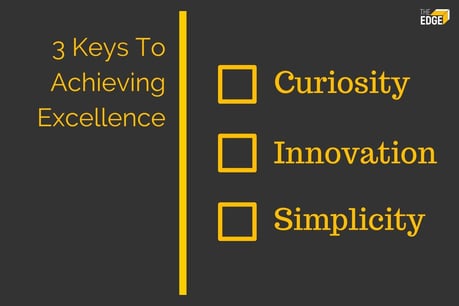 Curiosity is all about asking questions and following them. Curiosity is a skill. It's the starting point for your own development and can be implemented at the individual level and at the team level.
Innovation is then a process that you can implement to ensure constant change. Failing forward fast and always trying something new allows you to stretch your capabilities.
Simplicity is the practice of always asking "How can I do the same with less and still be effective?"
In his course, Mark shares the story of a former Navy SEAL officer who really exemplified this type of commitment to excellence – "Demo Dick" Marcinko.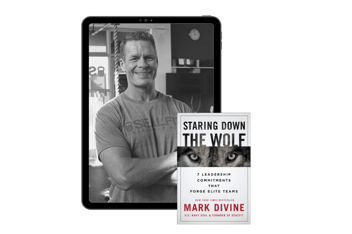 Marcinko served as an officer during Vietnam, rose to the role of commander later in his later years, and then became an author and motivational speaker after retiring.
He was so effective as a leader because he was always thinking way in advance. He didn't rest on his previous accomplishments, but instead was constantly experimenting with how he could lead his team and execute their tactics even better the next time around.
If you stay curious about your leadership approach, experiment with different methods, and then simplify your process, you will vastly accelerate your own growth – and the growth of your team.
2. Prioritize Learning and Act On Newfound Knowledge

"We are what we repeatedly do. Excellence then, is not an act, but a habit." – Aristotle
Committing to leadership development only works when you do. That's why you want to make learning and implementing your new knowledge a habit.
Steven R. Covey, author of The 7 Habits of Highly Effective People, points out that taking time to "sharpen the saw" is the most important habit of all seven, as it makes all the others possible too.
We don't want to become the lumberjack who is too busy sawing. You want to make learning one of your first priorities and schedule it into your calendar.
Dr. Micheal Breus, also known as "The Sleep Doctor" and author of The Power of When, is an expert in chronobiology - the science of good timing. He found that the best time to learn new things is generally between 10:00 am to 2:00 p.m. and then again from 4:00 p.m. to 10:00 p.m.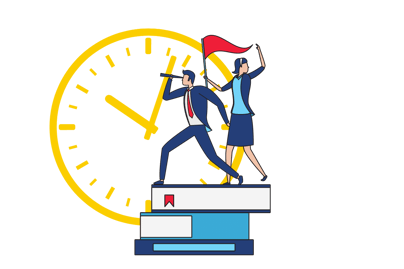 Also remember that it is not necessarily about the amount of time you spend learning. It's about the quality of your methods.
According to neuroscience and a theory called "Spaced Learning," ten minutes a day might be a lot more effective than an incidental hour here and there. Short but frequent learning with time spaced out in between appears to be the best approach when you don't have the space for more time-intensive options.
But remember: nothing is really learned until it's implemented. So challenge yourself and create at least one action step after each learning session.


3. Start Working With a Mentor or Coach Today
If you can only implement one thing on this list today, start with this one.
I have yet to meet a business leader who didn't make massive progress from checking in regularly with a mentor or a coach.
Unless, of course, they had picked the wrong mentor.
Having mentors has certainly been one of the main contributors to my own success as a CEO. They're the ones who have been able to guide and propel me further than I ever could have achieved on my own.
Personal guidance through challenging transitions is simply invaluable - especially when you are implementing new methods, tools or approaches.
Coaching ensures that action steps are being taken and questions are answered quickly along the way which keeps you from losing momentum.
Coaching works especially well for people in leadership and executive roles, because a coach enables you to identify and get rid of your blind spots.
A coach isn't there to make you feel comfortable, they're here to do the opposite. They will challenge your convictions, put your approaches to the test, and help you stretch your capabilities.
As opposed to working with an accountability partner in your own organization, there will also be no conflict of interest. An external coach will be brutally honest (if needed) and keep you accountable.
To find the right coach for your leadership development, make sure to look to people that inspire you in that area.
Read their books, talk to your peers about your objectives and their coaching experiences, and take classes or follow seminars from those who seem like a strong fit to mentor you.
4. Turn to Your Peers For Advice - And Make This Your New Normal

When it comes to leading yourself, your team, or your entire organization, nobody has all the answers.
That's why connecting with a group of peers who are in similar positions as you is so powerful.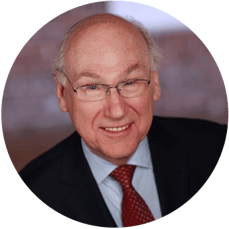 An experienced entrepreneur with a track record of building nine-figure businesses, John Wilson has coached hundreds of high-performing CEOs and entrepreneurs to greater success.
In his book (also presented by video in our Edge library) "Great CEOs and How They Are Made," John calls the peer group connection the "mega imperative" for being a great business leader.
It's so important, he says, simply because those other leaders, managers, and CEOS will hold you accountable for all of the other key points you need.
But if you're still unsure how much you can takeaway from a peer group, John would ask you three questions.
Question #1: If you could have one decision back that you have made in the past year, which one is it and why do you want it back?
Often the answers vary between hiring a particular person for a key role, going in a specific strategic direction, or expanding into that market or product.
So then he'd continue: What if you could ask a group of peers what they would do before you'd make any of those decisions in the future?
Question #2: What are the two biggest strategic decisions you have to make in the next year?
Tapping into the experience of others and asking them what they would do in your position tremendously increases the chance of you finding and making the right decisions.
Question #3: What is the number one thing you need to get better at?
Chances are, there will be leaders around the table that are very good at what you are trying to learn. Their guidance and support is then invaluable.
So connect with your peers and be ready to learn from their experiences and advice.
If asking for help or advice doesn't come natural to you, make it so by practicing it every day. If you believe that you should have all the answers yourself, you will only stand in your own way.


5. Collect Employee Feedback Like Your Business Depends On It – Because It Does
If you want to make serious progress, you need serious input from your employees.
Gathering employee feedback is a habit highly recommended by one of my own top 3 mentors, Verne Harnish, founder of the Entrepreneurs' Organization and bestselling author of Scaling Up.
Verne suggests collecting employee feedback about opportunities and obstacles every single week.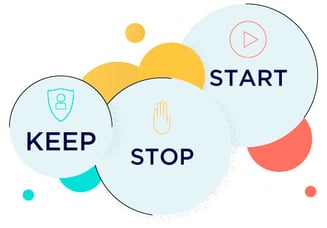 But the work does not end there. It's one thing to collect thoughts and ideas. It's another to act on them. You need to gather the input, and then make sure that are "closing the loop."
That's why, in the Rockefeller Habits, Verne recommends making your mid-management responsible for processing what has come up.
Founder of CJ Advertising, Arnie Malham, is an entrepreneur, author, and thought leader on best culture practices. He did a similar thing in his company with what he calls the Morale Survey.
After repeatedly "getting it wrong" when it came to hiring, firing and everything else related to building a business, Arnie stumbled upon a bold, culture-first approach that turned the tides.
Every month he would send out a survey to his entire team with one question: "On a scale of 1 to 10 with 10 being the best morale you could imagine in a work environment and 1 being the worst, how does our company rate?"
Everyone was asked to leave a comment, but employees rating the company's morale with a 4 or lower were required to do so (or else, their vote would not be counted). He'd then sit down with his leadership team, go through all of the comments together, and reply to every single one of them.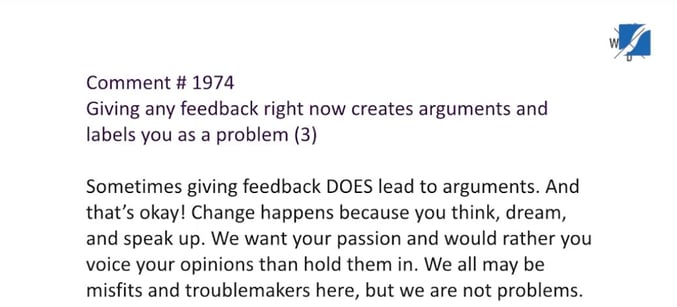 Arnie and his team would get together and reply to every single comment they received in their morale surveys.
Although he admits it is not always easy to hear and deal with everything that's being said, it keeps your leadership team fully aware of the pain points and bottlenecks in the business. This enables you to make the necessary and impactful changes.
By putting culture first, CJ Advertising grew to become the largest full-service, brand-building agency in the country for law firms. Arnie was eventually able to sell CJ and a related call center business, Legal Intake Professionals (LIP), to separate buyers in 2017.
To get honest answers from your employees, be sure to create a safe environment for sharing. Arnie suggests listening, not reacting, and then own your flaws when they are brought to the surface.
As it turns out, there's still more to gain from this habit. Not only will you be able to improve yourself and make current employees better equipped to do their jobs, you will attract better future hires and create happier customers too.
Jeanne Meister, Founding Partner of Future Workplace, best-selling author and expert on the future of work explains it most simply: Happy employees make happy customers.
Various research has shown there is a direct connection between the two. That is why she recommends all CEOs to visit their Glassdoor.com pages regularly, really take in what's being said on there, and respond.
Some companies, like IBM, are even actively inviting their workforce on various critical stages in their employee journey to leave a review on Glassdoor about their experience. This way, they can both learn from the negative ratings and ensure that positive experiences are well reflected too.
Whether you actively ask for employee reviews and engage with them or not, know that your company is already being reviewed – so you might as well learn from it and grow.
6. Build Your Emotional Resilience – And Spread It To Your Team
If the COVID-19 pandemic made one thing clear, it's this: effective leaders are the ones who are able to rise to the challenge when faced with uncertainty and the possibility of panic in the business.
An expert in psychology and business leadership, Daniel Goleman says that the trait that really makes leaders great is emotional intelligence (EQ). That is what ultimately enables them to keep growing themselves and their team, Goleman found.
Emotional intelligence is simply the ability to recognize your own emotional state. If you understand how certain situations affect you, you're better prepared to "roll with the punches". This is why working on your emotional resilience is a great habit to instill.
Emotional resilience is how well you can adapt when stressful situations affect you emotionally. It is indispensable for business leaders, because it enables you to build trust in times of change, handle stress, and keep people focused and aligned.
Christine Comaford, one of the world's foremost experts on business leadership and culture, has advised 700 of the Fortune 1000 companies and two White House administrations. She teaches extensively about this essential soft skill.
According to Christine, there are in total seven steps to building emotional resilience. I'll share one here that you can use whenever you need it: releasing resistance.
Ask yourself this: Whenever a stressful change occurs, what is my default reaction?
Are you a team that has a reaction of resistance, frustration, anger, and dismissal?
Or are you the team with a reaction of consent, curiosity, inquiry, and open-mindedness?
For the team that has a default reaction of resistance, it is difficult - if not impossible - to be open to new possibilities.
But when you have the second reaction of consent and curiosity, you're able to stay open. You may still experience the stress but instead of getting buried under it, you say: "OK, this is the situation. I feel overwhelmed. So... now what?"
Consent in any situation does not mean approval per se, Christine explains. But it's a way to stay present with what the situation is without rejecting it.
Apply Christine's Maneuvers of Consciousness exercise. Through this exercise, you can let go of resistance more easily. All you need is a timer. Christine recommends a buddy too:
Do a negative evaluation
For 3 minutes say out loud all the things you dislike about the situation or change. Then count to ten and shake it off (emotions carry energy).

Get curious about the situation
Ask yourself for 3 minutes: how did this come to be? Why do I feel this way? What's good about it?

Get amazed by it
For the next three minutes, move into fascination with the change or situation. Ask yourself: what is amazing about it?
Honor and appreciate it
In the last three minutes it's time to completely shift your emotional state. How has this experience been super helpful to bring you to the next level? Feel gratitude for it and appreciation.
In twelve minutes this exercise can move you from anger and frustration about a situation into appreciation for it – and that will certainly affect your decision-making and leadership abilities.
7. Lastly, Don't Forget To Have Fun With Your Own Growth Process
Without fun, it's much harder to try new approaches and stay open for whatever comes next.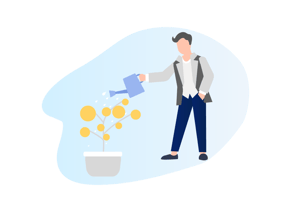 It's important that you find your own learning habits engaging. So stick with whatever works for and engages you.
Great leadership is not a nice-to-have if you want to survive – let alone thrive in today's competitive business environment. You and your team have to adapt faster than ever before.
When you implement these seven habits, your leadership skills will inevitably improve quickly. And with the proper resources and tools to support you along the way, you'll be amazed at how far you can transform your own leadership.
So commit to excellence, prioritize learning, work with a coach, connect with peers, collect employee feedback, work on your emotional resilience, and make sure you have fun. And above all, stay inspired. You're the one who sets the example for the rest of your team.
If you want to start off on the right foot immediately, read below to learn more about how we are helping leaders transform their growth with The Edge.
Become a Better Leader With Easy, Daily Learning
As a busy leader, you want to make sure the time you spend developing yourself is invested in relevant and quality knowledge.
That's why we created The Edge, an online library that sends you daily - and short - business lessons that you can easily apply to your own growth.
With The Edge, you'll get the tools to faster results, confident execution, and a well-trained team in just 10 minutes a day!
Discover how flexible and easy it is to strengthen your leadership skills with The Edge today!