How To Get Your Employees Engaged, Motivated, and Performing Better

Daniel Marcos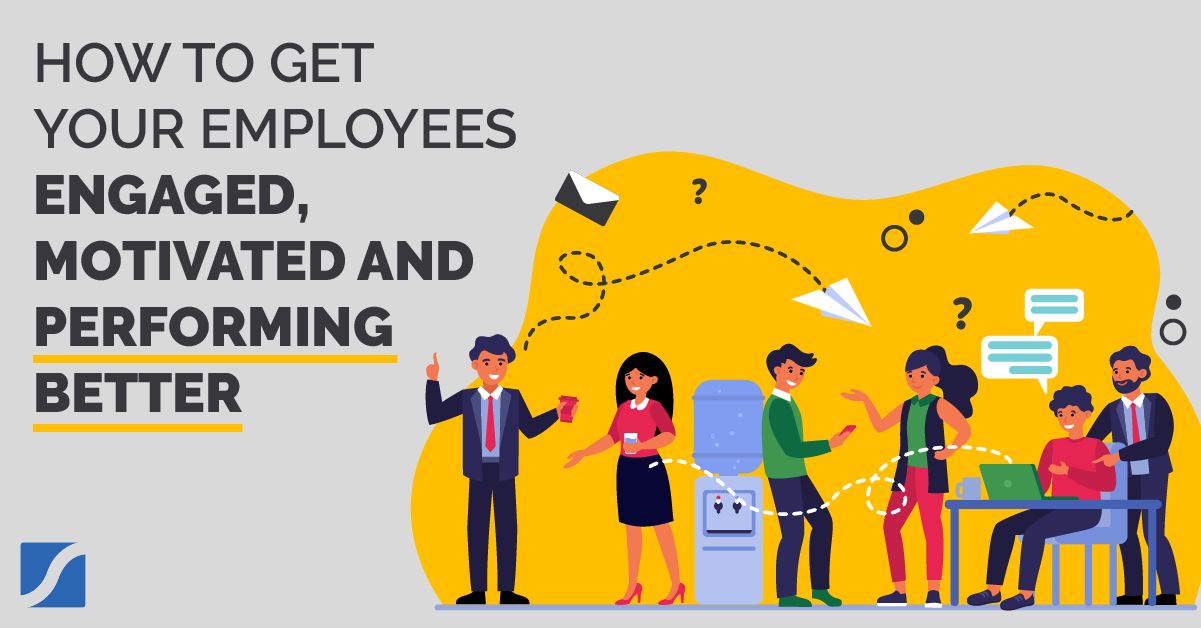 When your team is full of engaged and performing employees, everything just works.

The job gets a little more fun. Your meetings become more healthy and productive. Issues on the team are brought up, discussed, and promptly dealt with.

Even more, this level of productive energy spreads throughout the entire organization to drive even more value and impact for everyone with a stake in your vision.

If this is what it's like to work on your team, then congratulations! Only 15% of the world's employees are actively engaged employees - and it looks like many of them are on your team.

If you're wondering if you employ the other 85% that are disengaged or actively disengaged, then you may want to read on.

As your team grows, so does the complexity of your operation. This opens the door for more drama and more stress for both leadership and your employees.

The problem is that unengaged, unhealthy employees often don't bother excelling in their role. While this won't exactly burn your organization into the ground, it will still degrade the team morale and culture, quality of deliverables, and performance over time.

You can still meet your goals and thrive with unengaged employees, but it will be a slower, more agonizing effort that wastes energy and a lot of time.

Because of these reasons, it's important to understand what's missing in the organization or your leadership, so you can address the issue and take action.


Reasons Why Your Employees Are Not Engaged or Productive



The quality of employee engagement on your team is generally broken down into one of the 3 levels.

Employees are either:


Actively Engaged

Disengaged

Actively Disengaged


Actively engaged employees are exceptional contributors. They voice their ideas and concerns, take ownership of their role, and live the organization's core values.

Disengaged employees are generally apathetic towards their work. They put in the time and do the bare minimum of what is expected of them, but don't really fill their work with passion.

Actively Disengaged employees are more obvious in their dissatisfaction. They live out their unhappiness through their attitude, relationships, and decision-making in the company.

In either case, performance and delivery are the areas that suffer.

There's a variety of things that could explain why employees end up dissatisfied working for you. Maybe it's their pay, issues in their personal life, or they may have been a mis-hire from the very beginning.

At the heart of it, there are three main reasons why people on your team don't perform as well as you'd like them to.


1. Values Mis-match With The Company Culture
It's something we hear from Verne in Scaling Up time and time again: The executive team must be healthy and aligned.

This really goes for the entire company too.

Even if they have a high degree of success and are well-liked within the team, your people will not perform at their best for the company if they are not aligned with it's values.

2. Lack Of Connection To Their Teams
What do you need to be able to enjoy and feel happy in your work?

Humans are social creatures. We love to connect with others and we crave to feel part of a community.

Your company and your team are no different. If you're not building an environment where strong and healthy relationships can flourish, then it's a sure bet that your company culture will suffer.

3. Lack of Opportunities For Growth
Humans are also aspiring creatures and with that comes the need to strive for some type of goal or vision.

When it comes to A Players and high-performers, these types of employees tend to be ambitious and come with high standards for quality. If your company doesn't provide this environment to foster continuous growth, your people will recognize that this is not the place for them.



Engaging your employees and growing them into more effective contributors is about taking a good, hard look at these three areas. You want to be able to evaluate if your people's needs as professionals and individuals are being met.

Addressing these gaps means setting up the systems in your company to meet those needs.

Here are some simple and effective strategies you can use to help your employees get more engaged.


#1 Align Employees To The Culture and Values of the Organization



"Who's on the team? It's all about the Who." - Geoff Smart, The Power Score

This goes back to what Verne so often presses leaders about People in Scaling Up.

"You've got to have the right people on the right bus."

The first thing to get right about building engaged employees is to make sure that alignment is a priority right from the very beginning.

You want to be sure that you are hiring people who are not only a strong fit for the role, but also for the organization as a whole.

This really comes down to culture fit. That's why you want to have a very clear definition of what drives your culture and brand identity. These definitions establish expectations for how people should operate in your organization.

Here at Growth Institute, we want people who are fanatical learners just like us. I truly believe that any problem you have can be solved by reading a book about it, or watching a video, or just digging a little deeper for more information. And that's why I expect all people on my team to share this mindset.

If someone applies to work here, you can bet that we'll be asking them very early on about their learning styles, their learning attitude, etc.

The best way to ensure employees are aligned with your culture and values is to define to them what they are and say "This is what I expect from you."

Then it's just a matter of emphasizing these core values over and over and over again during their time with your company.

If your people can easily relate your company's purpose and culture at any given moment, you've done your job well here.

Action Steps For Aligning Employees With Company Core Values:
Write down your overarching purpose as a company and your core values and display them where the team can see


Include steps in your hiring process that evaluate people for alignment with your company's core values


Create one employee experience that expresses and reinforces how your culture and values are critical



#2 Foster Strong and Healthy Human Connections



People are inherently social creatures.

It should be no surprise then that we crave to feel connected with the people we spend most of our waking time with. So, how do we as business leaders help these connections happen between employees?

Gregg Lederman is a bestselling author and founder of multiple employee engagement companies. Upon a decades-high mountain of research, he's distilled three things that people need at work to feel ultimately fulfilled:


The need for Recognition

The need for Respect

And the need for Relationships

Let's break these down a bit:

Recognition
People have a need to be recognized for the skill and perspective they bring to the table and for the challenges they have accomplished.

Respect
People want to be respected for who they are as individuals and professionals and how they contribute to the team.

Relationships
People want to lead quality and fulfilling relationships with the people they work with. The most important relationship to people? It's with their boss.




Leaders in the organization act as guides for employees. You set the emotional tone and drive the strategic direction. It's no surprise that the manager-employee relationship is so important to get right.

But the relationships that employees have with their peers are no less important.

Mo Fathelbab has been workshopping with executive leaders for decades to help them improve their quality of personal and work relationships.

He says that quality relationships have these 7 key traits:


Judgement-free

Mischievous fun

Vulnerability

Kind truth

Reliability

Sharing and generosity

Shared purpose and values


Fostering this kind of connection with and between employees is critically important to the health and culture of your organization.

In a sense, if your employees are not each other's biggest fans, then you are just leaving time and money on the table.

Back when just about everybody could work safely from busy offices, fostering these kinds of connections was a lot simpler.

We could organize a team get-together, have a one-on-one with people, jumpstart some kind of office recognition program, etc.

But connection with a remote team is still doable.

Our own team organized a virtual escape room via Zoom with people joining in from Texas, Mexico City, Canada and even Portugal! We encourage the team to get to know each other (outside of their work lives) on Coffee Dates via Zoom. Our Head of Growth Alex even enjoys organizing virtual cooking classes for the team to learn new recipes at home.

Even if you can't share the same office space, modern tools make it easy to hop on a video call and make something happen.


Action Steps For Helping Your People Stay Connected:
Set aside time each week to dole out praise to deserving employees. This can be anywhere from 5 minutes to 30 minutes. You are the best judge of your schedule.


Look out for opportunities in your company rhythms where you can make it easier for employees to foster positive relationships with each other.


Publicly encourage employees to create an open space where they can socialize and get to know each other. This can be something as simple as a scheduled Zoom call every week or as elaborate as a virtual escape room like our team did!



#3 Give Your Team Opportunities To Grow



People who are actively growing their skills and abilities tend to perform better over time and are eager to contribute more.

When people don't find opportunities to develop themselves, they tend to feel "stuck" and unmotivated to contribute. If there is no clear path for advancement in the organization, then your employees will feel like they have nowhere to grow and stop putting in the effort to contribute.

No clear training opportunities also tells your team that their growth and development is not valued to the organization.

Offering learning and development opportunities to your employees shouldn't be so complicated. Something as simple as a Lunch and Learn program can help you kickstart this initiative.

Here at Growth Institute, we offer a yearly learning stipend for employees to take advantage of so they can develop themselves. As long as it is within budget, anyone on the team can use that stipend for whatever learning opportunity best suits them.

We also have company subscriptions to Masterclass, DigitalMarketer, and other learning sites where anyone can take a class and get certified if they wish to do so. People who take these courses learn something new and then they bring those skills back to their teams and implement them. It's a win-win!

On top of that, we encourage our employees to take part in our own learning programs. They can join in on live sessions for our Master Business Courses, jump on a Scaling Up live session, or take some time to learn from our many courses on The Edge.

The best way to approach learning and development for your team is to have a clear roadmap in mind. You'll want to establish clear goals for this initiative, choose a learning format, and set learning KPIs.

If you don't have the bandwidth to establish those goalposts, you can start by meeting with your employees for a 1-on-1 session. Ask them how you can support them in their own growth and development and then give them the resources they need to meet their goals.


Action Steps For Helping Your Team Develop Themselves:
Schedule a meeting with your own employees and ask them about their learning and career goals


Create one program to incentivize and encourage employees to read more



Engagement Drives Performance and Innovation

Something we've seen a lot from companies this year is a focus on people.

Because, if there's anything we've learned as students of Scaling Up, it's that your company is only as strong as it's people. There is no substitute for a team of creative, inspired individuals showing up everyday to build your company's audacious goals.

If you notice signs that someone on your team is not engaged, it's a matter of talking with them and working to address the issue.

But the work doesn't end there. Ideally, you're actively building the kind of company that people are excited about starting their Mondays off with.

It's up to you as company leadership to build the environment that aligns them to your core values, helps them build strong connections, and supports their growth.
. .
Give Your Team The Learning and Support To Do Great Things
The Edge is designed for busy leaders and entrepreneurs who seek the most relevant business education to coach their teams.


With The Edge, you'll get the tools to faster results, confident execution, and a well-trained team in just 10 minutes a day!


Discover how flexible and easy it is to strengthen your leadership skills and your team today.