As leaders, we are always searching for simple steps to strengthen our team's execution and boost critical thinking among employees.

You can accomplish this through many different methods – but here's an easy way to get started: the Lunch and Learn.

By properly implementing this collaborative learning habit, you can boost results with a very effective use of your - and your team's - time.

From team-building to feeding inspiration – we've found the Lunch and Learn effective for various reasons and purposes, which I'll dive into below.

But because it's so easy to organize, costs little time, and sparks unique conversations, we consider it one of those low-hanging fruits that helps move your organization forward.

With just one monthly or bi-weekly session, you get to ensure regular face time with your team and you make looking at your business in new ways a team habit.

So let's get started.

What Is A Lunch and Learn?



A Lunch and Learn program is exactly what it sounds like: it's time you schedule to learn over lunch.

In the Lunch and Learn, executive or managing leaders come together with their team (or with the teams they lead) over lunch and use that time for a workshop, a training, or any type of learning discussion that best suits those who who attend.

With this type of program, you set aside 1 or 2 hours to meet with your team, go through learning materials together, spur healthy debates and discussion, and define which actions will be taken afterwards.

At Growth Institute, we envision it as a space for leaders and employees to get together to discuss relevant business topics.


This enables everyone to get involved in growing themselves and the organization.

Depending on your organization's most pressing needs, you can use the Lunch and Learn program for various purposes, such as leadership development, cross-training, execution, or culture-building.

Why Learning Over Lunch Is Such A Great Idea For Team Leaders



Arguably the most effective leader of all times, John D. Rockefeller already knew it back in the day: getting together with your team over lunch provides invaluable insights for running your business.

That's why he made it a point to have lunch with his key people every single day.

Each month at Growth Institute, we choose a different team member to be our discussion leader. They pick a course from The Edge, (our learning platform for team leaders) and instructs everyone to watch the chosen program prior to our gathering. Then that discussion leader prepares discussion questions and leads the conversation over a delicious meal.



Everyone has a chance to speak and bring their thoughts to the conversation. We discuss which ideas we liked, things we didn't agree with, and then create action steps that we could take ourselves to serve our clients better.

But it's obviously not just about getting together.

The Lunch and Learn is valuable because it elevates your mind from the day-to-day problems and gets you thinking about new concepts and ideas related to your business. By discussing these ideas with your team, you get new perspectives and refreshing conversations that otherwise might not occur.

That's also why it's not just for your executive team alone.

Lunch and Learns can provide tremendous value for teams throughout your company.

Although the habit is simple, it helps you improve critical functions and skills in any team and, moreover – it strengthens your organizational culture.

Verne repeats this mantra often in Scaling Up: a strong culture leads to superior performance, higher employee retention, and a better-aligned organization.

4 Ways Lunch and Learns Benefit Your Team



Getting together with your team to learn over lunch is a great bonding experience on its own.

But the Lunch and Learn is also a great critical thinking exercise for leaders and employees alike.

This simple and easy-to-implement program allows you to harness the benefits of collaborative learning and spread them throughout your organization.


#1 You get face time with your teammates and team members



Mo Fathelbab is a seasoned leadership speaker and an expert on the keys to building stronger relationships at work. In times when people are rarely going to the office anymore, he says: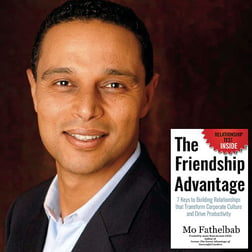 "Having an intentional process for bonding and connecting your team members is more critical than ever. And it's also easier than ever."


The more we work remotely, the more we understand the value of face time and jump at an opportunity to get it. Even if getting together physically isn't possible, a video call makes a big difference.

You can do a 1 or 2 hour session on Zoom and it costs next to nothing compared to the admin and lodging costs of sending people to a retreat or a conference or a special event.

Face time contributes to building stronger relationships, increasing trust, and enhancing engagement.

Again from Mo:

"If we don't spend time to make sure people are connected, then we're going to lose the continuity of teamwork for the team to be able to be effective and help each other out."

If you want to create a company where people love to work and put their best foot forward, then it's important that they have a space where they can connect and get to know each other.

Lunch and Learns put face time on your schedule.


#2 You spark healthy debates around issues and topics that you wouldn't talk about otherwise



Agendas and topics are usually pre-set for any meeting. You put time on the calendar. There's an issue or strategic decision to go over. And then you discuss what to do about it.

But if you get together with the purpose of learning something new, then you spark a whole different type of conversation.

Think about it. How often do you get to hear your team's input about your own leadership style, diversity in the organization, client-facing issues, unreported operational challenges, or general employee morale?

The Lunch and Learn is a platform for open debate. It's where you can encourage open sharing around topics that affect how the organization operates. When your team members get together to share their ideas in these areas, everyone learns about and understands their role more.

That's how we get people aligned and speaking the same language.


#3 You look at your business from a different perspective - your team's



With any typical business issue, you most likely already have your go-to methods of solving that problem.

You can order a book on the subject from Amazon, call up a mentor to ask for advice, or consider relying on a Google search to get your answers.

With the Lunch and Learn, you and your team introduce new approaches and methods. Then you work through understanding how they fit into your strategy together.

Ideally, you're not the only one leading the discussion. We suggest you rotate. This way, you'll gain insights and ideas that otherwise may have never surfaced.

Our own Growth team has prioritized topics related to business with our own monthly Lunch and Learns. We pull courses to discuss directly from The Edge, our learning platform for team leaders. All of The Edge courses cover one of 8 business topics: strategy, culture, execution, people, cash, marketing, sales, and leadership

One of the very first courses we chose to discuss was on the topic of brand and culture.

To prepare, everyone on the team had to watch Denise Lee Yohn's course, Brand Fusion (from The Edge.)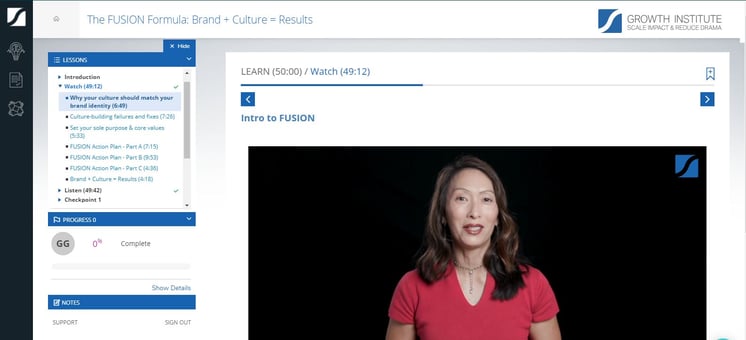 From this course, our team talked about what makes our culture unique and what we can do as individuals to live our values everyday. Surprisingly, the team ended up discussing something important to them that doesn't even show up on our core values: the need to work hard and strive for excellence.

Another course from that we covered was Mo Fathelbab's 7 Keys to Building Relationships.

This Lunch and Learn was timely for our team, because we had since gone fully remote and were still getting used to the new realities of not being in the office together anymore. Developing relationships with your team is harder than ever in this situation.

The Growth team then had a conversation about the quality of the relationships between everyone on the team. It was a revealing talk that really highlighted just how essential connection is for people to work together - especially when they are distributed.

Everyone had something different to say about how they felt about the quality of their relationships in the company.

This just goes to show that talk time reveals insights that you don't always get in your daily huddles or weekly check-ins. The Lunch and Learn opens the door for these revealing insights to happen organically.
#4 You get a highly effective way to grow your team and, by extension, the business



Because of the very nature of the meeting – getting together to learn with and from each other – the Lunch and Learn is the perfect setting for deep dives.

With people in different roles reflecting on the most relevant issues, everyone walks out of the session with a better understanding of the business than before.

This is important because it contributes to the very real need to educate and grow your people if you want your business to thrive.

As Arnie Malham, author of Worth Doing Wrong often says: If your people grow then your business grows as well.

The Lunch and Learn is such a no-brainer because it is one of the easiest and simplest ways around to grow and develop your team.

When you learn something new, you can't unlearn it. You can't forget that lesson from your mind and not implement it into your new routine.

When the people on your team attend the Lunch and Learn, and have a discussion around a business topic that interests them, they take it back to their own work. They get ideas that they would not have had if they hadn't attended that discussion.

Then they modify that knowledge to work for them, which enables them to perform better and produce better results.


How To Organize An Effective Lunch 'n Learn



If you want to make the most out of the Lunch and Learn, you have to set up all the ingredients that make it worth your team's time.

There's no need to overcomplicate it either.

By taking the following 3 steps, you should have figured out everything you need to get this initiative rolling.

Step 1: Define What You Want To Achieve With Your Lunch and Learn Program




Like with any learning activity or initiative, your Lunch and Learns will be the most effective when you set predefined goals or outcomes.

So before you start, decide what your main objectives for the program will be. It will help you set the right expectations and get buy-in from your teammates in the beginning.

You can host a Lunch and Learn to achieve any number of goals with your team.
Regular Lunch and Learns with employees
and the team can help you:
--> Develop the leadership skills of people on the team


--> Introduce new and innovative ideas into the organization


--> Put discussions on diversity and inclusion front and center with your team

--> Give employees a regular outlet to develop themselves personally and professionally

--> Get everybody even more aligned on the company's core values

--> And so on...
Try not to overthink this step. Just keep it in mind as you pitch this initiative to your team and do the work of organizing it on a regular basis.
When our Growth team launched their Lunch and Learns, they did it because it gave everyone on the team the opportunity to connect with and get to know each other. By meeting up to discuss our own learning content, they were able to get aligned on the quality of learning we strive to deliver everyday with our own products.
For us, the Lunch and Learn has become one of our own ways of actively living our core values. Whatever goal you have for your own program, make sure your team understands it too.
Step 2: Get The Lunch and Learn On The Calendar



Next, choose the ideal frequency and location. We've chosen monthly sessions with our team, but bi-weekly or even weekly sessions could work too.

Whatever works best for your and your team is the best route to take.

Depending on team size and location, you can opt for virtual, in-person or hybrid sessions.

Remember that facetime delivers a big chunk of value, so if you can't have a physical get together, you should still use the proper video tools and plan ahead for technical problems.

You can also provide some good food. This is not required for a successful Lunch and Learn session, but it's something our team does occasionally.

Especially with remote Lunch and Learns, the addition of gifted food gives the discussion a more informal and social mood.

You may also want to make the program voluntary and make sure to let your team know that if it is. The last thing you want to do is start an initiative that your team will feel obligated to take part in.

Step 3: Choose Your First Host(s) And Let Them Choose The Topic



We've found that our Lunch and Learn program works best when everyone on the team has the chance to choose their own topic of interest and open it up for discussions.

That's why I suggest switching up the host every time you meet up.

Select someone to choose a topic and rotate between team members each time. Ideally, you also assign someone who can lead the discussion. This ensures the conversation stays focused and it doesn't veer off track into unrelated topics.

Based on your objectives, you can preselect categories in which you'd like to learn something new. But to keep everyone engaged, it's advisable to center every session around a different topic of interest to all members of the group.

Our Growth team tends to keep their Lunch and Learns centered around topics like strategy, culture, leadership, execution, marketing or sales. We do it this way because it is how our courses in The Edge are organized.


Which Topics Can You Cover With a Lunch and Learn?
--> Talk about the Culture of the team


--> Talk about the company's Strategy


--> Talk about the company's or team's Leadership

--> Talk about the organization's Marketing

--> Talk about Execution in the organization

--> Or let the host choose a different topic!
Even if a topic would not be 100% strategically aligned, you can still foster better alignment in the meeting with healthy debates.
Lunch And Learns Enable Your Team To Grow And Develop



When executed well, the Lunch and Learn is a great tool that helps you strengthen culture, enhance performance, and boost results.

By discussing important topics in a completely different context and by implementing key learnings straight away, you will end up solving issues before they even arise.

It's one of the surest ways to keep sharpening the axe and make improvement a habit for yourself and your team.

Ready to take the next step?

The courses on our leadership development platform, The Edge, are all geared to help you and your team learn more around business topics that cover strategy, marketing, sales, execution, and more.

With the selection of video courses presented there, we allow some of the brightest minds in business to enlighten us with their methods and approaches for scaling organizations.

Learn more about a free trial for The Edge below.
.
Give Your Team The Learning and Support To Do Great Things
The Edge is designed for busy leaders and entrepreneurs who seek the most relevant business education to coach their teams.


With The Edge, you'll get the tools to faster results, confident execution, and a well-trained team in just 10 minutes a day!


Discover how flexible and easy it is to strengthen your leadership skills and your team today.