Sales and marketing can be a rocket-fueled business-growth engine.

But without the proper support from CEOs and other leaders, it can also be an insidious business-growth killer.

That's why out of the 3 potential barriers to scaling your business, business growth expert Verne Harnish calls marketing effectiveness as the most critical to get right.

Not only does sales and marketing draw in business, it also attracts employees, attention, and investors.

So, what can your executive team do to support marketing and sales — and make it a growth engine, instead of a growth killer?

Here are 3 areas you can focus on to help your company's sales and marketing stand out.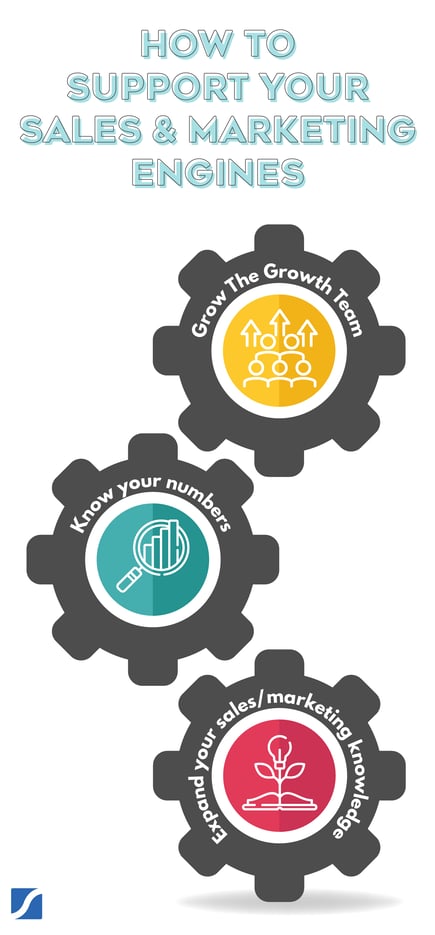 1. Grow Your Sales And Marketing Team



As a business leader, you want to start by ensuring that your organization has the right people in the right places to scale marketing efforts.

Here's what these business leaders recommend for shepherding effective sales and marketing:


Focus On Salespeople, Not Sales



Jack Daly, author of The Sales Playbook For Hyper Sales Growth, tells corporate leaders that a sales manager's job is not about managing sales. It's about managing salespeople.
Make sure you build the right team to make your sales and marketing soar.


Discover Where To Find Top-Quality Talent



When sourcing talent, look to your "fishing holes" as a resource.

That's going to be your network and the places where you can reliably find the people with the growth marketing savvy you need.


Hire An A-Team Of Sales And Marketing Staff



Dr. Brad Smart, author of Topgrading, urges business leaders to recruit, hire, and promote top-10% job candidates that give your organization a competitive edge. Only 25% of employees at most companies are in this top category of performer.

Divide Your Sales Functions



Traditional sales approaches call for hiring a salesperson to handle large accounts. But Caryn Kopp, co-author of Biz Dev Done Right, recommends a different path for assigning sales responsibilities. Hiring a salesperson for each step in the sales process — "door opening," attending meetings and closing sales, and growing accounts — allows more time for creating additional top-of-funnel sales opportunities.


Ins
pire 'Irrational Loyalty'



Branding expert Deb Gabor says the technology- and Covid pandemic-driven changes that the marketplace is experiencing make this a perfect time to shore up your brand's strategic foundation. She recommends efforts that inspire "irrational loyalty." In other words, become an advocate for sales and marketing campaigns that bond customers to your brand so tightly that going elsewhere would feel like cheating.



2. Know The Numbers You Need To Scale Marketing



A core tenet of Harnish's Rockefeller Habits is the importance of defining performance numbers that each employee works toward. After all, you wouldn't go to a sporting event where no one was keeping score.

Keep score of your sales and marketing strategies with these tips:


Understand Sales And Marketing KPIs



With hundreds of metrics to measure sales and marketing effectiveness, it can be a challenge to nail down the numbers that best tell your organization's story.

Harnish recommends reviewing Key Performance Indicators (KPIs) at KPILibrary.com, which includes descriptions of hundreds of KPIs in the sales and marketing category alone.

According to Brafton, a global marketing agency, and Toggl Track, a productivity company, these are some top sales and marketing KPIs you can follow:


Cost Per Lead: Marketing Cost / Number Of Leads Generated

Traffic-To-Lead: Number of Site Visitors / Number Of Leads Generated

Sales Revenue: Price Per Unit Sold X Number Of Units Sold

Customer Retention: Customers Gained - Customers Lost


Churn Rate: Number Of Customers Lost Or Gained / Total Number Of Customers Served



Collaborate To Set Performance Goals



Set the tone for your company by ensuring that sales and marketing team members help establish their own, tailored KPIs.

Daly says the first step in putting salespeople first is to work with them to negotiate minimum standards of performance for each individual — instead of simply assigning those goals — to encourage buy-in. The employee's past performance should dictate new goals, to ensure that top performers are sufficiently challenged and new employees have realistic objectives.



3. Expand Your Sales And Marketing Knowledge



Grow your sales and marketing expertise through continuous learning. A variety of online resources and books can keep you abreast of the most impactful strategies to scale marketing efforts. The following are a few to get you started:


Online Learning
Books
Take The Next Step To Growth Marketing Success



Provide the support your sales and marketing needs to make it a growth engine — and not a growth killer. Start your learning journey now to discover how to build and grow your sales team, inspire their work, and measure results.