Why Hybrid Learning Is Critical For High-Growth Startups

Daniel Marcos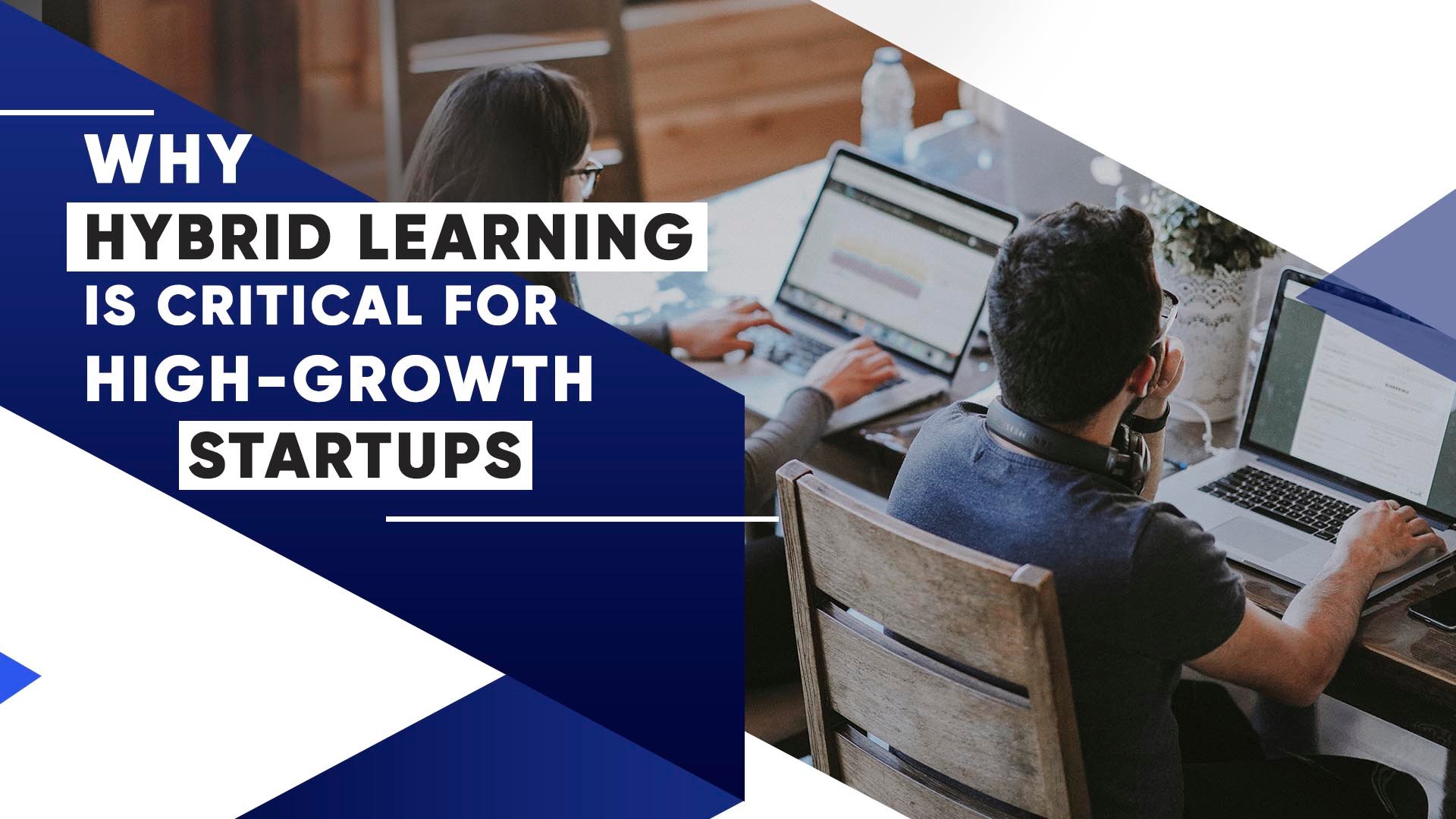 The Chaotic Startup
You've probably heard the statistic many times: 9 out of 10 startups fail. Why is that?

According to a poll by Fortune, some of the top 20 reasons that founders have cited as the reason their startups have failed included not having the right team, running out of cash, lacking a good business model, poor marketing, losing focus, burning out, and disharmony within the team.

If I could sum this up in one word, it would be "chaos".

Startups need to figure out how to assemble so many moving parts all at the same time, that things just get very chaotic and overwhelming, very easily.

This is why it's so difficult for startups to achieve sustainable growth. But it's not impossible.

In this article, I'm going to walk you through what startups need to do to manage the chaos and transform themselves into a scaleup.


4 Noble Mistakes CEOs & Leaders of Startups Often Make

Before we dive into the best path to take to grow your startup, it's important to have a better understanding of the paths to avoid.

First, let's acknowledge how easy it is for startups and the leaders of startups to find themselves stuck in between a hard place and a rock. The chaotic nature of startups will often lead the team into a firefighting mode of trying to solve one problem after the next.

It could be that one day, the startup is facing a cash flow crisis. So everybody focuses on pushing for sales. With all the attention on sales, nobody is checking for product quality and before you know it, customer complaints and returns become the biggest issue. Now, everybody shifts their attention to solve this problem, and guess what? Other things start falling through the cracks.


"I think in the early days of a startup, you sort of see a problem and everyone just kind of runs towards it. And you just throw everything you have at every single problem.
And I think as we got to about 50, 60, 70 people on our team, we started to have to make more complex decisions about resourcing and problem-solving and it wasn't effective anymore."

~ Sam Pessin, COO, Remote Year

And so the cycle continues from one problem to the next. Sometimes, it's multiple problems at once.

Many CEOs and leaders then end up feeling frustrated with this ongoing string of problems limiting the startup from growing the way they envision. They want to solve every problem as quickly as possible.

This can lead them down one of these four paths in a noble attempt to solve what they think is the most urgent problem at hand:


Buy a book that seems to address the problem. Give it to the person in charge of "solving the problem". The person reads it and gets excited about the "solutions" it presents, and tries to implement it in the business. But the results are lackluster and it's actually hard to get everyone on board and aligned with the new implementations.


Hire an expensive coach to help them "break through" the problem, and work to find solutions, but again, with limited results that fade over time.


Enroll the leadership team into a mastermind group in hopes that the inspiration of a solution will follow. This may be exciting at first but often ends up just putting more ideas in front of the leadership team. There is no clarity, and the startup still does not have the tools, time or experience to actually implement many of the ideas.


Purchase tools in the hope of solving the issue. However, this gets expensive because no matter how many bright shiny new "solutions" you buy, it's often a gamble whether they will actually work.


If any of this sounds familiar, don't beat yourself up. It's not that any of these things are wrong.

What you need to understand is that because a startup is at such a complex phase brimming with chaos, the solution you need will not exist in a single, neat bubble.

What you need is a hybrid approach that can tackle the complexities and chaos of startup environments.
How to End the Chaos and Scale a Startup
The first thing startups need to do to actually solve the problems they face is to step out of the firefighting mode. This might sound impossible, especially if the startup is caught in the thick of chaos.

However, there's a simple trick to switch from firefighting mode to scaleup mode, and it starts with building the right skills, systems, habits and routines that will prime your path to fast growth. Instead of tackling each problem head on like how you'd grab the bull by the horns, the startup needs to shift into a completely different space that focuses on creating an environment and culture that doesn't "aggravate the bull" in the first place.

If you want to sustain long-term growth without burning out, it's really important to establish this culture shift throughout the entire organization. That way, you can scale the startup without overworking your best players or burning them out.

In other words, by having the right systems and support in place, startups can shed the chaos and scale with less drama, all while enjoying a better quality of life.

But what exactly is the right systems and support?

Well, as I have covered in the previous section, it's not just about picking up a book, hiring a coach, joining a mastermind group, or investing in some tools to solve an isolated problem. Remember, the startup chaos can't be solved by trying to microsolve every single problem that comes up.

What you need is a more holistic approach that creates the right structures and frameworks to bring order to the chaos, and allow the startup to flourish and grow.

Over the past several years, we have trained thousands of companies in over 60 countries implement the proven systems and frameworks to grow and scale with less drama and enjoy a better quality of life.

We have developed a unique process, not available anywhere else, for startups to follow, that actually has an implementation and completion rate of around 70%, as opposed to the average 3%.

It's called "The Hybrid Method of Learning", and here's why it works better than isolated solutions.

Our unique approach is a 4-step process which leaves nothing to chance. Using this 4-step process, we help startups create the right environment and habits that optimize productivity, organization, and reliability.

In other words, the Hybrid Method of Learning gets to the root of the chaos issues, which instantly reduces the drama in a startup so the team can focus on growth and progress, not problems.


Accelerate Your Startup with the Hybrid Method

"The Hybrid Method of Learning" works because it's not just one thing or the other… it's a 4-step integrated process that helps you create a deliberate practice to reduce chaos and get results.

Here's what your experience of "The Hybrid Method of Learning" will look like in our popular Scaling Up for Startups Master Business Course.


Step 1. Direct Learning from the Top Thought Leaders

When it comes to business, nothing can get better than learning directly from the experts and top thought leaders who invented and created cutting edge strategies of growing companies.

It's the best way to avoid misinformation and also ensures you don't get a watered down version of the concepts. This will increase your chance at an accelerated breakthrough.

In the Scaling Up for Startups Master Business Course, you'll learn directly from Verne Harnish through the on-demand seminars available on the platform.
Each seminar dives deep into one of the 4 Decisions of Scaling Up: Strategy, Cash, Execution, and People.



Step 2. Live Group Coaching Sessions

Once you've learned about the Scaling Up methodology directly from Verne Harnish, the next step is to get clear on the concepts and make a plan for exactly what you need to do to implement it.

This is where the live coach-lead group sessions of "The Hybrid Method of Learning" come in. We don't leave you to create a plan from scratch on your own using only the book. Instead of just the content, you'll be relying on the guidance of a trained expert.

A certified Scaling Up coach will host live group sessions, so you can get your specific questions answered, review case studies, and focus on the next steps for implementation. These sessions ensure you make a plan - and keep you accountable for it.


Step 3. The System Toolkit

Once you have a plan of action, you need the tools to implement it. This part of "The Hybrid Method of Learning" ensures you get results from your investment.

You will receive tools to speed along your implementation of the Scaling Up methodology, such as the Big Hairy Audacious Goal (BHAG) and One Page Strategy Plan (OPSP) tools.

These tools are your roadmap to give you direction and get on track, as well as to help your startup team stay on track  –  easily  – almost like a step-by-step blueprint. Most importantly, your Scaling Up coach will meet with you to help you fill out your Scaling Up tools, clarify your implementation, and drive action.



Step 4. Peer Masterminding

The final piece of "The Hybrid Method of Learning" in the Scaling Up for Startups Master Business Course is a mastermind process that connects you with other startup executives who are implementing the exact same systems as you.

These mastermind meetings are you chance to share stories and roadblocks, get feedback from your peers, and prepare for the challenges ahead.

The more you can collaborate with other like-minded peers at your level, with similar business problems, issues, and opportunities, the more accelerated your learning and action.


Get Immediate ROI to Scale Up
Scaling Up for Startups Master Business Course follows "The Hybrid Method of Learning" methodically, every single week  – and it's how we've helped thousands of companies in 60+ countries.

You will achieve and see results (i.e. your "Immediate ROI"), consistently, every single week.

This process is so powerful – it's a bulletproof strategy, and why we can say we have implementation rates of around 70%.

Startups who work with us not only understand "how" to make the changes needed in their companies, they are enabled to finally "make" the changes, step-by-step, rapidly, without burning out or losing steam.