Imagine having thousands of stories about your company published by mainstream news around the world. How much money do you think you'd have to fork out to get that kind of coverage for your business?

If we were to play by the old rule book of marketing, it could easily cost you millions to secure advertising during one of the most anticipated nationwide events or to garner mainstream news coverage.

Luckily for Encore Wynn Hotel and TIO Business Insurance, they didn't play by the old rule book — and by doing so, saved hundreds of thousands; if not millions of dollars.

How did they do this? By using "newsjacking".
How Newsjacking Is Changing The Game Of Marketing & PR

Newsjacking is the art and science of injecting your ideas into a breaking news story to generate tons of media coverage, get sales leads, and grow the business. It is one of the 5 core strategies to master the new ways of marketing, which every business needs to ensure their message gets seen and heard.

Here's a little bit more about how Encore Wynn Hotel and TIO successfully newsjacked to achieve great coverage at virtually zero cost.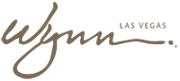 In 2012, when photos of a naked Prince Harry emerged from partying in the luxurious Encore Wynn hotel in Las Vegas, its owner Steve Wynn publicly waived the hotel bill.

This newsjacking earned Encore Wynn 3,657 stories by my Google News count. Stories with headlines like "Living like a king: Prince Harry's £30,000 hotel bill 'waived' by Vegas billionaire," in the United Kingdom's Daily Mail, were essentially huge, free advertisements for the hotel as these stories often came with descriptions and photos of the Encore Wynn and its royal suite.

And what about TIO Business Insurance?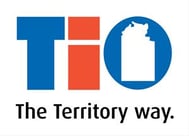 Well, when President Obama visited Australia, they published an announcement on their blog stating they were giving the visiting President free insurance coverage against crocodile attacks. Journalists worldwide looking for more information to cover President's Obama's trip could now can add Obama's crocodile insurance to their story.

4,969 mainstream media outlets talked about TIO Business Insurance during this time, effectively making them part of this world news.

Never before has traditional marketing and PR been able to achieve this kind of ROI at the speed newsjacking can achieve. And the best part? Newsjacking is accessible and works for all sorts of businesses, whether you are large and well-known or tiny and obscure.

Right now, newsjacking is being used by nonprofits, political campaigns, business-to-business marketers, and individuals.

So how can you take advantage of this technique to grow business?
The Elements Of Successful Newsjacking

First, it's important to understand that newsjacking isn't randomly piggybacking on every trending hashtag. There is an art and science to newsjacking which, when mastered, can bring you great results at virtually no cost.

Having launched the newsjacking movement in 2001 when I wrote the pioneering book on it, I have since taught hundreds of audiences in over 20 countries across 6 continents.

I'm going to share with you a few essential elements to newsjack successfully, along with some real newsjacking examples — the good, the bad, and the ugly.
a) Timing is crucial when newsjacking
Every news story has a life cycle in the shape of a bell curve. Your story needs to come out at that sweet spot when the news is beginning to rise in popularity and people are searching for more information about it.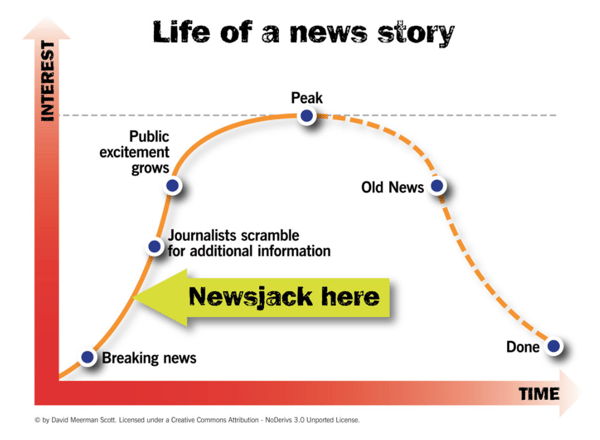 A great example of newsjacking with the perfect timing is by a company called 6S Marketing.



Apple was about to launch their newest iPhone, and rumors were circulating about it being called the iPhone 6S. With "6S" trending, the 6S marketing team swiftly newsjacked this event by releasing funny messages, both online and offline.

First, they parked their advertising truck in front of the Apple store bearing this message: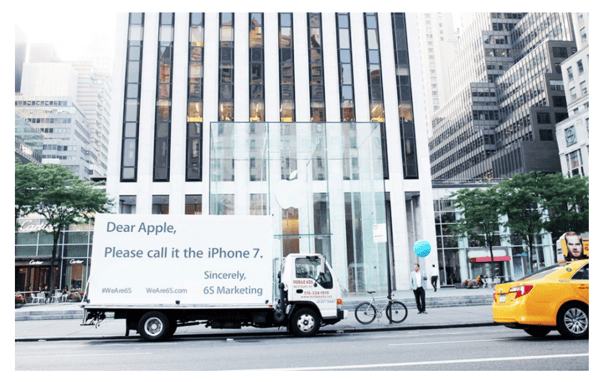 Their blog post titled, "Dear Apple, please call it the iPhone 7. #WeAre6S" explained their move. The post by Chris Breikss reads in part: "I wanted to start off by saying we're big fans — our office houses a bunch of longtime iPhone users. We're devoted iMessagers and steadfast Siri supporters. So, we're super excited about the upcoming launch of your next iPhone, and have heard the rumors that you're calling it the "iPhone 6S." We would like to urge you to reconsider."

The newsjacking was a phenomenal success. The hashtag #WeAre6S became very active, and it resulted in over 1,200 articles being published around 6S Marketing.
b) Newsjack with speed, agility, humor & transparency to handle a crisis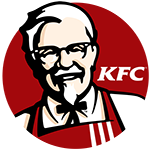 One great example of using newsjacking to handle a crisis is KFC's response when their restaurants in the UK ran out of chicken. Soon, #KFCCrisis was trending.

KFC responded quickly and apologized with clever adverts and timely content. In UK newspapers, the company ran full page advertisements cleverly changing the KFC logo on a chicken bucket to FCK. The ads read:


"We're sorry. A chicken restaurant without any chicken. Huge apologies to our customers, especially those who travelled out of their way to find we were closed. And endless thanks to our KFC team members and our franchise partners for working tirelessly to improve the situation. It's been a hell of a week, but we're making progress, and every day more and more fresh chicken is being delivered to our restaurants. Thank you for bearing with us."

KFC was also quick to create a site at the clever kfc.co.uk/crossed-the-road URL to provide a list of all UK restaurants and the chicken status of each. They're also offering rewards to people affected via their smartphone app.

On social media, the company was constantly providing updates, many with the fun approach of the ads.

#KFCcrisis could have cost KFC dearly. However, thanks to their quick response, it did not. Best of all, KFC was able to memorably turn the crisis in their favor thanks to their humour, speed, agility, and transparency.
c) Newsjacking should tie back to your brand and its message tastefully
When newsjacking, it's important to tie the news back to your brand tastefully, or it could backfire the way it did for Ivanka Trump when she attempted to newsjack her own RNC speech with a newsjacked sales pitch for her dress.

Ivanka Trump had tweeted a photo of herself on stage with a link to a Macy's store listing of the Ivanka Trump brand Sleeveless Studded Sheath Dress like the one she was wearing.

This example of newsjacking is a #FAIL because the "Shop Ivanka's look" pointing to her own branded merchandise was seen by many as an attempt to profit from the Trump presidential run.

A good example of newsjacking which ties back to a brand's message tastefully is by Trent Silver, a young Internet entrepreneur who has been building web businesses since he was a 15-year-old high school student. One of his businesses, Cash for Purses, finds new homes for high-quality designer purses and handbags — brands like Gucci, Prada, Hermès, and Chanel. The sales generate cash for the former owners as well as for Silver.

News had broken that starlet Lindsay Lohan was struggling financially. Silver recognized that Lohan, who may have been short for cash but not handbags, was sitting on a gold mine and didn't even know it!

So he crafted a pitch to celebrity websites that his company would purchase her extra handbags to help her pay her bills. Soon, celebrity sites were running articles with headlines like: "We'll Buy Your Purses, Lindsay! Company Offers Big Money for Cash-Strapped Lohan's Leftovers." and "Lindsay Lohan's Purses May Be Key to Financial Freedom."

In the weeks after the story broke, Silver received 8,000 new leads from people who visited Cash for Purses ready to sell their designer bags. It brought in almost $250,000 worth of bags and also helped him reach the top page of Google for any searches related to selling purses.
d) Be sensitive and avoid controversy when newsjacking
Newsjacking is a powerful tool. But the potential to backfire is large when the story is a negative one.

In 2013, Australia was hit with devastating bushfires. In particular, Tasmania was severely affected. Many people were left homeless after their property was destroyed. SellItOnline jumped onto the news by saying they would donate electric generators to the victims of the Tasmanian bushfires in return for people who "like" the SellItOnline Facebook page.

This form of newsjacking is highly inappropriate, and the backlash came swiftly from many of its 1,500 fans. They were accused of taking advantage of the catastrophe. This led to people writing about the insensitivity which led to discussion on social networks. SellitOnline has since deleted the post.

Newsjacking, when executed well, can bring rapid good exposure. However, when executed poorly, can also rapidly do quite the opposite.
Take Advantage Of Newsjacking, Now!
In short, whenever there is a hot story in the news, it is an opportunity for you to create and publish original content that the media will find and cover. You can newsjack a story by writing a blog post, shooting a YouTube video, creating an infographic, or even publishing an ebook.

Google News "rich story view" feature also makes it easier for you to newsjack. This features takes a top headline and adds context such as images, videos, related stories, a highly cited article, opinion pieces (including blog posts), and other links.

For example, if today there was a story about the health benefits of eating nuts, you would see on Google News the rich story view that points to related content. Here's an example of what it looks like.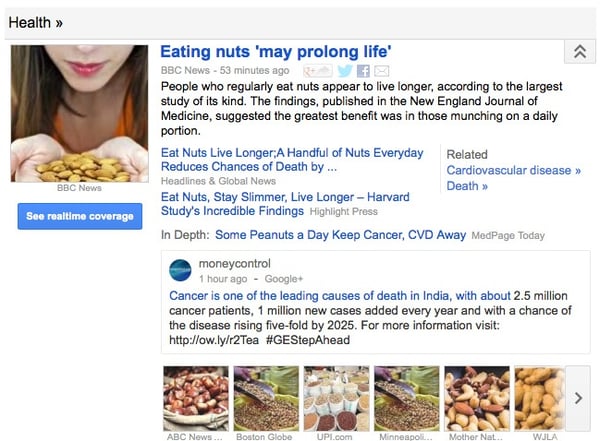 Somebody who is quick, could create an infographic or blog post providing additional information about nuts to add context to the story. How about an infographic on which nuts are most beneficial? What about a doctor posting on her blog about her take on the story?

The key is speed. If you're quick, your take just might get indexed in such a way that it appears on the front page of Google News as part of the rich story view.

Now you know the top tips of newsjacking, start including it in your marketing plan to grow your business, faster than ever!

Like this article? Please share your thoughts, comments and questions below!