There seems to be a common misperception around creating content. I've met many people who think it's not that important for business.

I frequently hear CEOs, CFOs, and VPs of marketing say things like:
"Social media is not important, so we won't do it here. It is a waste of time."
Other people say:
"I don't read blogs, so how important are they?"
I think content marketing is a goldmine for businesses. So why are so many people in business dismissing it?

My gut feeling is that people who think content marketing is not that important, have underestimated their own behaviour in consuming content. They don't realize how much content they consume on a daily basis, and so, when asked "Do you read blogs?" or "Do you use social media?" many people answer "No."

Think about it though. Everyone with an internet connection habitually goes online to seek answers pertaining to the needs of their current daily life. They are looking for recommendations and asking questions like: "What's the best baby stroller to buy?"

Whether they turn to Google or ask friends for advice via social networks, the answer that comes back usually includes URLs to companies and products, blog posts, YouTube videos, or social media content.

This means everyone with an internet connection has landed on a blog, video, or social network through search, whether they realize it or not. That's why I have identified content marketing as one of the five core strategies to master the new ways of marketing and stand out from the crowd.

Bottom line is this: If you're not producing content for your business, you're not giving your business a chance to become visible in people's search results. You lose a golden opportunity to brand your business, create new leads, and close sales.
How Content Marketing Can Build A Strong Business Brand
Content marketing isn't just about direct sales. One of the most powerful ways to use content marketing is to build a positive brand image, which in turn helps open new opportunities for your business to scale.

Take a look at how The Boeing Company used content marketing to create a positive sentiment around their brand.

As the world's largest aerospace company and leading manufacturer of commercial jetliners, defense, space and security systems, and service provider of aftermarket support, The Boeing Company is in a very technical field many people can't relate to.

To boost positive sentiment for their brand, they realized they needed to become relatable to the everyday Joe. So, when rebranding their website in 2010, they dramatically shifted from a website focused on dull technology and products, to one focused on brand journalism with interesting stories about people.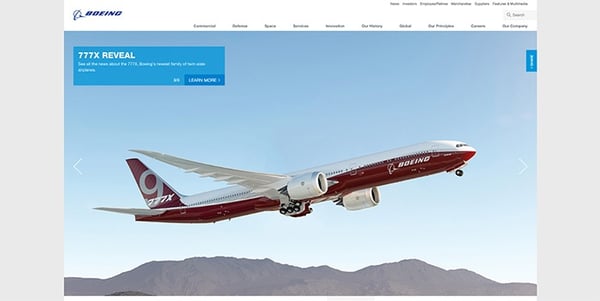 One example of their content was a featured story about a Belgian Malinois, who served for 56 "dog years" as a Boeing explosive detection dog. "Rocky's story is unusual and we never would have used him on the site before," Todd Blecher, Communications Director, at The Boeing Company told me. "Now on our site we show there are real people who work in the company. And we are willing to talk about them even if they are a dog."

Here's another example. The Boeing Company released a fascinating two-minute video following their staff as they perform extreme weather testing of the 787 Dreamliner in the largest refrigerated hangar in the world. For the first time, viewers could experience the cutting-edge technology and research that happens behind the scenes of Boeing.

"Rather than have a standard news release that describes testing, we take you inside the hanger to actually show what people have to do to freeze the airplane," Todd says. "No airplane comes together without the people who work on it. Now we're talking about our technology from the perspective of the people."

This is a terrific example of using content which humanizes the company and increases brand awareness and positive brand sentiment. With this style of content marketing, The Boeing Company remains a trusted top brand in the hearts and minds of people.
How Do You Create Great Content For Your Buyers?

Don't fall into the trap of spending time and resources into creating content for the sake of creating content. You'll just get frustrated when "it doesn't work". Content creation must be purposeful and strategic. The best way to implement a successful content marketing strategy, is to think like a publisher.

Marketers at organizations successfully implementing content marketing recognize they are now purveyors of information. They manage content as a valuable asset with the same care a publishing company does.

One of the most important things publishers do is start with a content strategy and then focus on the mechanics and design of delivering that content. Publishers carefully identify and define target audiences and consider what content is required to meet their needs.

Publishers consider all the following questions:

Who are my readers?
How do I reach them?
What are their motivations?
What are the problems I can help them solve?
How can I entertain them and inform them at the same time?
What content will compel them to purchase what I have to offer?
Understand Your Audience First

As you can see, the first step to creating great content for your buyers is understanding your audience. It's not about what you want to say about your business. It's about what your customer wants to hear.

In a nutshell, your customer wants to hear how you can solve their problems. What works is a focus on your buyers and their problems. What fails is an egocentric display of your products and services.

That's why the first step to content marketing is deeply understanding your customers by investing time into creating buyer personas. To learn more about how to do this, check out this article I wrote on how to create buyer personas to skyrocket your sales.
Create Targeted Content To Each Buyer Persona
Once you've identified and created strong buyer personas, you can craft an editorial and content strategy just for them. A great example of this in action is the content marketing by Nobis Hotel.

Have you noticed that nearly all hotel websites are exactly the same? There's the photo of the property on the front, the "reserve a room" widget usually in the top left and a bunch of boring, superlative language. Basically, the sites are interchangeable.

Nobis Hotel has a website that was different. The content totally resonated with me and was the key reason I decided to book my stay in Stockholm with them. The apparent difference continued as my wife and I checked in and explored the property. It seemed so perfect that we had to find out why. To learn more, we met with Ana Maria Nordgren and Oliver Geldner, the team behind the sales and marketing of Nobis Hotel.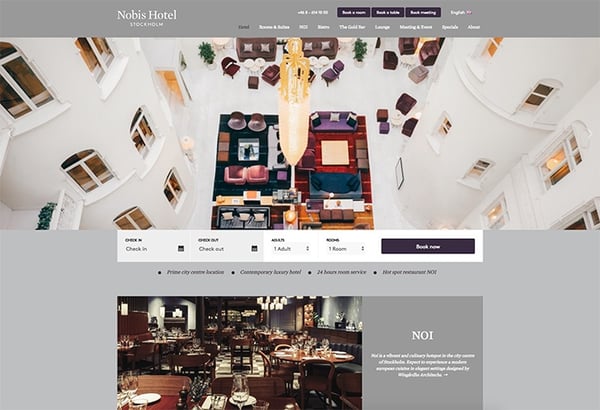 Oliver told us the buyer persona of the people they attract to the Nobis are frequent travellers who are sick of sterile chain hotels and want something different. They make their own decisions on where to stay using the web and social media. Buyers want upscale luxury but modern, not the old-world traditional style.

As Oliver is going through this with us, I stole a glance to my wife. "That's us!" I almost shouted. How cool is it that we were actually attracted to the hotel based on the buyer persona created by Oliver and his colleagues!

Investigating this further, I looked at the content Nobis Hotel was sharing on their Facebook. Their out-of-the-box social media content was also clearly aligned with the persona of people who want something different from the old-world traditional style.

Here's a few snippets from their Facebook:
"Animal question of the week: 'I am travelling with a duck, and would need a room with a tub'. I can't wait to see the cleaning lady's face when she comes in to make up the room! Well at least today we got nice weather, for ducks..."
"Note to all parents of 3-old boys: there is a subtle but very distinct difference between peeing in the steam room and peeing into the steam room. The first can be the sign of an emergency, the latter is a signal you might have a hooligan on your hands...."

Isn't this fantastic? Can you imagine a big chain hotel communicating like this on social networks? Not a chance! And that's exactly what makes them stand out to their targeted buyer personas.
Leverage Different Content Formats To Reach Different Styles Of Thinking

As you develop specific content for each of your buyer personas, keep in mind to also create content for a variety of different mediums such as blog posts, videos, and infographics. Here's why:

Left-brain thinkers focus on the logical, rational, sequential, and analytical while right-brainers prefer more random, holistic, and free-associated approaches. Psychologists say that left-brainers focus on words and numbers while right-brain people focus on visual images and patterns.

In our world of creating content for marketing purposes, one might say that left-brain people make logical deductions from information while right-brain thinkers prefer to make lateral associations from information.

The best websites, blogs, and social pages (Facebook and G+ for example) include a combination of text content, images, video, and charts. Your goal is to create a mix so that people who are visual have an infographic or photo and those who are analytical might have text and numerical charts.

One organization that does an excellent job delivering content for all types of people is Amazon. There are multiple ways to find content including search, by topic, and through "best of" lists. Amazon also produces a variety of videos, images and graphics for various age demographics.