Modern marketing in the digital age exploded in 2007 when a flurry of marketing developments stepped onto stage.

In 2007, the first iPhone was released; Facebook Pages was launched; Twitter's popularity experienced a tipping point at SXSW 2007; Google launched Universal Search; Radiohead bypassed the traditional record label business model and self-released their In Rainbows album, which triggered the crowdfunding phenomenon to take off; Amazon Kindle launched; and HubSpot released its first product, revolutionizing how small- and medium-businesses do their marketing online.

That's a lot of changes, and it's no wonder many businesses have found it hard to keep up.

When I released the first edition of my book, The New Rules of Marketing and PR in June 2007, it was to help businesses learn how to leverage the future of marketing by creating content to reach buyers directly with blogs, videos, infographics, images, and the like.

The interesting thing is that even though the tools have changed quite a bit since 2007, the five core strategies I wrote about haven't changed a bit.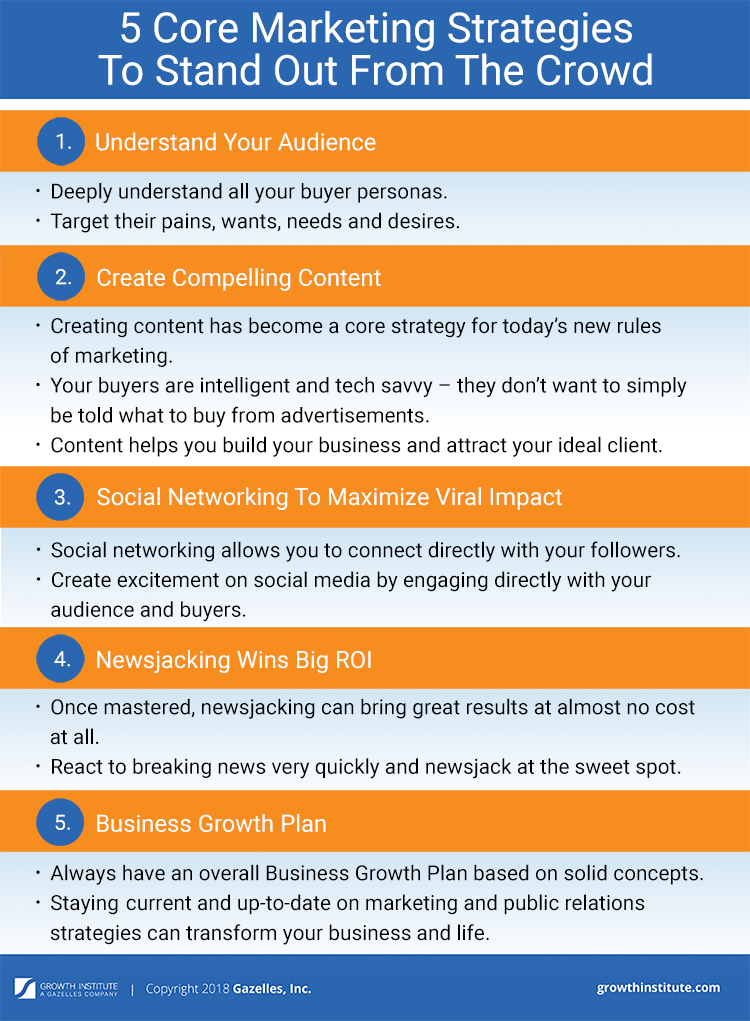 In this article, we'll go through each core strategy to illustrate how you can apply it to cut through the online clutter — no matter what digital platform you use — and ensure your message gets seen and heard.
#1 Understanding Your Audience

In the old rules of marketing, marketers would specify who the target audience is, what their main defining characteristics are, and what makes their product attractive to their audience.

This is no longer enough. Under the new rules of marketing, marketers must build detailed personas of their target audience. You need to deeply understand all your buyer personas. Here's an example.

Consider the rental car industry. They serve quite a few distinct buyer personas. Here are a few:


Independent business travelers who make rental decisions themselves
Corporate travel department employees who make an approved vendor deal on behalf of hundreds or even thousands of company travelers
City dwellers who don't own a car but who need wheels for the weekend
Somebody choosing a car for a family vacation
A commuter whose own car is in the repair shop for a few days but who still needs to get to work
The incredible value of creating multiple buyer personas and learning about each is that the needs they express and the problems your organization solves may be very different. How you then reach out to each persona must have different communication and marketing strategies.

Bottom line: If you want to stand out, you have to know your buyer persona. Target their pains, wants, needs and desires so you can cut through the clutter no matter your medium.
#2 Create Compelling Content

Advertising alone is no longer enough for today's information hungry audiences. Now that it's possible to access information at the tip of your fingers, audiences don't want to simply be told what to buy from advertisements.

Your buyers are intelligent and tech savvy, and they look for information to help them solve their problems or to decide which solution to invest in. This is why creating content has become a core strategy for today's new rules of marketing.

Let's dive into a case study to illustrate how content can help you build your business and attract your ideal client.

Twelve years ago Matt Risinger started a custom home building firm specializing in architect driven and fine craftsmanship work. If Matt followed the old rules of marketing, he probably would have posted flyers around the neighbourhood, handed out brochures, and perhaps advertised in the local newspaper.

Matt however decided to provide valuable content. He started a YouTube channel about building science, craftsmanship, and best practices for building and remodeling.

Matt says, "I didn't get huge traction at first but I kept going. Even though I might have only 300 views on a video, one of those people watching might be an architect in Austin who would say something to me or maybe it was a potential client who watched before they interviewed me for their project. They felt like they knew me at a meeting, even though I'd never met them before because they could watch a video of me. I got enough feedback that made [me] realize this is worthwhile."

Eventually, his YouTube channel acquired 130,000 subscribers and helped his construction firm grow from zero to USD$20 million in annual revenue in just over a decade.

Not only did Matt's YouTube channel grow his core business, it even earned him big money via sponsorships. This additional income has become a side business that funds the professionals who film and edit his high quality videos.

Bottom line: Compelling content positions you as a credible expert in your field and attracts the right people who are interested in what you have to offer.
#3 Social Networking To Maximize Viral Impact

When making an announcement, companies used to write a press release and share it with a handful of reporters. The reporters would then cover the announcement in the media.

The thing about this old way is that it doesn't directly engage the audience — your announcement will get drowned out. In the new ways of marketing, social networking allows you to connect directly with your biggest fans and followers.

Let's take a look at what John Archibald, VP of Communications for Sky Blue FC, did when he wanted to announce the big news that Tasha Kai would rejoin Sky Blue FC, the New Jersey team of the National Women's Soccer League.

Tasha Kai had disappeared from soccer for five years, so the announcement of her return had to be big. The day before announcing that Tasha had been signed, they tweeted on the team account:

@SkyBlueFC: "We have a huge player signing announcement coming out tomorrow. Stay tuned for info!"
This piqued the curiosity of Sky Blue's fans. People started talking and trying to figure out who it could be, creating a lot of buzz for Sky Blue.

The teasers then continued the next day, with tweets such as, "Make sure to be right here on Twitter at 3pm ET to see who we are bringing to NJ this season!" and "Are you ready?" minutes before the announcement.

The buzz got so big, even the media prepared to be on Twitter at 3pm to get the scoop before their competitors. Then, at 3pm, instead of making just a conventional announcement, they released a 15-second video which they had pre-produced revealing Tasha's face at the end.

"The entire Twitterverse and women's soccer community basically lost their minds at this point," John says. "One, they could not believe that we had gotten Tasha Kai out of retirement and back onto our club. But more importantly, the way we did the announcement made it so much bigger. We directly involved the fans and had them do the announcement."

Bottom line: The new PR is now direct to public. Create excitement on social media by engaging directly with your audience and buyers.
#4 Newsjacking Wins Big ROI

I've been spreading the good word about "newsjacking" since I pioneered the term back in 2011. But it wasn't until 2017 that Oxford Dictionaries shortlisted it as one of their "Words of the Year."

Here's how Oxford Dictionaries defined it.

Newsjacking: The practice of taking advantage of current events or news stories in such a way as to promote or advertise one's product or brand.
It's an advanced marketing technique which, once mastered, can bring forth great results at almost no cost at all. So how does it work?

Any hot story or breaking news is an opportunity for you to create and publish original content for the media to find and cover. You can newsjack by writing a blog post, shooting a YouTube video, creating an infographic, or even publishing an e-book around the hot topic.

Timing is essential, and you need to react to breaking news very quickly and newsjack at the sweet spot.

With the right timing and credible content in a blog post, tweet, or media alert that features the keyword of the moment, you could earn a lot of media attention that drives customers to your virtual doorstep!


A Great Example Of Newsjacking
KFC recently ran out of chicken in the UK and apologized with clever adverts and timely content.

In UK newspapers, the company ran full page advertisements cleverly changing the KFC logo on a chicken bucket to FCK. The ads read:

"We're sorry. A chicken restaurant without any chicken. Huge apologies to our customers, especially those who travelled out of their way to find we were closed. And endless thanks to our KFC team members and our franchise partners for working tirelessly to improve the situation. It's been a hell of a week, but we're making progress, and every day more and more fresh chicken is being delivered to our restaurants. Thank you for bearing with us."

KFC created a site at the clever kfc.co.uk/crossed-the-road URL to provide a list of all UK restaurants and the chicken status of each. They're also offering rewards to people affected via the company smartphone app.

On social media, the company was constantly providing updates, many with the fun approach of the ads.

And, of course, other fast food companies jumped into the fray with a little friendly newsjacking.


We knew you were out of chicken but didn't realise you were out of fries too! 😂 https://t.co/pGFAxhUJjF

— Burger King UK (@BurgerKingUK) February 22, 2018
Cluck N' Cleaver is offering free fried chicken to UK residents affected by the #KFCcrisis. All we ask is that they pay the delivery fee.
#chickenrelief #cluckncleaver #foodporn #friedchicken #yyceats #yycfood #yyc #uk #british #KFC #calgary

https://t.co/5QYSIaJdfH

— Cluck 'N' Cleaver (@cluckncleaver) February 23, 2018
Based on what's going down on social media, KFC has done a good job handling this crisis. They were quick to communicate, they were transparent in telling customers what was happening, and they did so in a fun way. And the other brands that cleverly newsjacked, well, they got to ride the PR wave that also contributed to their own ROIs.

Bottom line: Newsjacking gets attention. Many companies spend millions running ads to get attention. On a cost per view basis, newsjacking can generate a much, much bigger ROI with little or no advertising spend at all.


#5 Business Growth Plan
Many people think that because digital marketing moves at such a fast pace, that it's all about spontaneity where anything goes. This is not true. Like any strategy, you still need to have an overall business growth plan based on solid concepts.

Here are 10 big sales and marketing concepts to grow your business in the new field of digital marketing:


Buyers are in charge. There is no more "selling". There is only "buying". Salespeople must transform from authority to consultant; product narratives must tell a story; and businesses must be agile enough to respond before opportunity is lost.
Earn attention. Begging for attention is the old rules of PR. Earn attention by creating something interesting and valuable and then publishing it online for free.
Educate and inform instead. Don't interrupt and sell. In today's new marketing, successful salespeople educate and inform by sharing their expertise.
Convergence of sales and marketing. They're no longer two different departments like it used to be. It's now about mastering both skills of marketing, which is reaching many buyers at once; and sales, which is curating that same content to one buyer at a time.
The importance of real-time. If you're not engaged, then you're on your way to marketplace irrelevance. What counts today is speed and agility.
Nobody cares about your products and services. The traditional product promotion won't work anymore. What people do care about is themselves and solving problems. Your strategies and communication need to meet this need.
You are not innovative. Just by using "innovative" you signal the market that you are not innovative because you use the same words that everyone else does. Avoid all gobbledygook. Simply connect with buyers to solve their problem.
Own your sales and marketing assets. Put some of your advertising resource into a content creation initiative you own. Google finds original content and it gets shared on social media, resulting in sales leads and new business.
Let's bring back humanity. A hundred years ago our great grandparents knew the people who sold them chickens, or nails, or cloth. Today, the web allows human connection to live again after decades of faceless mass media advertising.
Manage your fear. To truly achieve greatness, you must act. That might mean you need to be a pioneer, a rebel, an instigator. Yes, you might fail spectacularly. But a fear of failure is not a reason to do nothing.

All in all, changing your mindset on how marketing and public relations have changed over the last decade by adopting these five core strategies into your digital marketing strategy can transform your business and change your life. Best of all, with these new rules of marketing and PR, you can confidently market any product, service, or idea —for a fraction of the cost of traditional marketing and PR programs.

Like this article? Please share your thoughts, comments and questions below!