Donald Trump is a marketing genius.
Donald Trump understood his buyer personas better than the Clinton campaign.
Donald Trump created a strong, memorable message from the moment he announced his candidacy a year and a half ago. "Make America Great Again" (#MAGA) captured his promise to buyer personas. People all over the country knew the slogan.
Quick question: What was Hillary Clinton's message? Most people don't remember "Stronger Together" and if they do, I'm not sure they think it's powerful.
There are many lessons here for growth companies. Donald Trump's campaign was like your company—an upstart in an established world while Hillary Clinton's campaign played the cautious approach of a big, famous brand.
Important note: This is marketing analysis, not a political analysis. I am not commenting on any candidate's views on the issues nor am I publicly supporting any candidate. I write about the election for U.S. President because it is a massive marketing case study playing out for several years, not because I voice my support for any candidate over another.
The old rules of marketing vs the new rules of marketing
Living in the Boston area less than an hour's drive from New Hampshire, I attended numerous campaign events during the primary season (New Hampshire is first in the nation) and in the general election (New Hampshire was a swing state this cycle). I attended three Clinton events, two Trump events, and events with Sanders, Kasich, and Rubio.
At the many campaign events, I had opportunities to speak with a wide variety of Americans. While in line to go through the Secret Service protocol at a Trump event, I met an Iraq War veteran who lost a leg while in the Army. He strongly felt that Trump could help him more than Clinton. While on the rope line at a Clinton rally, I met a mother and daughter who were convinced that Clinton could help them more than Trump. At one event I met a woman who confided in me that the men she knows in her town of Salem, NH put Trump yard signs on their lawns, but the wives are all voting for Clinton. These supporters had sized up both candidates. They made an effort to understand the other side. And they made their choice.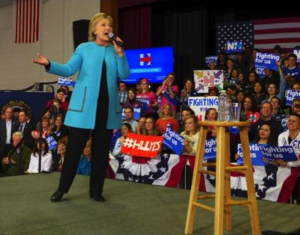 An enormous marketing case study running over nearly two years.
The U.S. race for President has been absolutely fascinating. Here are some marketing takeaways:
1) This has been a "fear election". People are scared of what will happen to the country if the other candidate becomes President. Both Clinton and Trump played on those fears in the debates, in their speeches, in their solicitations for donations, and in their advertising. While Barack Obama won on "Hope" in 2008, the 2016 election was won on fear.
Do you market on hope? Or on fear?
2) The strategies of the past didn't work in 2016. Early Primary frontrunner Jeb Bush was using the outdated outbound marketing playbook that got his father and brother elected president. He won just 4 electoral votes despite spending $139 million.
Are you using the outdated approaches of the past to market your business?
3) Bernie Sanders built a remarkable following and started a movement. His campaign raised an average of $27 each from nearly 7 million people. But the Sanders campaign was out of alignment with its supporters. The campaign failed to harness his supporters' online passion for the good of his campaign. Worse, he failed to reign in dark online forces who trolled supporters of other candidates. His campaign invested way too much in traditional advertising rather than leveraging his online network.
Are you harnessing your customers as fans and using that to promote your brand?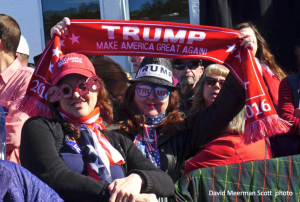 4) Hillary Clinton ran a thoughtful and careful campaign. She worked every form of marketing: Advertising, in person events, social media, local office ground game. Her campaign made use of a remarkable one million volunteers. One volunteer I spoke with in New Hampshire described how she arrived at the local campaign office, met with campaign workers for instructions, and was given a printed list of the exact doors to knock on based on voter demographics. This integrated marketing approach is how campaigns used to be won. The Clinton was like a big company hiring a bunch of advertising agencies to run traditional campaigns.
Are you too dependent on research and surveys and what your agencies are telling you?
5) Donald Trump is a brilliant marketer. His "Make America Great Again" (#MAGA) slogan was known to all. His reliance on just two strategies, one free and the other relatively low cast – Real-Time Twitter and mega rallies – won him the Republican nomination and made him the 45th President of the United States. The two strategies generated tons of awareness in the general election season too. In fact, Donald Trump generated more than $5 billion in free media, more than any other candidate.
Are you tapping real-time social networks and free media to promote your organization and using that approach to win?
My analysis culminated less than 12 hours after Trump was declared the winner when I delivered a talk on November 9 at the HubSpot INBOUND conference titled "Trump, Bush, Clinton, & Sanders: How Inbound Marketing and Inbound Sales Decided the 2016 U.S. Presidential Election".
Video of that talk is now available here: https://www.youtube.com/watch?v=hWtbjYB1p7U
---
For more information about David Meerman Scott, click here!