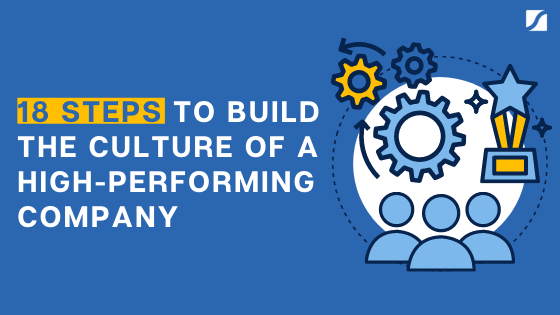 Culture is a widely covered topic for executives and entrepreneurs. But it can be difficult to find reliable and practical strategies for creating a strong and healthy one.

That's why CEO Kevin Oakes and his researchers at the Institute for Corporate Productivity (i4cp) conducted their own in-depth study which uncovered the definitive blueprint for culture change that all leadership teams can rely on that all leadership teams can rely on.

The result was a set of 18 specific actions taken by high performing organizations who successfully changed their cultures.

We got together with Kevin to root out the thinking behind these 18 steps. Here's what you need to know about effective Culture Renovation® and how to execute the action steps.



Research Shows: High-Performing Companies Prioritize Culture



Do culture and healthy culture translate to company performance?

The science - and Kevin Oakes' perspective - point to a yes. It's much easier to fix culture first before working toward financial success.

It may seem laughable now, but GE was once the most valuable company in the world. As recently as 3 years ago, it's been kicked out of the Dow Jones.

You can attribute this to today's level of disruption. Unicorns - what we all call highly valued private startups - is a term that was first coined in 2013. Back then, there were only 39 unicorns in existence. Today, there are well over 600.

All of these unicorn companies have one thing in common. They are trying to disrupt industries through superior business models, technology, or a combination of both. They are also the companies that are more ready for change – they see it as an opportunity to embrace. These are the types of companies that generally succeed long-term.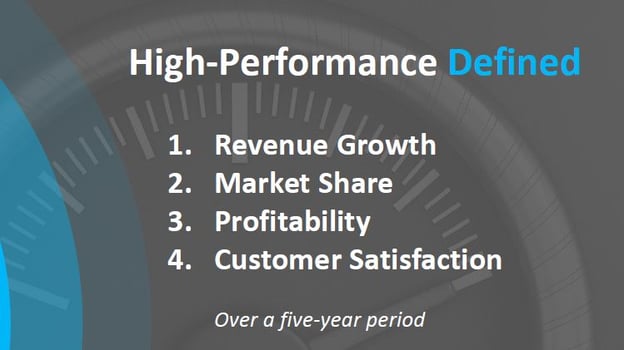 Change readiness is a core tenet of high performing organizations. They tend to be very agile and embrace challenges with a passion. Those organizations that hate change - they're the ones that struggled through the pandemic. Like Blockbuster laughing the Netflix team out of their office, they sat on their laurels and failed to see and prepare for the future.

That's why it's important to consistently refine your organizational culture to become more competitive over time.

So why doesn't everybody do this? Well, that's because it's really hard to do.

Most attempts at changing organizational culture fail - and many of them fail miserably. Only 15% of organizations embarking on a culture change actually succeed.

The i4cp study made it very clear that the successful companies did not radically transform themselves. Instead, like building a house, they kept what was unique as a foundation and then renovated the rest.

The i4cp team hyper focused on these companies to pull out the commonalities in their execution. The 18 action steps that emerged from this study pretty much wrote themselves.



The 18 Actions To Build a High-Performing Company Culture



These 18 actions can be split up into 3 major phases that you should cover in an effective culture major renovation: Plan, Build, and Maintain.




Here are the 18 steps. We won't dive deep into all of them, but I'll highlight some key things to remember as you move through each phase.


PHASE 1: PLAN
Step #1: Develop and Deploy a Comprehensive Listening Strategy
Step #2: Figure Out What to Keep
Step #3: Set Your Cultural Path
Step #4: Define the Desired Behaviors
Step #5: Identify Influencers, Energizers, and Blockers
Step #6: Determine How Progress Will Be Measured, Monitored, and Reported

PHASE 2: BUILD
Step #7: Clearly Communicate That Change Is Coming
Step #8: Ferret Out Skeptics and Nonbelievers Early
Step #9: Paint a Vision for the Future
Step #10: Consciously Collaborate
Step #11: Establish a Co-creation Mindset
Step #12: Provide Training on the Desired Behaviors

PHASE 3: MAINTAIN
Step #13: Make Onboarding About Relationships Versus Red Tape
Step #14: Promote Those Who Best Represent the New
Step #15: Change Performance Management Practices
Step #16: Leverage Employee Affinity Groups
Step #17: Increase the Focus on Talent Mobility
Step #18: Don't Underestimate the Value of External Sentiment



Pointers For Executing The PLAN Phase



This phase often gets skipped or too little time is spent on it. Maybe because everyone wants to rush into building the culture.

Before an organization embarks on a culture renovation, it needs to first understand how its current culture is perceived.

John Legere, former CEO of T-Mobile, did just that.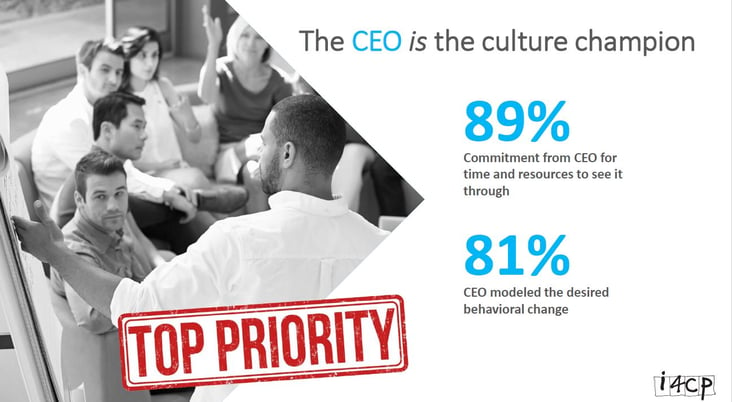 When he assumed the CEO role in 2012, the company was in shambles. They were the worst wireless company in the United States. The first thing he realized he needed to do was just listen to the employees and his customers. So he made sure that he was listening for the issues and implementing solutions based on that information.

About 6 months into John's post as CEO, T-Mobile adopted the catchphrase of "Un-carrier." They became the rebel trying to do things very differently, questioning everything, and setting themselves apart from their rivals.

John did a great job of symbolizing this new mantra in his leadership style. He switched up his attire into leather jackets, he carried the logo with him everywhere, and he became brash and vocal on Twitter.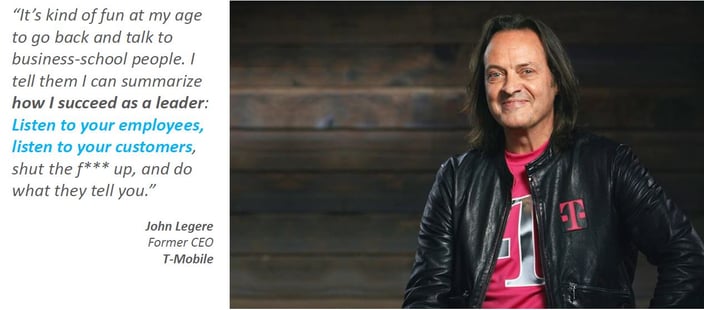 That concept of listening (Step #1: Develop and Deploy a Comprehensive Listening Strategy) is a really important one.

When embarking on culture change, you need to understand the issues at the ground level. The worst thing you could do is lock yourself in with your executive team and analyze the culture among yourselves. Listening and checking employee sentiment will give you a much clearer picture of your culture as it is today.



Pointers For Executing The BUILD Phase



It's important here to very clearly communicate what is happening in the workforce.

Be sure to focus the message on the future and not on the past (Step #9: Paint a Vision for the Future).

Many CEOs find themselves entering a new company that has had a bad quarter, a series of scandals, and other mishaps. It's really easy and tempting to blame the performance of past CEOs – but that's really not going to help. Focus on the future instead.

Ferreting out the skeptics may be the hardest of all 18 steps (Step #8: Ferret Out Skeptics and Nonbelievers Early).

Many culture change efforts have been derailed because someone in power - who felt their position threatened - was not onboard.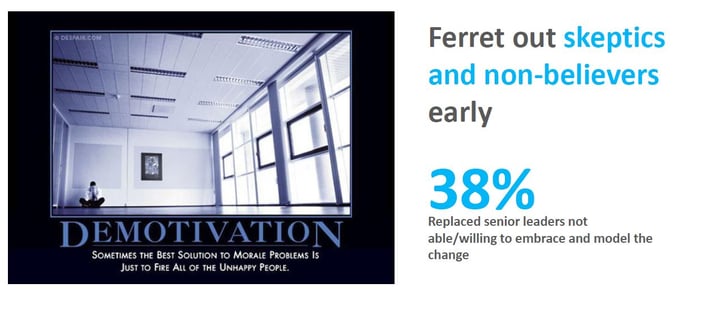 You need to either convince these people or gently get them out of the way. You want to identify who these people are because sometimes they just hide in plain sight. You don't really know who they are until it's too late.



Pointers For Executing The MAINTAIN Phase



Culture change is never done, you never stick a flag in the ground with a declaration ("Yep, we did it!"). Some of the most successful companies know that they're not done with their culture change.

A step that's really important to maintaining the renovated culture is to focus on the new employees coming in (Step #13: Make Onboarding About Relationships Versus Red Tape).

Onboarding in successful companies is a year-long activity or more. And it focuses on building relationships above all. You can usually pick out people who are going to flame out in year one very quickly, because they were the ones who did not establish relationships with their coworkers.


That's why you want to make sure that your new employees are quickly connected to the relationships and peers that will help make them successful.



Misconceptions And Hard Truths About Leading Culture Renovation



Before you jump into your culture renovation, let's get some misconceptions out of the way first.

No, Charisma Is Not Required To Effectively Lead a Culture Renovation - Or To Be a Successful Leader

You don't need to be a charismatic person to effectively lead a culture renovation.

Some of the more charismatic people in the world will tell you that they weren't always that way and that charisma is definitely something they had to learn.

Either way, charisma is not at all a good indicator of effective leadership. Some of the best leaders in the world are introverts or highly empathetic.

The Impact Of Culture Applies To All Companies

No company is ever too small to make culture a priority.

These traits from an analysis into large companies. But there are several small companies that have succeeded in these results. You have to focus on the many culture elements that the research highlights. It's a big mistake to think, "We're too small so we don't have to worry about culture."

The CEO Should Absolutely Be Onboard

A common obstacle with culture changes is when the leadership team says one thing and does another.

If you want to see real change, make sure that leadership behaviors are aligned with the intended culture.

But what if the CEO is not onboard? That's the hardest thing to overcome. There are 2 ways you can convince your chief officer to change his/her perspective.


Use data to show the connection between culture and performance.


Use examples of companies that your organization respects or even fears to show what those companies are doing culture-wise.
Human Resources Will Be A Critical Component Of The Culture Change Effort

HR should be a partner to the senior team in making culture change happen. In successful companies, the head of HR is sort of a right-hand person to the CEO. A strategic and competent HR team will be a very big strength in your culture change.

Purpose Is Foundational And Needed For Culture Renovation Success

Most successful companies have a clear purpose.

It's important to have those first if you want to be very clear about where you want the culture to go. Some companies in the study changed their purpose statement to be more clear. Others adopted a purpose statement for the very first time. That's a very good place to start before you try to change the culture.



Next Steps If You Want To Renovate Your Culture



The book dives deep into the case studies and gives advice based on the research that Kevin and the i4cp team conducted.

The study they ran covered countless numbers of companies and many, many interviews with executives, so you'll find plenty of building block knowledge by reading the book yourself.



This 8-week online master course walks you step-by-step as you implement the Culture Renovation process.

But it's not just an online course. You'll get the knowledge delivered in high-quality videos directly from Kevin. We provide you with tools for you to use - and keep - in your implementation. You'll work alongside a coach who'll guide you and your team and provide advice and feedback. And you'll be paired alongside dozens of other companies taking the course with you to rely on and share the experience with.

Every aspect of the program has been intensely formulated to make sure that you are not alone in any step of the implementation process.


3. Self-Educate Further With These Resources



Knowledge from the i4cp team
Article: Why You Should Renovate Your Culture
Article: The 3 Phases of Culture Renovation
The Culture Renovation Checklist
More about the book at culturerenovation.com

Conclusion



So much of the knowledge out there about culture can get very ethereal and philosophical.

What Kevin and his team have done with their research is come up with a highly practicable and data-backed framework. These 18 steps provide a reliable cheat sheet for building high-performing cultures.

All that's left is to put them into action. Go make it happen!