Challenging Sales Climate? Unlock The Door With These 2 Sales Strategy Keys

Daniel Marcos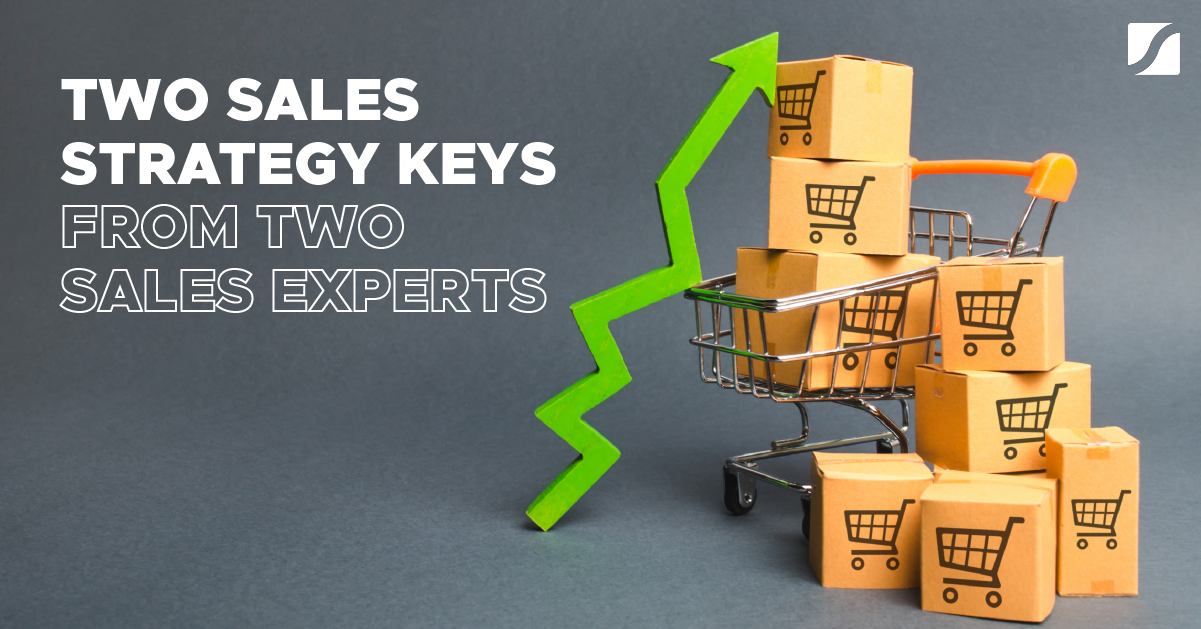 Businesses—and the rest of the world—are emerging from more than 2 years of adjusting to a once-in-a-lifetime (we hope) pandemic. And now, challenges related to inflation are rearing their ugly head.
For business leaders, executives, and entrepreneurs working to sell their goods and services, this 1-2 punch of COVID-19 and pricing concerns might seem like a cruel joke. But 2 top sales thought leaders tell us there are key strategies you can follow right now to elevate your sales, despite recent years' onslaught of challenges.
Caryn Kopp and Jeff Thull offered their sales insight during recent episodes of the Conversations at The Edge podcast. (Members of Growth Institute's The Edge have unlimited access to a series of micro-courses, podcasts, and implementation tools.)
What Caryn and Jeff said was this: Successful sales—regardless of the pandemic, inflation, or any other obstacle you encounter—starts with 2 fundamental actions: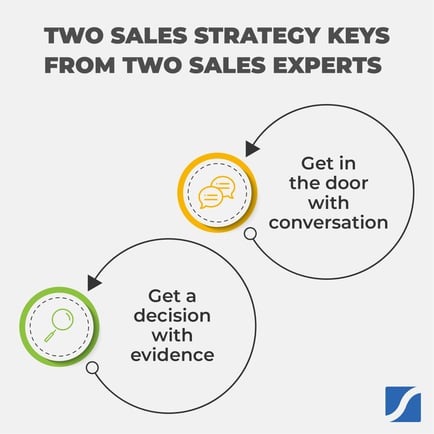 Karen, chief door opener at Kopp Consulting, is the author of the book Biz Dev Done Right and the manual The Path to Cash. She helps clients get in front of top sales prospects. Jeff is president and CEO of Prime Resource Group, transforming businesses' and professionals' sales and marketing strategies. He's written 4 best-selling books, including Mastering The Complex Sale.
Let's take a closer look at how to engage the 2 core sales elements these thought leaders shared, and get ready to win over customers in today's difficult landscape.
Key Sales Strategy #1: Get In The Door With Conversation
Whether in person or remote, during high inflation or not, if you can't get in the door, you can't make the sale. Caryn spoke to Alex Faust, Growth Institute COO and host of Conversations at The Edge. Getting in the door, she told him, requires a step that too many sales professionals shy away from.
It requires conversation.
Go Beyond Email
Using a practice Caryn calls "hiding behind emails" leads to making the wrong connections and failing to engage in meaningful conversations. It sets the foundation but does little else. Yet most salespeople do it anyway.
Then, after they send an email with a proposal, they watch as their competitors ride the coattails of that email to make the sale.
Avoiding this scenario is as easy as taking the time to talk with your prospect from the get-go, gaining insight into what they need and what objections they might raise. Having that conversation in the beginning helps you craft a meaningful proposal that addresses their specific concerns.
Request Their Number
Making a sale generally requires multiple conversations to discuss issues along the way. Get onto prospects' busy calendars by setting up a 10-minute discussion at the end of the day.
If you don't have their cell phone number, ask for it as a fallback in case, for example, technology fails during a video call. Once you have their number, put it to use to text your requests for those quick, end-of-day meetings that allow for discussion without disrupting their schedules.
Don't Let Up
Caryn notes that today's typical salesperson stops reaching out after 3 tries, even though it often takes between 8 and 12 high-quality touches to get a sale. When you give up early in the process, you're creating another opportunity for your competition to pick up where you left off—and make the sale.
Not just any touchpoint will do as you follow up, however. Stay away from simply saying, "I want to meet with you" and instead focus on the customer. Emphasize why it's important to the client that they meet with you, and suggest some times they could select for the meeting.
Key Sales Strategy #2: Get A Decision With Evidence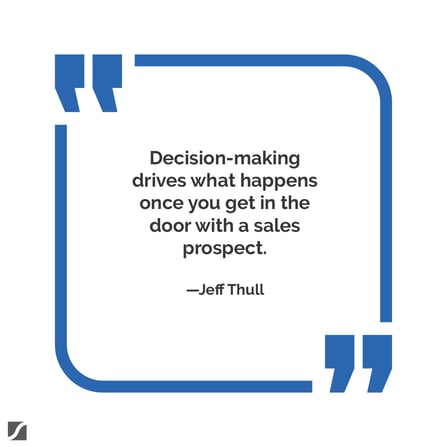 Decision-making drives what happens once you get in the door with a sales prospect, Jeff explained to Alex. Factors like the uncertainty of the pandemic or pricing concerns from inflation simply serve as another excuse for a potential customer to avoid making a decision on a product or service.
Bust through those decision-making barriers by making it crystal clear that your prospect needs to make a change. Equip yourself with evidence that shows the financial impact of failing to act.
Do Your Homework
The reason people make changes in their business is to improve performance, so research the issues your prospective customer might not even realize are holding them back. Be prepared to assign a dollar amount to what a problem could be costing that potential client.
Then diagnose the issue you're seeing, asking if they'd like to take a closer look at the problem. Once they agree to discuss further, you'll have the eye-opening financial information ready to show the severity of the situation.
Facilitate The Change
Deciding to buy means deciding to change, and there are steps that people go through in the process of making that change. Understand this process—and provide the information your prospect needs to move from not seeing a reason for change to understanding the importance of immediate action.
People start out satisfied with their current state, accepting any issues as normalized pain and defending against any suggestion of problems.
Then they progress to being neutral on the issue, still comfortable but no longer defensive about changing.
Next is an awareness the problem exists for others, although they still are unwilling to provide additional information about their own processes.
Then they become concerned, acknowledging the problem is happening for them and asking to learn more.
When you present information about the financial impact of the problem, they realize the critical need to change.
In the final step, they see the crisis they'll face if they don't act quickly.
And just like that, any objections about conditions in the marketplace have evaporated. After all, Jeff says, people will gladly invest money to make money.
Rethink Your Sales To Succeed In Any Economy
Following Caryn's and Jeff's strategies will help you get in the door and get prospective clients to a decision—no matter whether we're in a climate of economic boom or bust. If you're as intrigued as I am by the keen insight that these thought leaders provide, I encourage you to explore these resources to learn more: