How do you deal with the chaos and uncertainty of an economic crash?

I truly believe that while panic is contagious, so is leadership. To find proof of this, I reached out to Growth Institute's past students to see how they're applying the Scaling Up methodology to lead their company through the current economic crisis.

Today, I'd like to share with you a case study of one of Growth Institute's current students, J.D. Ewing, and how he and his team are using the Scaling Up Methodology to lead their company through the current crisis with clarity and confidence.
From Bankruptcy to 30% YOY Growth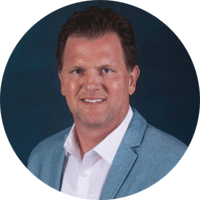 Ewing is the President and CEO of COE Distributing, an industry leader in the office furniture niche and an award-winning company. As a third-generation member of the family business, Ewing has been running the company for more than 30 years.

The current economic crisis isn't the first time Ewing has led his company to adapt to changing conditions. He had sold the company in 2006 and then bought it back out of bankruptcy in 2009. He successfully led the company through a pivot and relaunched on a new business model of wholesale furniture distribution.

By 2018, the company had scaled to 70 employees and was achieving 30% year-over-year growth. It was at this point that Ewing first decided to join my Scaling Up Master Business Course to help him handle the challenges that had come with rapid growth and scale his business to greater heights. Today, his company has 115 employees and has been on the Inc 5000 list for six years in a row.
Achieving a Record Quarter in 2020 in the Midst of an Economic Crisis
When I reached out to Ewing to see how his company was faring during the economic crisis, he told me,
"Even with the last two and a half weeks, which hadn't been brilliant, we closed the first quarter of 2020 with record numbers. It was our most profitable quarter ever. And I'm also happy to report that we didn't have to let go of anyone."

This is an extraordinary achievement given the current circumstances. So I dug a little deeper to see how the Scaling Up methodology, in particular, is helping him navigate through the uncertainty and chaos of the economic downturn.

A key factor that stood out was how Scaling Up tools provide his team clarity and alignment so they can operate efficiently, instead of reacting from a state of panic.

"Before starting the Scaling Up course, I had read the Rockefeller Habits," Ewing explained to me. "That led me to read Scaling Up, and I just really resonated with how the methodology provided a holistic structure to run a business — not just from a financial perspective — but every detail, right down to communication rhythm tools that helped me achieve transparency and alignment."

He continued, "After over two years of reshaping the company culture with the Scaling Up methodology and utilizing communication rhythm tools like the daily huddle, we have achieved a level of efficiency and transparency that is really helping us pull through the current pandemic. You know, there's a lot of uncertainty, fear, and anxiety that every single human being on the planet is dealing with on their own, let alone whether or not their job is going to be impacted. Establishing transparency prior to the pandemic has equipped us with the competence to align everyone when things start changing really quickly. This has really helped us keep everyone updated on how the company is doing and what direction to move next. And that's really helping us reduce panic and continue operating as efficiently as possible."


Here's what JD and his team are doing to maintain transparency in their communications:
--> Daily emails with insights into what's happening in the business world and specifics on how COE fared in the past 24 hours with respect to shipments (revenue) and new orders (pipeline).


--> Twice weekly 1-2 min video messages (Breakaway with JD) providing encouragement, acknowledging individual achievements and reminder of upcoming events.


--> Twice weekly Live Breakaway with JD - 30 minute Zoom call open to all employees, sales team partners and other select 3rd party partners that provides 1/3 business update, 2/3 general conversation

--> Virtual happy hour every Friday for the same group as above. Following Growth Institute's lead, they did a live cooking/cocktail demo - Bruschetta, mushroom risotto & bourbon on the rocks were the features.

--> Daily huddles throughout the organization & weekly huddles via Zoom for the Executive team.

--> Quarterly "all hands on deck" meetings with a catered lunch, where they announce "Employee of the Quarter" nomineeds and crown the winner.
The Losses & Gains of Reshaping the Company Culture
Reshaping the company culture didn't come without its teething issues. One of Ewing's biggest concerns before adopting Scaling Up systems and tools was whether his people would be on board.

His fears were validated. Not everybody was on board at first. Two of the company's top managers decided to leave when Ewing began rolling out the changes. This initially felt like a huge loss, but Ewing soon realized how it was a huge gain instead.

"During the Scaling Up course, the coaches told me that you want to make sure you have the right people on the bus so you can pivot and move forward together. And that's exactly what happened to us. Those who weren't the right people, they left the bus," Ewing confessed.

However, it meant that those who remained were 100% on board. Ewing went on to say, "I think one of the reasons why those who stayed embraced the Scaling Up methodology so well was that they could understand it. They could see how this could help us. Having them 100% on board meant we could align everyone with minimal to no resistance. And everybody just kind of doubled down on all the processes."

"With the right people moving in the same direction towards a culture shift, we saw our productivity improve.
I even had our managers, supervisors, and rising stars work through the Scaling Up methodology. I did that because I believed it would help improve transparency while allowing them to feel included in business decisions."

Ewing's decision to do this led to other positive effects. "By getting our managers, supervisors, and rising stars involved with the Scaling Up methodology, our Executive Team could gather ideas and insights that they may have not seen on their own. And with that, our profitability shot up. In fact, the results came pretty quickly after we implemented the Scaling Up methodology as a team, and it just reinforced that it was the right thing to do."

Ewing then added, "I have no doubt that our increase in profitability was directly correlated from the 'Power of One' tool we used. Without discovering the 'Power of One', we probably would've stumbled over debating whether or not a price increase made sense. We would have wanted to go in different directions. We may have avoided making certain key decisions because we didn't want to 'lose business'."

"But quite frankly," he continued, "utilizing the 'Power of One' framework provided us with clarity through simplicity. We could all clearly see the vision, and we aligned on the decision to increase our price. And an astounding thing happened. Yes, we lost some business initially with the price increase, but it was actually a good thing. Overall, we ended up with a 38% growth in the first two months of 2020. All this was possible because the Scaling Up framework provided us with the necessary tools to create alignment, clarity, and profitability. And that's how we were able to increase growth while decreasing stress. "
Leveraging Scaling Up Tools to Confidently Lead in Times of Crisis
The 'Power of One' is one of the Cash Acceleration Strategies from the Scaling Up methodology. Ewing's team also took advantage of the other powerful tools and systems packed into the program. Specifically, the One-Page Strategic Plan (OPSP), this tool created significant impact that helped Ewing's team get aligned on critical decisions that affected their bottom line.

"The OPSP guides us quarterly," says Ewing. "We used other Scaling Up tools to put our first 36-month cashflow together last December, and when we combined it with the OPSP, it's been very powerful. We know exactly what the numbers are and where we want to go. We know whether we've hit the mark or not. We can measure and keep everyone accountable."

Combining the OPSP with the "Power of One" gave Ewing's team a lot of clarity, even amidst chaos. This is exactly what every team needs during times of crisis when there is little leeway for confusion. With clarity, comes another important factor needed to survive this crisis: confident leadership. As Ewing expressed:

"Having the Scaling Up systems helped us generate results from repeatable efforts. And that creates confidence that disseminates throughout the organization. And now, during this pandemic crisis, we have trust in these same repeatable efforts to keep everyone engaged and employed. I can be confident that I'm looking at the right numbers to keep us above the water. It's not just a pie in the sky. We can validate it, and we can move forward. Combined with the communication transparency we've achieved, we can get everyone on board to move in any direction we need to go."

He left me with this: "The most considerable impact for me would have to be how Scaling Up gave me greater confidence to lead the organization. I know I have a structure that's right for the company to grow extremely fast on a structurally sound platform, not held together by patchwork. It gave me supreme confidence to lead the team into further growth and profitability."
The Best Time to Get Started
Our conversation wrapped up with this parting advice from Ewing to all business leaders under the stress of the economic downturn:

"The best time to get your executive team engaged in the Scaling Up methodology is as soon as possible. During this economic crisis, if you're stuck or find yourself not being "busy as usual", then there couldn't be a better time to get started."

So whether in times of growth or times of crisis, the Scaling Up methodology provides you with proven systems and structures to manage chaos and create results. This makes it incredibly adaptable, providing you with the proven frameworks you need to take your company to where you envision it to be.


Join Scaling Up — 2020 Crisis Edition
If you're looking for extra support to implement the Scaling Up methodology during the current economic crisis, then now is the best time to join our revamped Scaling Up — 2020 Crisis Edition.




Based on our popular Scaling Up Master Business Course, the crisis edition is designed to help your organization adopt a new strategy quickly. All the Scaling Up tools can be studied and implemented virtually – and we're providing extra assistance by bringing in guest speakers, more live sessions, and an even stronger community support system than before.

Now is not the time to be alone. Surviving the crisis requires us to learn and stick together. Apply now for Scaling Up — 2020 Crisis Edition so you can learn how to manage chaos, improve communication, and bounce back fast.