I recently chatted with Julie Copeland, a CEO who has worked with Dr. Kaihan Krippendorff, to investigate the level of impact Kaihan's Outthinker process can have on a company.

The most important message I got from our chat was this:
"Business is moving at such a fast pace that if you are not constantly thinking about what's your next strategic move, what's your next pivot — even while you're in your current one
— then your journey can get cut short."
~ Julie Copeland, CEO of Arbill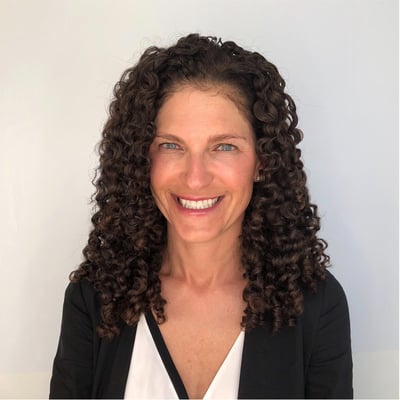 I cannot agree with this more. Frankly speaking, if you are not planning your next strategic move now, you're falling two steps behind your competition.

Which then brings up the million-dollar question: how do you effectively plan your next strategic move?

Well, if you caught our most recent episode of Business Growth Lab, you would have learned about Kaihan's Outthinker process and how his 5-step I.D.E.A.S. Framework can help you outthink your competition and stay ahead with innovative ideas and strategies.

Companies that have used Kaihan's framework to plan their next strategic move have, on average,
increased their growth rate by 120%. Impressive, isn't it?

Since Julie has used Kaihan's Outthinker process, I wanted to share with you her experience. Here are some highlights from our chat.

[Daniel Marcos] Hi Julie, to begin, please tell us a little bit about yourself and your company.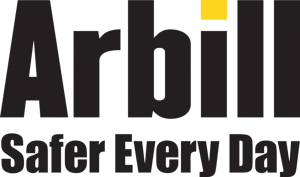 [Julie Copeland] Hi Daniel. I'm CEO of Arbill, a business that protects people in the industrial workplace so that employees in the workplace get home safely every day to their families.

Our proprietary program, SafetyCare, helps reduce injuries and create a safer workplace by offering a complete integration of everything 'Safety'. My leadership role at Arbill began in 2015 when I took over my father's role as CEO in the family business.


[Daniel Marcos] How did you learn about Kaihan, and what made you interested to learn from him his Outthinker process based on the I.D.E.A.S. framework?

[Julie Copeland] It was the tail-end of 2014 and we had decided to partner up with Patrick Thean, CEO Rhythm Systems. We were going to use his Rhythm platform, which was a technology that could help us create empowerment among all our employees as long as they understood what their KPI is and priorities were.

Then, in March 2015, I was having a conversation with Patrick where I confessed to him that we're under siege in terms of margin erosion. I remember saying to him that if I read the tea leaves, my customers were not valuing me in the way they used too. If they did, I wouldn't be having this problem and they wouldn't be beating me up in auctions and RFPs and the likes.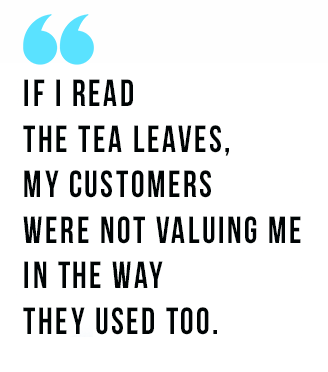 Without skipping a beat, Patrick said that I should really meet Kaihan Krippendorff and learn about his Outthinker process. Patrick said that it was clear that I was in need of a pivot, and that Kaihan could help me look at this really broadly since we were talking about an instrumental change for my organization.

Shortly after that conversation, he introduced me to Kaihan. Kaihan walked me through his Outthinker process and I was on board hook, line and sinker. I was really excited with where the Outthinker process could potentially take Arbill.

[DM] So how did you start working with Kaihan from there?

[JC] Well, I had a lot of prep work to do. First, I read Kaihan's book, "Outthink the Competition". I also gave a copy to my entire leadership team as well as the guests I invited to go through the Outthinker process together with me and our leadership team.

I had invited these guests since both Kaihan and Patrick felt it was important to bring in outside individuals that could help us see this whole situation from a fresh, broad angle.

One of the guests I invited was one of the top Private Equity guys in Philadelphia. He had done an incredible amount of transactions and could look at whatever ideas we came up with a very financial mindset.

I also invited a serial entrepreneur who had started and sold many businesses as I thought he would bring a good business perspective. Lastly, I invited a potential customer to Arbill who also happened to be the President of a Fortune 100 company for his insights on what a client like him would need from an organization like Arbill.

[DM] That's quite a panel. So what came up when you went through the I.D.E.A.S. Framework with this panel?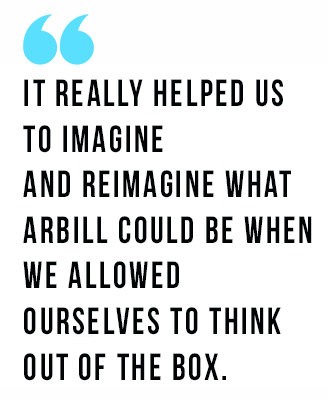 [JC] Well, Kaihan led the discussion and a range of ideas came up as we went through the Outthinker process and I.D.E.A.S. Framework. Some were crazy ideas, some were simple. But what's important is it really helped us to imagine and reimagine what Arbill could be when we allowed ourselves to think out of the box; to think out of the normal ways we had been thinking.

It really was a remarkable experience for Arbill to think of ourselves far more than what we had been, which was a products company that was very zeroed in on safety. But where could this focus on safety alone take us?

And so some of the ideas we came up with that day were pretty crazy. It didn't necessarily build off of our strengths, but offering up some of those outlandish ideas helped us get to what eventually became our innovative path forward.

One of the most valuable things I learned from going through this process is that sometimes, saying no is as important as saying yes, because it really helps you build more passion and clarity around why that is the right path forward.

[DM] Can you tell us more about the new direction you then decided to take Arbill in, and where the company is now after you applied the outcomes of the Outthinker process?

[JC] During that meeting where we went through the I.D.E.A.S. Framework, we identified where our pivot needed to be. We knew we were dedicated to safety and we wanted to drive injuries out of the workplace. In order to do that it became clear to us during the Outthinker session that products alone cannot remedy the problem.

We realized we need to be much more than just a products company to accomplish that goal. And we recognized that we had already started down a path of safety programs to complement our service.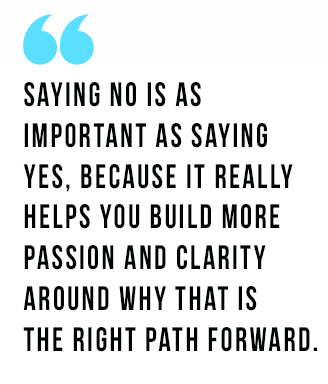 For example, we were already selling Rapid Response, our First Aid service. Related to that was our Automated External Defibrillator (AED) service that trains staff in First Aid. But we weren't really getting the service training off the ground. We were also were dabbling in environmental health and safety consulting services.

So you see, we already were doing a lot of things that were more than just selling products, but we were not integrating anything. We didn't have a package and so everything seemed confusing for the end user to understand what did Arbill really do. This confusion led to the margin erosion we experienced.

Through the work with Kaihan, we were able to address that and identify that we were in the business of providing a safety care package. It's like a version of health care but with safety at the heart. Our program, when bundled all together, really took on a holistic approach to tackling that goal of reducing injuries. And that's how we created our current signature brand, SafetyCare.

[DM] Awesome, thank you for sharing that. So, after experiencing how Kaihan's Outthinker process helped Arbill shift its competitive edge, who would you recommend this process to?

[JC] I think the Outthinker process and I.D.E.A.S. Framework that Kaihan has put together is imperative for CEOs, Presidents and strategic leaders of any organization to participate in.

Business is moving at such a fast pace that if you are not constantly thinking about what's your next strategic move, what's your next pivot — even while you're in your current one — then your journey can get cut short. So it is very important to constantly be thinking about what's the next change.

[DM] Kaihan will be teaching the Outthinker process in his latest course, "Outthink the Competition". What do you think the value of this program will be to CEOs, Presidents, and strategic leaders of organizations?

[JC] As I said earlier, in business and life, our environment is changing so quickly today. The value of this program is more critical than ever because as leaders, if we are not constantly stimulating our minds around what could be, we are missing the opportunity of what our businesses could ultimately be.

[DM] That's awesome. I love that quote, thank you. I really appreciate you taking the time this morning. It was great chatting with you.
Outthink Your Competition With Kaihan's Online Program!
Today's market makes innovative thinking not just a competitive advantage, but a necessity.

That's why we invite you to learn how to make this innovative thinking an organizational habit from one of the world's top innovative business strategists!

Kaihan Krippendorf's Outthink the Competition Master Business Course teaches you a systemic and structured process to generate innovative strategies.


This is a strategic and innovative thinking and implementation program. With your company as the student, we'll help adopt this tested process with your team so you can 2x your value and outpace your competitors!

Learn more about the program today!