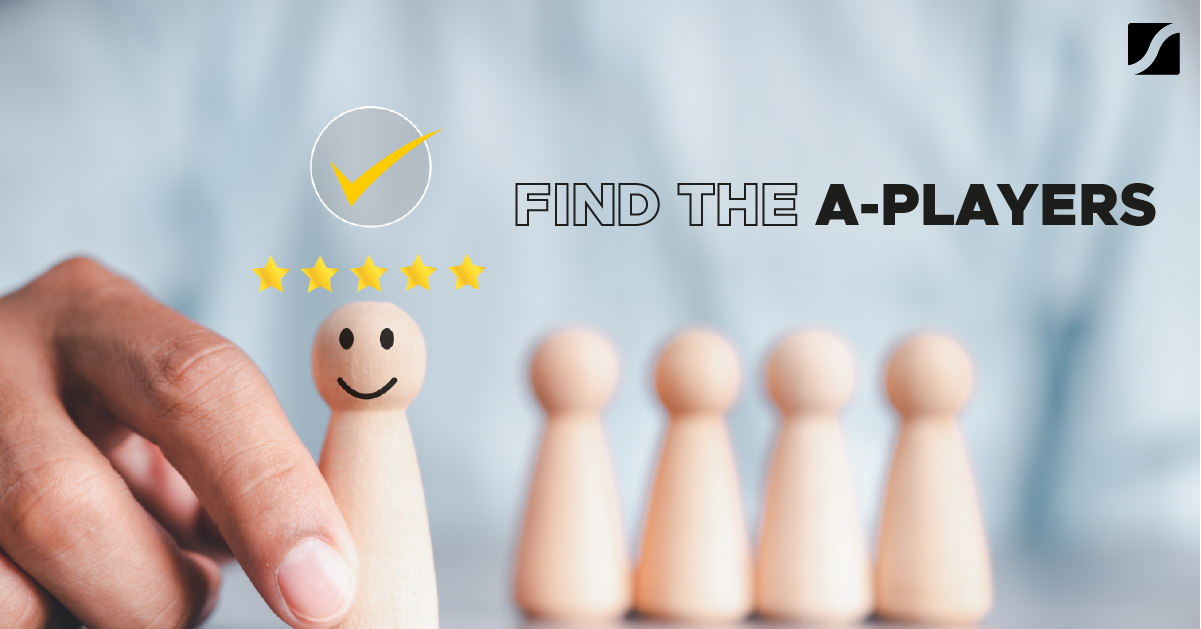 When you think about the myriad challenges facing business leaders these days, many themes emerge. But there's one underlying concern driving the lion's share of thoughts keeping entrepreneurs, CEOs, and other executives awake at night.

It's talent.

It's how to attract talent as workers' priorities shift. It's how to ensure that talent meets your team's need to continuously innovate. It's how to keep talent on board despite the Great Resignation.

Dr. Brad Smart knows the key to building the talent you need to scale your business in a challenging environment. It starts with stacking your team with high-performing "A Players."

As president and CEO of Topgrading Inc., Brad is widely acknowledged to be the world's foremost expert on hiring. He describes A Players as high performers who are in the top 10% of talent available for the role you're filling and the salary you're offering.

Simple enough, right? You want the best of the best.

Unfortunately, at most companies, only 25% of employees are A Players. About 50% are what Brad calls B Players, who do only an adequate job at their work. The remaining 25% are C players, or poor performers.

Leading an organization that primarily employs workers who are mediocre at best and unsatisfactory at worst is no way to navigate a challenging business environment. Put yourself in the best position to handle the curveballs of today's work world by following Dr. Brad Smart's Topgrading approach.

Here are 8 Topgrading steps to build an organization full of A Players: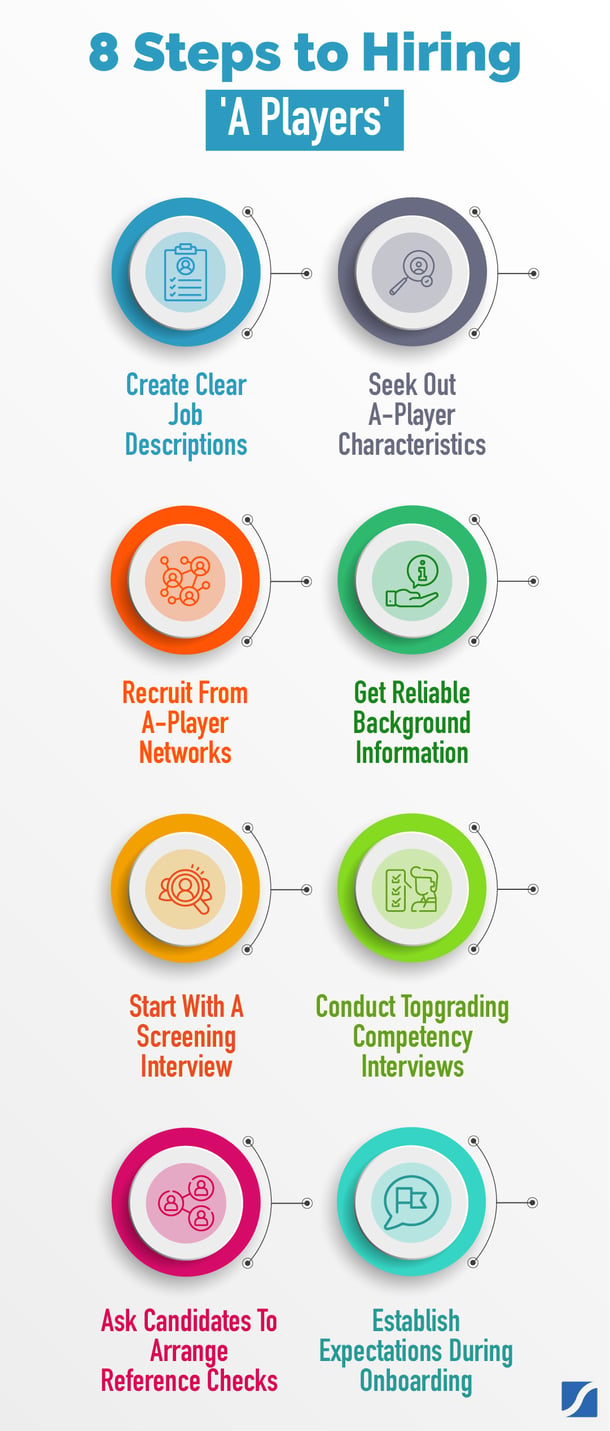 1. Create Clear Job Descriptions
Confusion about what a job entails can lead to a poor fit for talent and, ultimately, poor performance from hires. Make the details of each job crystal clear by creating a scorecard that lists the following information about the role:
Key criteria and technical skills to look for in applicant screening
Measurable accountabilities that the candidate must achieve to reach A-Player status
Company core values to help ensure a culture fit
Competencies that a candidate must exhibit to be an A Player in the role

Then look for candidates whose qualifications meet the criteria for that specific position.


2. Seek Out A-Player Characteristics
In general, A players boast skills ranging from business savvy to adaptability. But there's 1 characteristic that stands above the rest in predicting high performance: resourcefulness. When they encounter obstacles, these employees look for ways to overcome them. When they conduct their day-to-day business, they're constantly looking for ways to improve.

A players also are:
Smart in intellect and business savvy
Passionate and driven to succeed
Trustworthy
Consistently high-performing
Adaptable to working with a variety of personalities
Surrounded by other high performers
Hard workers
Effective leaders
Down to-earth and humble
Compatible with your values and culture

In short, an A player is an employee you would enthusiastically rehire.


3. Recruit From A-Player Networks
You already know networking is the most effective way to find employees. It saves you time by allowing you to connect to the individual directly. It saves you money because you don't need recruiters. It saves some of your pre-screening because they already have a good recommendation.

Capitalize on the fact that A players typically surround themselves with high performers. Draw from their network of contacts when seeking quality job candidates. Offer worthwhile incentives for referrals to encourage recommendations from your best and brightest.

Social media, your corporate website, job boards, and executive searches also can be helpful tools in recruitment. But make sure to instill the Topgrading framework in evaluating any candidates these resources yield.


4. Solicit Reliable Background Information
Brad refers to this step for authenticating candidates' information as the "truth serum" in the Topgrading program. It includes 2 parts:
Early in the screening process, let candidates know you'll be asking them to arrange reference calls with their former managers. If a candidate's track record is genuinely strong, they'll be happy to connect you with previous employers. If their past performance doesn't match with what they described in their resume, however, then learning that you'll be asking them to arrange for verification will likely lead them to remove themselves from consideration.
Including reminders throughout the vetting process that you'll be asking them to arrange calls with references also encourages truthfulness. They know they'll be facilitating the reference checks that will verify the information they provide you.


Provide candidates with a career history form that pre-screens for information such as compensation history, managers' ratings, and the reason they left every place they've worked since high school. This completed form provides you with a structured summary of the information you'll need to conduct a thorough interview.
5. Start With A Screening Interview
Instead of scheduling full interviews with each applicant whose qualifications initially seem to fit, narrow the list by starting with a screening interview. These brief interviews, typically by phone, allow you to focus your lengthier interviews on those who are the closest matches to your needs.

In screening interviews, include discussion of:
Your company
The job
The candidate's 2 most recent roles
A few questions about their competencies, if time permits

Take detailed notes, and then evaluate those notes to determine which candidates should proceed to the lengthier competency interview.


6. Conduct Topgrading Competency Interviews
Traditional competency interviews allow candidates to discuss the examples of workplace competencies or behaviors they choose. As a result, these interviews often fail to accurately reveal useful information.

Get a more accurate picture of your candidates' competencies by structuring questions around the career history information you already collected. It's the approach that hiring managers who report 90% success rate in their competency interviews follow, according to Brad.


Your interviews should include discussion of:
Experiences from the candidate's educational years to present, in chronological order
All jobs they have had
Self-appraisal by the candidate
The candidate's plans and goals for the future


For the best results, conduct the interview with another person. Each of you can evaluate the applicant's responses when the other interviewer poses a question.



7. Ask Candidates To Arrange Reference Checks
If recruitment, pre-screening, and competency interviews reveal a candidate to be a good fit, then follow through on your promise about reference checks: Ask the candidate to arrange calls with their former employers.

These candidate-scheduled calls have encouraged truthfulness throughout the interview process. And now, because employers will be expecting your call, the arrangement also will help ensure that you can connect with the references.

Prompt a discussion with these past employers about any strengths, gaps, or weaknesses by mentioning examples the candidate shared.



8. Establish Expectations During Onboarding
Finding an A Player for a job doesn't stop when you make the hire. Within the first few weeks—ideally starting on Day One—conduct onboarding and coaching to maximize their performance.

A Players appreciate clearly articulated expectations, so establish a development plan for your new employee. Talk through their strengths as well as their weaknesses or skills gaps. Follow up to discuss progress in their performance at intervals of 1 week, 2 weeks, 30 days, 60 days, 90 days, and then quarterly after that.


Survive—And Thrive—With A Players
If you're ready to learn more about this approach to building a team of A Players, download our Topgrading ebook. In this newly updated edition, you'll:
Learn how to calculate the money you're wasting on mis-hires
Take a more in-depth look at the Topgrading process
Find tools for tracking your hiring success

Then rest easy. With the Topgrading approach to hiring employees, you'll attract and retain the talent to scale your business—even as you navigate the twists and turns of today's business environment.